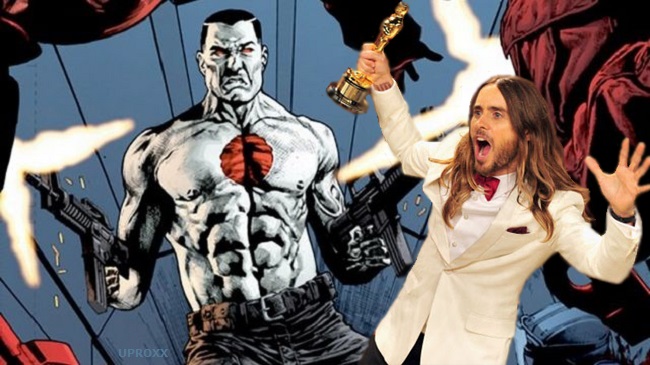 Two years ago we heard John Wick's David Leitch and Chad Stahelski would be adapting Valiant Entertainment's comic Bloodshot. As perfect as that director/source material combo sounds, the project didn't seem to go anywhere. Back then, Valiant signed a five picture deal with Sony to make two Bloodshot movies, two Harbinger movies, and a crossover of the two franchises. Now that first Bloodshot movie is back in the news thanks to rumors Jared Leto is circling the role of Bloodshot.
Now Valiant Entertainment CEO Dinesh Shamdasani has responded to those rumors, revealing new plot details of the adaptation at the same time. Shamdasani wouldn't confirm Leto's casting, but it sounds very obvious Valiant wants him to sign a contract. Shamdasani told SYFY WIRE, "You'll see a number of names get leaked, and I won't specifically say whether any of them are real, but I will say this. Jared Leto is a fantastic actor, and that's the most important thing to us. He's a chameleon, and that's very important to us. Bloodshot is an emotional story, and we need a great actor, not just someone who looks the part. A great actor will become the part."
Valiant clearly has no reservations about Jared Leto's much-discussed method acting, and it even sounds like they consider it a plus. Or even an extra. He is definitely extra.
Shamdasani continued, "I guarantee you anyone we cast, the internet will hate, in the same way that they hated Michael Keaton, in the same way they hated Heath Ledger. They will say, 'Sure, great actor,' and they will say, 'I just can't see him,' and they will say, 'He's not as big,' and they will say, 'But I don't know who else to cast,' and that's how we'll know we got it right. Because what will happen is, that actor, whoever we cast, will transform into Bloodshot." Yeah, it definitely sounds like they want Leto to sign on.
We also have an update on the plot, new director, and writer. Shamdasani corrected previous rumors stating the movie would be based on the '90s version; the movie will be adapting the story of the newer Bloodshot Ray Garrison. The film is now in pre-production with Blur Studio's Dave Wilson directing and Arrival's Eric Heisserer writing the script.
(Via SYFY WIRE)