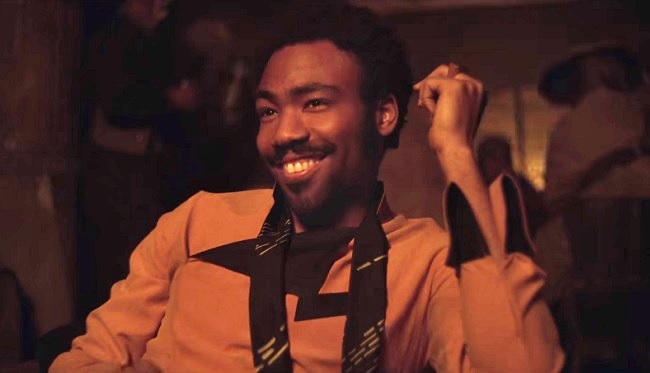 On Monday, the long wait for the first full Solo: A Star Wars Story trailer was finally over, and the trailer featured — among other exciting things — Donald Glover's debonair Lando Calrissian. And while we were expounding on Solo possibly bringing parts of scrapped extended universe back into the canon, the trailer was making another nod to the extended universe. Namely, Lando's co-pilot.
In the trailer, presumably before Han Solo won the Millennium Falcon off notorious gambler Lando Calrissian in a card game, we see Lando and his droid co-pilot in the Millennium Falcon, charmingly saluting each other before take-off:

Damn, he's smooth.
So who's that droid? The rumor going around is that she's voiced by Phoebe Waller-Bridge, who's playing a character not yet announced but rumored to be CGI. It also turns out that this droid could be construed as a callback to a trilogy of extended universe novels from the '80s. After the release of Return of the Jedi, L. Neil Smith published three Lando books. In those stories, Lando was a great gambler and swindler but a terrible pilot. (One could even say, "You need a pilot.") To help fly the Millennium Falcon, Lando needed a droid.
Granted, the droid in the books (Vuffi Raa) doesn't look anything like this new droid. Which is probably for the best. A pentagon-shaped disc with tentacles wouldn't look nearly as cool while doffing an invisible cap at her buddy Lando.
(Via Inverse)