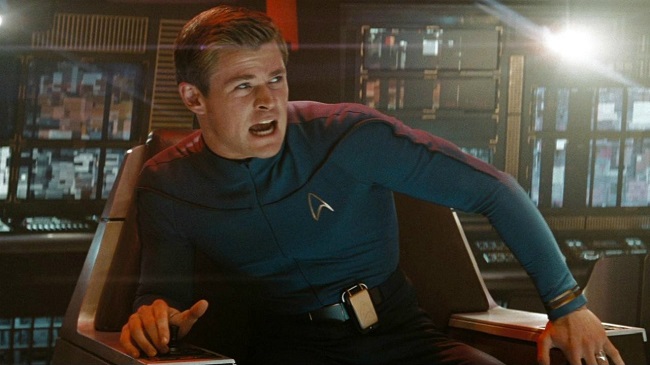 Just over two years ago, Star Trek Beyond producer J.J. Abrams hinted that Chris Hemsworth, who cameoed as Captain James T. Kirk's (Chris Pine) father, George Kirk, would somehow return for the fourth film in the rebooted franchise. Paramount Pictures later confirmed Abrams' revelation with an official logline for the untitled Star Trek 4: "In the next installment of the epic space adventure, Chris Pine's Captain Kirk will cross paths with a man he never had a chance to meet, but whose legacy has haunted him since the day he was born: his father." Now it seems neither Chris will be a part of the film.
According to The Hollywood Reporter, sources familiar with the ongoing salary negotiations between Paramount and Hemsworth and Pine's respective teams revealed that talks had fallen apart:
The deal points came down to the usual suspect: money. Pine and Hemsworth, among Hollywood's A-list when starring in DC or Marvel movies, are said to be asking the studios to stick to existing deals. Paramount, according to insiders, contends that Trek is not like a Marvel or Star Wars movie and is trying to hold the line on a budget.

The actors, according to sources, insist they have deals in place and that the studios are reneging on them, forcing them to take pay cuts as they try to budget a movie that is following a mediocre performer.
Neither Paramount, Hemsworth nor Pine provided an official comment on THR's story, which also indicated that negotiations with cast members Zoe Saldana, Zachary Quinto, Karl Urban, Simon Pegg and John Cho "was expected to follow" the pair's apparent exit. Should the two Kirks' departure from Star Trek 4 be a done deal, however, this would mean that Paramount and the filmmakers will have to completely retool the film's story.
(Via The Hollywood Reporter)