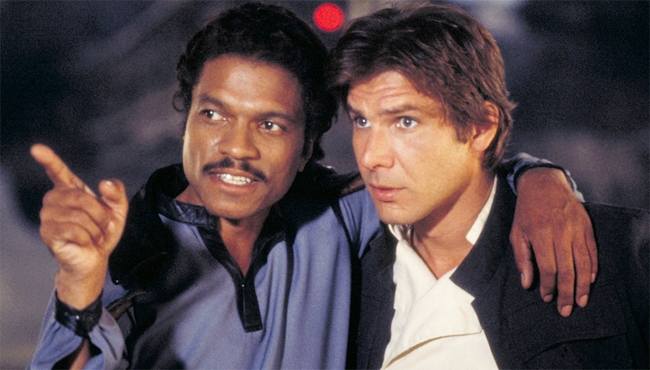 WARNING: Possible spoilers for Star Wars: Episode IX and The Last Jedi ahead.
The absence of Billy Dee Williams from the new Star Wars films has not been lost on fans of the series. We've seen the return of the big three, Yoda, Chewie, and even Admiral Ackbar for a hot second before he ended up getting blown to bits. But we haven't gotten any Lando, leaving many to either assume he's dead in the future period or Lucasfilm hasn't reached out to Billy Dee Williams to come back. At least until now.
Considering how Donald Glover's Lando stole the show in Solo: A Star Wars Story, it shouldn't be a shock that the rumor mill now has the smuggler making a big screen return for the final installment of the new trilogy. It would also be a familiar face for older fans to look for given the tragic loss of Carrie Fisher and the on-screen deaths of Mark Hamill and Harrison Ford. They could always bring back Wilford Brimley's Noah from The Battle for Endor, but Lando is the better option and makes you hope this rumor from Fantha Tracks is indeed true:
Billy Dee Williams is back for Episode IX as Lando Calrissian.

We were asked by our original source to verify this with another independent source before we ran with it. We did that, confirming that this is indeed correct (and before anyone asks, we're not going to name our sources because that's not how this works). Filming on Episode IX starts next month, so expect to see official confirmation of this exciting casting very soon.
Now, most outlets are behind this rumor despite the inability to verify it, but the real news that is adding some weight to it is the fact that Billy Dee Williams is getting into shape and dieting. He revealed as much at Megacon in Orlando back in May according to CBR:
Williams would be a welcome sight, even for just a cameo. I only hope J.J. Abrams doesn't decide to kill him off too horribly. While one could agree that killing off the past is a good thing, let's leave Billy Dee out of it. Just work this in instead.
(Via Fantha Tracks / CBR)