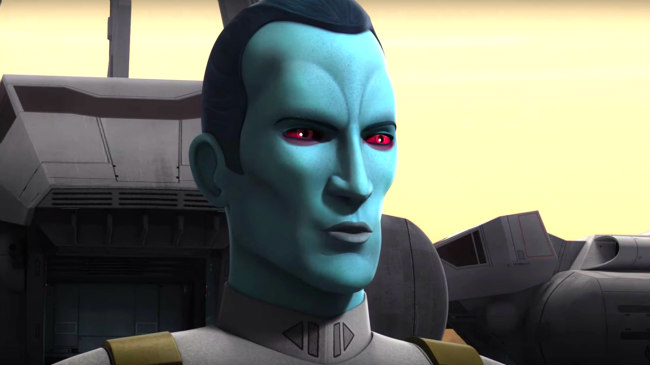 Blue-skinned Star Wars villain Grand Admiral Thrawn, who first appeared in Timothy Zahn's novel Heir to the Empire (he was later dubbed non-canon during the Disney takeover before being officially reintroduced in Star Wars Rebels), is arguably the most popular Expanded Universe character ever. But Thrawn has yet to appear in any of the episodic or stand-alone (like Rogue One) films, and according to one cast member, he's not in Episode IX, either.
When Richard E. Grant was inducted into the Star Wars galaxy, along with Keri Russell and Naomi Ackie, many fans wondered whether he would be playing the Imperial officer. (They do have a passing resemblance, minus the red eyes.) According to We Got This Covered, "Grant himself might've teased that fans are on the right track. Curiously, the actor's official Twitter account has liked a tweet from a Star Wars lover which used a GIF to express excitement at the idea that he could be playing Thrawn." The thrill was short-lived, though: in an interview with Radio Times, Grant quieted the pesky Thrawn rumors for good.
"I'm not playing the Star Wars character you just mentioned," Grant tells Radio Times when asked how he's preparing for the role of Thrawn. I'm not allowed to tell you anything. Otherwise I would be fired. It's a complete lockdown on any information whatsoever." (Via)
It's for the best that Episode IX will be Thrawn-less: there's already enough story to tell without introducing a new major villain. Unless, of course, it turns out the Thrawn is Rey's father, in which case all bets (on fandom's sanity) are off.
(Via Radio Times)