"We all have our own problems. Our own issues. Our own demons." That's Tom Hardy talking (in a somewhat dissettling American accent we're not used to hearing from Hardy) in the first trailer for Spider-Man spin-off Venom. Hardy's brooding journalist take on Eddie Brock / Venom is sure to make you say "Topher Grace who?" (if you weren't saying that already).
Tom Hardy announced the coming of the trailer via his Instagram page on Wednesday, sharing a poster from the film that unfortunately had none of the partial nudity we've come to expect in any photo Tom Hardy posts on social media.
The trailer doesn't show Hardy in full symbiote mode, and we still aren't sure whether or not Tom Holland's Spider-Man will make a cameo as has been rumored. On the upside, this trailer does give us a new reaction GIF that will come in very handy: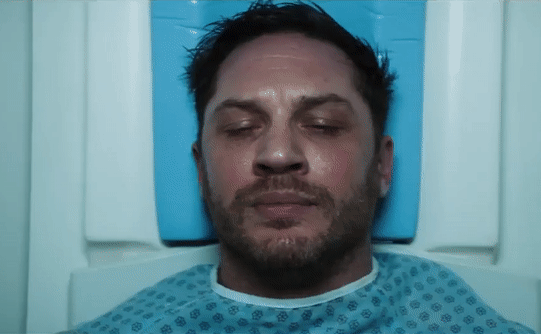 Must be lava taco night.
And since we're here talking about Tom Hardy anyway, please enjoy this video of "Tom Hardy quoting Bane lines to his dog with a nut cup over his face" because this is a thing that is real because God loves us and wants us to be happy.
Venom opens this October 5th.