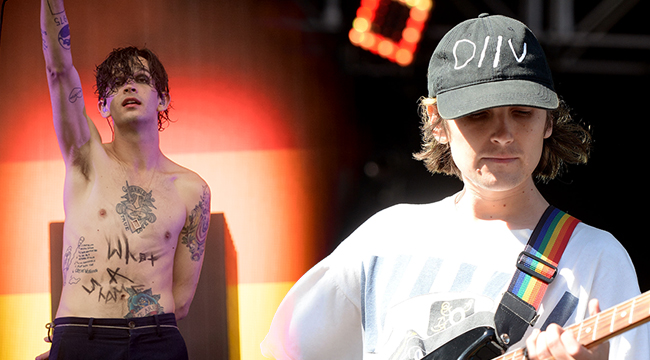 Indie music has grown to include so much. It's not just music that is released on independent labels, but speaks to an aesthetic that deviates from the norm and follows its own weirdo heart. It can come in the form of rock music, pop, or folk. In a sense, it says as much about the people that are drawn to it as it does about the people that make it.
Every week, Uproxx is rounding up the very best of the indie releases from the past seven days. This week gave us the return of DIIV, a new protest track from the 1975, and an epic Cure-inspired new album from Strange Ranger.
While we're at it, if you want more music recommendations curated by Steven Hyden delivered directly to your inbox every week, sign up for the Indie Mixtape newsletter.
Strange Ranger — Remembering The Rockets
"Strange Ranger is one of the best and most adventurous young bands in indie rock," writes Steven Hyden for Uproxx. This truth becomes more and more evident as you dig deeper into the band's latest album, Remembering The Rockets, which sounds like it could have been released anytime between the late '80s and today, with tracks like "Your Dog" and "Nothing Else To Think About" that are clearly inspired by The Cure's Disintegration. Across its fourteen tracks, Remembering The Rockets provides a listening experience rooted firmly in the present, but also offers the comfort of nostalgia without leaning too heavily on the tropes of yesteryear. It's a balance that's certainly difficult to achieve, but Strange Ranger pulls it off with grace.
Florist — Emily Alone
I've written before about seasonal music — songs that perfectly soundtrack a sunny day or trudging through the leaves of Autumn. Florist can't be sorted into a singular season, but what I do know is that Emily Sprague's songs are always an ideal backdrop for any form of precipitation — you can almost hear the raindrops throughout her new album. Sparse and intimate, Emily Alone strips Florist back to its absolutely bare essentials and proves that Emily Sprague needs nothing more than a guitar or piano to pair with her voice and create something truly touching and immensely beautiful.
The 1975 — "The 1975″
The first track from The 1975's new album, Notes On A Conditional Form, isn't a traditional song. Instead, it's a soundscape that plays beneath a speech from climate activist Greta Thurnberg. "The track is nearly five minutes detailing the horrors of climate change and suggesting what we can do to change it," writes Chloe Gilke for Uproxx. It seems like the band that I just recently called "perfectly curated and egocentric" is using their ever-growing platform to rally for systematic change, which is actually… pretty punk rock. At the very least, it certainly lends more credence to the argument that The 1975 is a very legitimate rock band.
DIIV — "Skin Game"
Diiv is back, baby. It's only been about three years since the release of their shoegaze-tinged and criminally underrated album Is The Is Are, but it feels like a lifetime. "Skin Game" is the first preview of the band's third LP Deceiver, which is set for an October release, and further showcases the band's knack for reverb-soaked, ethereal dream-pop tunes.
Tegan & Sara — "I'll Be Back Someday"
The first notes of "I'll Be Back Someday" evoke a vivid image in my mind: saturated Super 8 footage of friends playing in a living room. The living room also has a shag carpet, but that doesn't matter here. Perhaps this kind of imagery is what Tegan & Sara are going for with their new album Hey, I'm Just Like You, which exists as a bit of a companion piece to the twins' forthcoming memoir High School, complete with songs that were originally written around that time. "It's a rocking tune with a supremely catchy hook, and proof that even if the sisters weren't the most polished performers as teenagers, they always had the songwriting chops," writes Derrick Rossignol for Uproxx.
White Reaper — "Real Long Time"
Give us the White Reaper album already. Two songs just simply isn't enough. A few weeks after marking their official return with "Might Be Right," the Louisville band has unveiled "Real Long Time," which opens with Thin Lizzy-inspired guitars before bursting into a chorus that's "as catchy as anything you'll hear on pop radio," according to Derrick Rossignol for Uproxx.
Harmony Woods — "Ghosts"
One of the most promising Philadelphia DIY exports since Modern Baseball (RIP; long live), Harmony Woods has unveiled the first taste of her brand new LP entitled Make Yourself At Home, which is set for an October release. At just nineteen years old, Sofia Verbilla tackles some heady concepts on "Ghosts," a testament to turning toward your demons instead of running from them, giving them the finger, and then telling them to f*ck off.
Rose Dorn — "Champ"
Is there anything more fascinating than a domino chain? Probably not. Rose Dorn's video for the new track "Champ" uses this technique, which kept me totally focused and engaged with the music — good marketing, to be honest. "Champ" is the latest taste of the latest Bar/None signees' new album Days You Were Leaving, a melancholic narrative of social isolation. It embodies the classic bedroom pop sound, with a more upbeat edge.
Ghost Orchard — "Bunny"
Ghost Orchard's proper debut Station is out in just a few weeks and the latest single "Bunny" is a great example of why the project is worth your time. "The music takes inspiration from elements of hip-hop, bedroom pop, and more — it's actually quite hard to pinpoint exactly where on the sonic spectrum it lies. But that's what makes Ghost Orchard so special," I wrote in an Indie Mixtape 20 interview with Sam Hall. If you find yourself a fan of Brockhampton and/or (Sandy) Alex G, Station will be right up your alley.
FACIAL — "Color Me Transluscent"
"Color Me Translucent" takes cues from the post-punk greats, while simultaneously occupying a space in the lo-fi world. With a riding bass line that builds tension, the track utilizes the soft-loud dynamic to emphasize the intensity of the line "my mind's on fire." It's a promising look at what's to come from the Los Angeles band.
Lady Lazarus — "I Know What It Feels Like"
Warm and tempered, "I Know What It Feels Like" is a track to put on while trying to induce relaxation. "I know what it feels like, I know what you feel like," Melissa Ann Sweat repeats over an ethereal piano melody, evoking a sense of intimate empathy that I haven't really felt before. The track previews a collection of reflective tracks under the title Impossible Journey Of My Soul Tonight, which is set for release in October.
Possible Humans — "Lung Of The City"
Australian rock is the best kind of rock, probably — I mean, look at AC/DC! Possible Humans are the latest Melbourne export to impress with their debut album Everybody Split, which is set for release later this week. "Lung Of The City" sounds like a track that you can sing arm-in-arm with your friends, which always sparks a unique kind of joy in my heart.
Some artists covered here are Warner Music artists. Uproxx is an independent subsidiary of Warner Music Group.