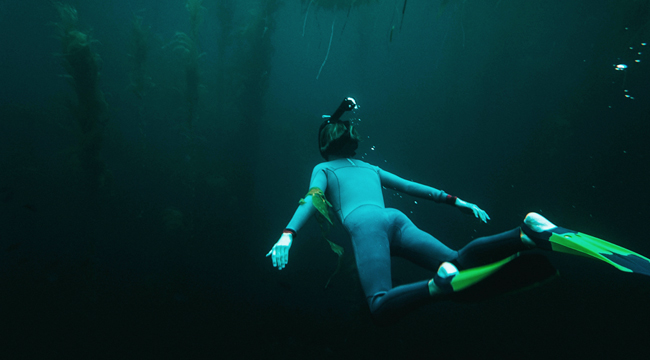 "The best way to observe a fish, is to become a fish."

-Jacques Cousteau
I've long been obsessed with life below the water's surface. I used to dream of spending my days simply observing the mysteries of the depths, but I was slow to understand that SCUBA diving was something I could actually take up. Growing up in Maine, I thought of divers as complete badasses. The idea of strapping on a tank and leaping into the unknown felt completely foreign — a hobby for the bold, daring, and mega-rich.
Then, I moved from Maine to Florida in high school. In the sunshine state, diving was for everyone and it was easy to find places to learn. I signed up for a class before the last of my boxes was unpacked. First, I studied at the Dive Pros Scuba shop in Pensacola. Later, at Florida State University in Tallahassee — where I became a dive master, helping to instruct new students.
Since then, I've been diving all over the world. I've been drift diving, night diving, and cave diving. I've plunged over boats in Belize at the Blue Hole, drifted down the pristine reefs of Cozumel, and swam in waters where I couldn't see five feet ahead of me (like on Costa Rica's Pacific coast when a golf cart-sized manta ray snuck up to within an arm's length). Still, I've never gotten over those first dives, in Florida. With warm water and perfect visibility, I was spoiled from the start.
There's great ocean diving along Florida's Emerald Coast, of course. Fort Pickens and the sunken USS Oriskany in Pensacola and Black Bart and others in Panama City are classic adventures, loved by many. But far fewer know about the springs and aquifers in the Florida panhandle and central Florida. These sites are accessible, temperature consistent, economical, easy to get to and often are surrounded by state parks and wilderness. On top of all of that, many of these places have scuba certification courses if you're just starting your dive journey.
From caves to manatees, you don't have to be an advanced open water diver to enjoy a weekend escape at one of the Panhandle's pristine dive sites.
WHERE TO FIND THE BEST SINKHOLES AND SPRINGS IN THE FLORIDA PANHANDLE
*NOTE: As always, adventure with caution and respect. Follow the local rules and do your research. Some of these caves are acceptable for open water divers, and some of them require more certifications and training. And of course, always dive with a buddy.
Ginnie Springs
Ginnie Springs is one of the first sites that Florida instructors tell students about to get them stoked on diving. This is because of the Ginnie Springs Ballroom — a dive cavern that is deemed sufficiently safe for all levels of certified divers. There's a guide cord that takes you from the open water into the cavern, and a grate at the back that seals the rest of the system from the Ballroom. You can feel the force of the 35 million gallons of water a day that passes through the grate. It's a truly epic, not-to-be-missed adventure.
Want to go?
Closest City: About a 45-minute drive from Gainsville.
Equipment Rentals: Yes (no tanks)
Dive Price: From $22
Snorkel Price: From $14
Instruction: They don't offer courses but do facilitate private instructors.
Camping: Yes

Vortex Springs
Vortex is incredibly reachable from most of the Southeastern United States. It's about equidistant from Pensacola and Tallahassee and has all of the amenities for a rad full-weekend experience. They offer open water dive courses starting at around $400. There's camping, electric sites for RVs and cabins/lodges. The spring produces 32 million gallons of water a day and stays at a constant 68 degrees.
Depending on the season, the water temp will either feel cold or warm — though it's technically always the same.
Want to go?
Closest City: About an hour and a half drive from Pensacola.
Equipment Rentals: Yes
Dive Price: From $22
Snorkel Price: From $16
Instruction: Yes, full instruction and levels offered.
Camping: Yes
Morrison Springs
https://www.instagram.com/p/BvmTG6jlkpr/
Morrison Springs is down the road from Vortex Springs, but it's more primitive, with a focus on nature. There's plenty to explore here. Surrounding the 250-foot diameter pool are nature trails, a wheelchair accessible boardwalk, and a picnic area. It's only 15 minutes away from Vortex, so we recommend spending the weekend at Vortex and then driving down to Morrison for a shorter afternoon exploration.
Want to go?
Closest City: From Vortex, type this address into your GPS: 874 Morrison Springs Rd, Ponce De Leon, FL 32455 (about 15 minutes away)
Equipment Rentals: No
Dive Price: N/A
Snorkel Price: N/A
Instruction: No
Camping: No
Devil's Den
Devil's Den and Blue Grotto are separate, privately owned springs in central Florida that are a bit pricier than the public options. It's worth it though — these caverns and sinkholes are absolutely majestic. Dives like these — witnessing a labyrinthine underwater world — really magnify why diving is so intoxicating. At Devil's Den, the water stays a constant 72 degrees, so it's pleasant the whole time.
Want to go?
Closest City: An hour and a half to 2 hours from either Orlando or Jacksonville.
Equipment Rentals: Yes
Dive Price: From $38
Snorkel Price: From $15
Instruction: They don't offer but many instructors use the springs for training.
Camping: Yes
Blue Grotto
Blue Grotto is a complete dive training and operation center. This is the optimal destination for folks wanting to discover cavern diving. Visibility is impeccable everywhere on this list, but Blue Grotto takes it a step further. They installed a lighting system to illuminate the lower portion of the grotto, which goes down to about 100 feet. It may not be as natural as the others, but it's really freaking cool.
Want to go?
Closest City: An hour and a half to two hours from either Orlando or Jacksonville.
Equipment Rentals: Yes
Dive Price: From $35
Snorkel Price: From $5 but must accompany diver
Instruction: Yes, full class offering.
Camping: Yes

Three Sisters Springs
Who doesn't love manatees? We all do, and because of that, Florida is very strict about you not interacting or disturbing them in most areas and situations. However, one way you can legally and safely do so is through Crystal River Watersports — which offers dive trips and manatee snorkeling tours on Florida's west coast. It's a great option because, at only 17 maximum feet, you can stay under for quite some time.
To this day, Three Sisters Springs is one of the most memorable wildlife experiences of my life. The gentle creatures are present year round but are prevalent from November to March (remember: wildlife etiquette).
Want to go?
Closest City: About an hour and a half drive from Tampa.
Equipment Rentals: Yes
Dive Price: From $84.99
Snorkel Price: From $65
Instruction: Crystal River Watersports offers full scuba classes.
Camping: Yes, nearby