It's always time for a classic Manhattan cocktail. But cards on the table, right now is when they really start to hit that perfect sweet spot. The mix of rye whiskey, herbal bitters, sweet and botanical vermouth, orange oils, and dark cherry just sings more brightly when the snow is about to break out in the air and the weather is cold enough for a crackling fire.
And with Thanksgiving just about here, now feels like the perfect time to break out the classic Manhattan. Like today. And tomorrow. And maybe all of next week.
The best part of this recipe is that you can dial it into your current palate and adjust it as you go. Some people find the whiskey a bit much. In that case, add a little more sweet vermouth. Likewise, if you like your cocktails on the stiffer side, dial back that vermouth and add a splash more whiskey.
All of that said, the perfect sweet spot is below. It's a 5:1 mix of rye whiskey and sweet vermouth. That allows the whiskey to shine through clearly while adding just the right amount of herbal sweetness to calm things down and create something greater than the individual parts.
Okay, that's enough preamble. Let's get stirring up some cocktails!
Also Read: The Top Five Cocktail Recipes of the Last Six Months
Manhattan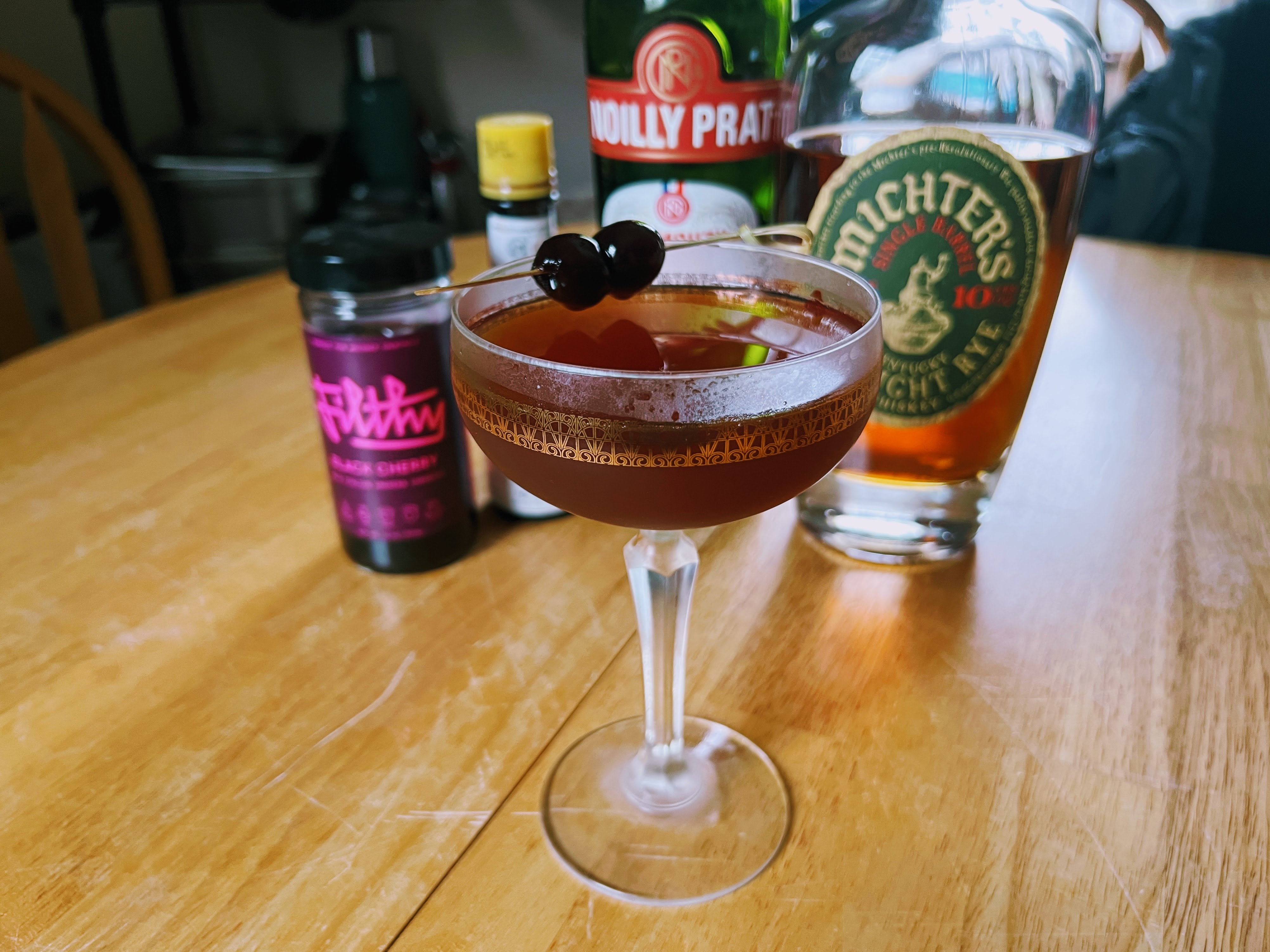 Ingredients:
2.5 oz. rye whiskey
0.5 oz. sweet vermouth
2 dashes of Angostura Bitters
Orange peel
Black cherries
Ice
Naturally, the whiskey is the most important component here. I like to stick with rye and a good one at that. Per my own Thanksgiving tradition, I like to make what I call a "$50 Manhattan" with Michter's 10-Year Single Barrel Rye. The rye really helps this cocktail sing. There's a beautiful layer of soft green herbs that leads to creamy notes of cherry, vanilla, and apple fritter which all really meld nicely with the botanical and herbal notes from the bitter and vermouth. Yes, it's a spendy bottle, but it'll make the best damn Manhattan you can get.
When it comes to sweet vermouth, I'm using Noilly Prat. There's a nice subtly to the French fortified wine. It's not overly herbal or woody but has a nice sense of sweet spice next to tart red fruits and slight caramelization.
What You'll Need:
Coupe, Nick & Nora, cocktail glass, or lowball (pre-chilled)
Mixing glass
Cocktail strainer
Barspoon
Jigger
Fruit peeler
Garnish stick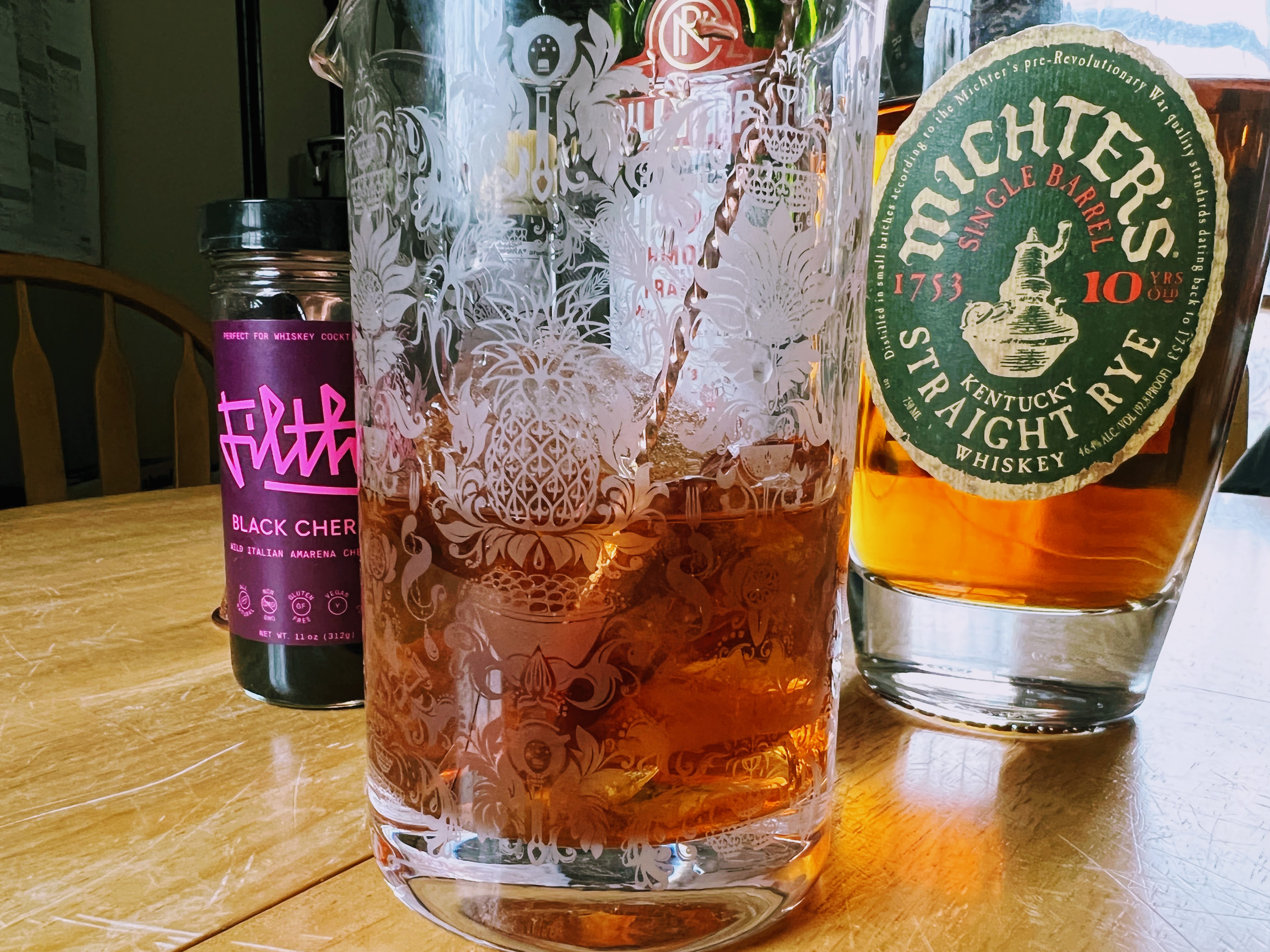 Method:
Prechill the glass in the freezer, preferably overnight but an hour or so is fine.
Grab a mixing glass. Add the rye, vermouth, bitters, and a large handful of ice. Stir the drink until the glass is ice-cold to touch (about 15 to 20 seconds).
Use the strainer to pour the cocktail into the pre-chilled glass.
Peel off a thin orange peel and express the oils over the cocktail (bend the orange side of the peel toward the glass between your thumb and index fingers gingerly). Discard the peel.
Spear two cherries. Place them on the rim of the glass. Serve.
Bottom Line:
This is a truly phenomenal cocktail. The rye whiskey shines through and becomes a softer and more floral spirit with this sense of soft botanical sweetness. The orange oils, which are often skipped, help tie this whole cocktail together. They add a counterpoint with brightness and slight spice that's very Christmas-time, especially with the woody botanicals in play.
Overall, this is the perfect cold-weather sipper that'll last you through February. It's spiced, herbal, full of orange, and has a wonderful whiskey depth with just the right amount of soft brightness, kind of like the sun cutting through the clouds on a snowy day.