Dry January is almost over. That begs the question: Which cocktail are you going to drink to break the streak? I have an answer: The Amaretto sour. It's the sweet and nutty, bourbon-filled citrus bomb with a silky mouthfeel that'll help you ease back into cocktails again (if you've actually taken part in Dry January, that is).
Just to be clear, I'm not talking about a low-alcohol cocktail here. The Amaretto sour is a full-on shaker that's full of almond liqueur and high-proof bourbon. This has a good kick hidden underneath layers of egg white and citrus with a touch of sweetness. All of those layers make this both complex and easy to sip, while still holding onto a wintry vibe (mostly thanks to Amaretto having a marzipan feel to it).
Moreover, perfecting this cocktail will give you a chance to dial in those shaking skills. You're going to need to give this a dry shake before you add ice. You also need to pour this out well, so that the layer of citrus-infused egg white foam builds on the top of this cocktail. But don't worry, it's still fast, fun, and easy to make.
Let's get shaking!
Also Read: The Top Five Cocktail Recipes of 2021
Amaretto Sour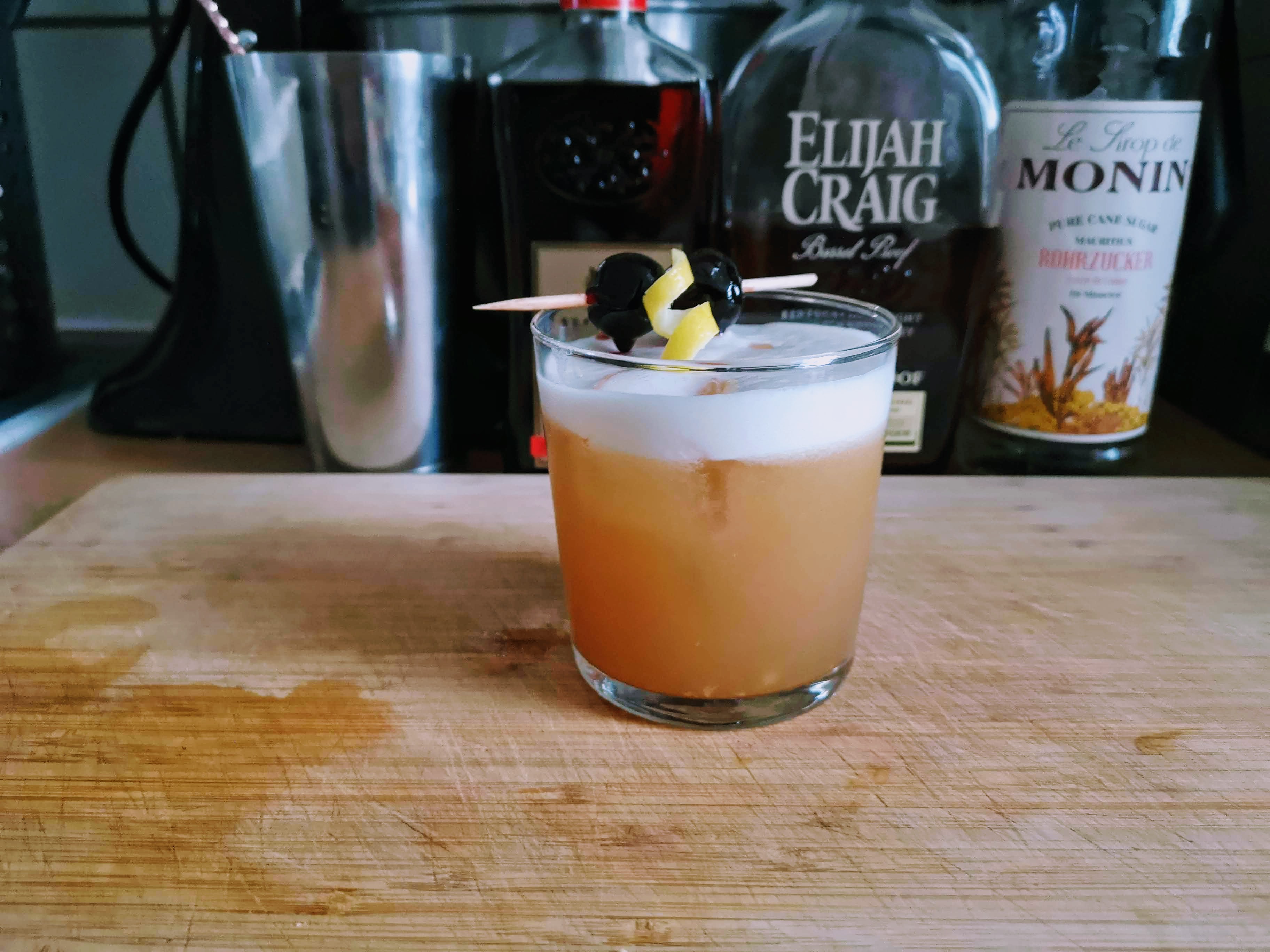 Ingredients:
1.5 oz. Amaretto
1 oz. high-proof bourbon
1 oz. fresh lemon juice
1/2 barspoon simple syrup
1 medium egg white
Lemon peel
Amarena cherries
Ice
There's no getting around the Amaretto in this cocktail. The Italian liqueur — made from almonds and apricot pits — is readily available in any liquor store, with Disaronno being the most recognizable brand.
As for the high-proof bourbon, I'm using one of my favorite cocktail bases, Elijah Craig Barrel Proof (at over 60 percent ABV). This bourbon really stands up well to everything that's going on in the cocktail from lemon to the almond.
The rest is pretty easily to find at a grocery store. Just make sure your lemons and eggs are fresh.
What You'll Need:
Rocks glass
Cocktail shaker
Cocktail strainer
Pairing knife
Barspoon
Jigger
Cocktail stick
Method:
Fill the rocks glass with ice, set aside.
Add the Amaretto, bourbon, lemon juice, simple, and egg white to a cocktail shaker. Affix the lid and shake without ice for 15 seconds.
Pop the lid and add fresh ice to the shaker (filling it about 1/2 way), reaffix the lid, and shake for another 15 seconds or until the shaker is frosted over and ice-cold to touch. Don't go easy while shaking, you really want to build up that foam.
Pop the lid and strain the cocktail into the waiting rocks glass with fresh ice. You'll need to really shake out the foam as you strain. So take your time and make sure you get out as much as you can.
Peel a thin stripe of lemon peel and twist it over the cocktail, making a twirled pigtail.
Spear two cherries and garnish the glass with the cherries and lemon peel. Serve.
Bottom Line:
I sighed when I took a sip of this. It's just great — so refreshing while still having serious depth.
I'm also a sucker for rich and decadent marzipan (Niedderegger is my go-to), so this really hit me in the feels. The bourbon shined through and created a nice whiskey sour base that's bolstered by the Amaretto's almond.
The soft silkiness of the egg white is what really helps this cocktail rise to the top, though — it's like drinking velvet. In fact, I might have to shake up one more of these tonight.