The Hemingway Daiquiri has a larger-than-life reputation, much like Papa himself. The drink was created at the iconic The Floridita bar in Havana, Cuba, to accommodate Hemingway's abhorrence of sugar. These days, the Papa Doble (Papa's Double) is the stuff of legend and some of those legends mistake truth and fiction (again, consistent with Hemingway's real life).
Before we dive in, most modern interpretations you'll see of the Hemingway Daiquiri or Papa Doble will not be what Hemingway actually drank in Havana. Hemingway's Daiquiri was a classic two-ingredient cocktail without the simple syrup and with double the rum. That's it. Today, bartenders have added grapefruit juice and cherry liqueur to the drink, both of which add a ton of sugar. To me, that's a perversion of the fact that Hemingway specifically didn't want sugar in his drink.
To that end, I'm making the actual Papa Doble or Hemingway Daiquiri you'd have actually seen the man drinking in Havana back in the day. I'm even serving it exactly as the barmen at The Floridita did with a paper towel wrapped around the glass with a rubber band so that Papa didn't drop his glass (he reportedly could drink ten or more of these in a sitting). Let's get shaking!
Also Read: The Top Five Cocktail Recipes of the Last Six Months
Hemingway Daiquiri
Ingredients:
3 oz. Cuban rum
1 oz. fresh lime juice
Ice
Generally, I'd use Havana Club 3 here but I don't have it on hand. I'm still using a Havana Club though. If you're in the US, you probably won't be able to get Cuban Havana Club easily, so aim for something like Diplomatico Planas or Equiano Light.
What You'll Need:
Rocks glass
Cocktail Shaker
Cocktail strainer
Paring knife
Hand juicer
Paper towel sheet
Rubberband
Method:
Fill the rocks glass with ice and set it aside.
Add the rum, lime juice, and ice to a cocktail shaker. Affix the lid and shake vigorously for about 15 seconds, or until the shaker is ice cold to touch.
Strain the cocktail into the waiting rocks glass.
Fold the paper towel sheet along its diagonal and fold over a couple of times and then use the rubber band to hold the paper towel onto the glass. Serve.
Bottom Line: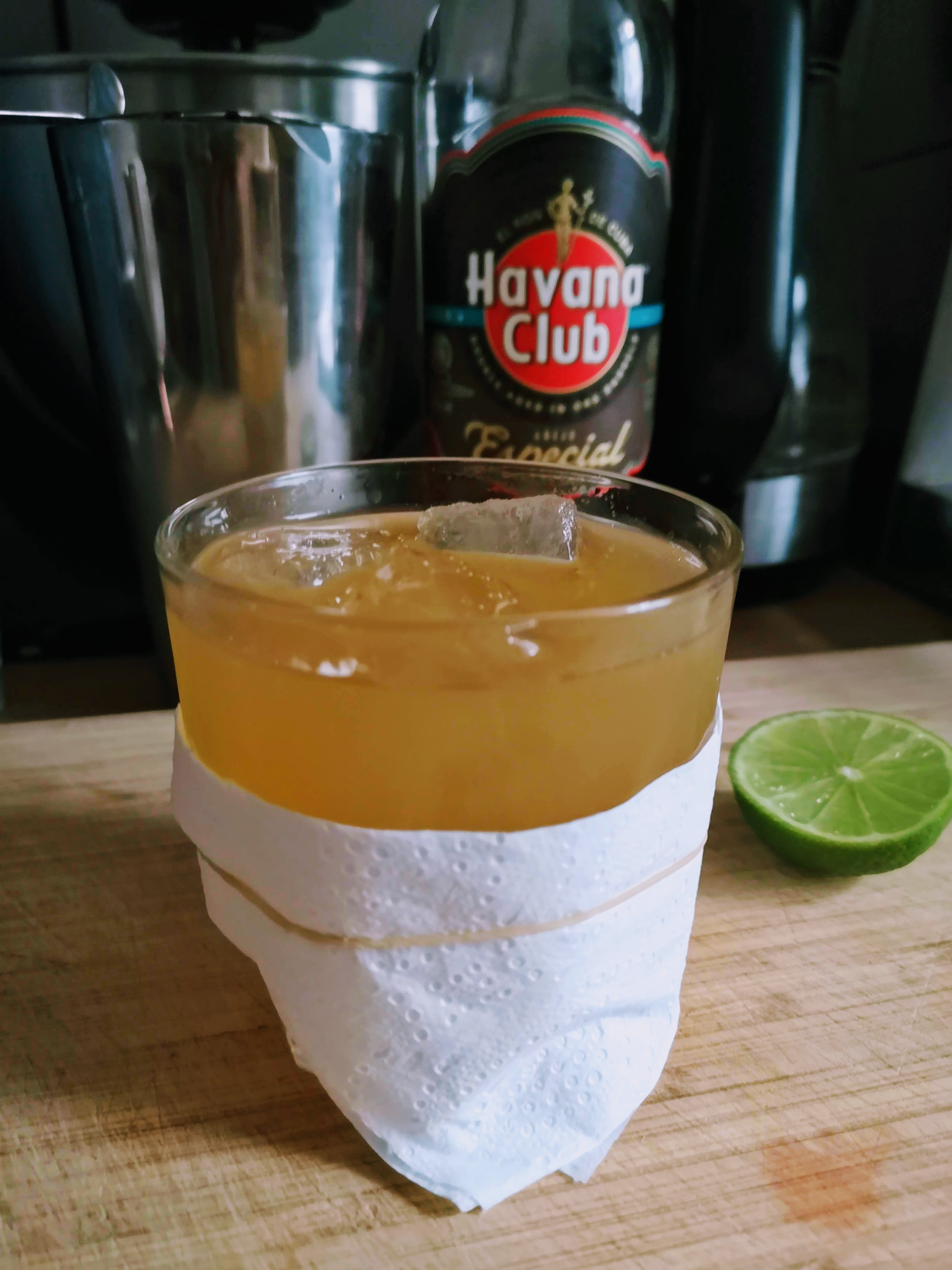 This is insanely refreshing. It's simple, sure. But, there's a nice depth thanks to the rum having good tropical fruit and aged wood vibes. The lime adds a burst of life and flavor to the drink with brightness and a hint of tartness.
Overall, it's easy to see how Papa could down ten or so of these in a session (don't do that). It goes down so easily and does take the edge off the hottest part of the day.
Lastly, having a bit of friction on the glass definitely made it easier to hold. Your hand doesn't get cold or wet, which is nice. Plus, it feels very retro somehow.