The Ramos Gin Fizz is the hardest cocktail to make in the game. If you're ever in a job interview at a high-end cocktail bar, you better have this one on lock because there's a pretty high probability you're going to be asked to make one. While all of that sounds pretty intimidating, this New Orleans classic is worth learning to make at home to truly refine your dry shake and foam skills. There is a true "wow factor" here.
This brunch cocktail dates back to the 1880s in New Orleans and originally was a bit of a "show" cocktail that took 12 minutes of shaking to make. Bartenders would line up and pass off the shaker like a relay because 12 minutes is an incredibly long shake. There was a purpose though. You're basically creating a foamy meringue in the shaker that'll rise up from the top of the glass.
Today, you shake the cocktail until the ice is gone, which is usually closer to five minutes instead of 12. And that's still a long, long time to shake a cocktail. It's a workout and you might well break a sweat. All of that aside, this is a visually stunning cocktail that is truly delicious. And that makes it worth it.
Also Read: The Top Five Cocktail Recipes of 2021
Ramos Gin Fizz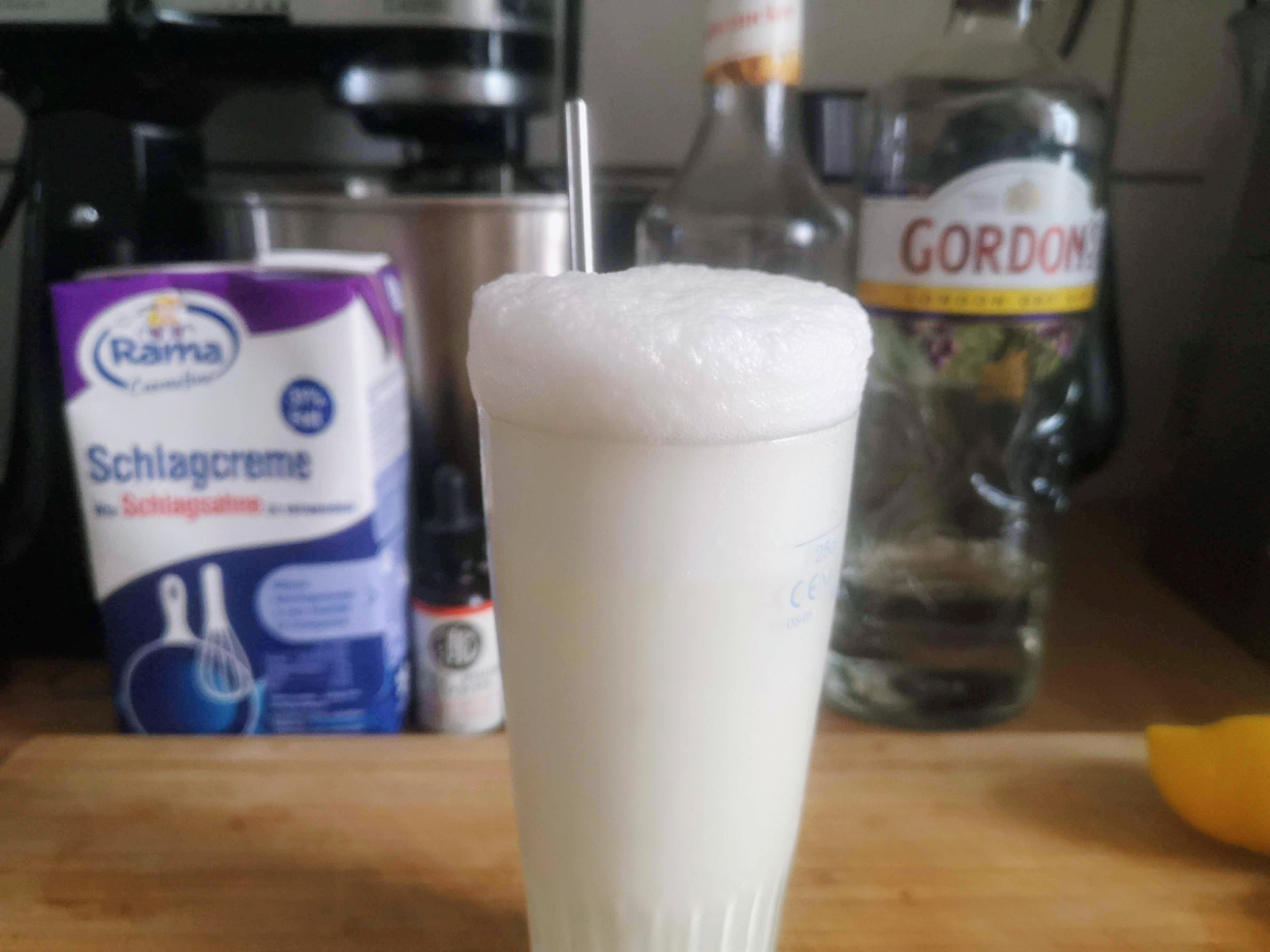 Ingredients:
2 oz. dry gin
0.5 oz. fresh lemon juice
0.5 oz. fresh lime juice
1 oz. simple syrup
1 oz. heavy cream
1 egg white
1 dash orange blossom water
1 dash vanilla extract
Soda water (cold)
Ice
All of the ingredients on this list are pretty straightforward and obtainable at any grocery or liquor store except for one. The orange blossom water is a little harder to find. You can usually find it in a European or Middle Eastern grocery store. Some high-end liquor stores will carry it too.
Beyond that, I'm using Gordon's gin because that's what's open on my shelf (and I like it for cocktails). When it comes to the heavy cream, look for 30 plus percent cream. You need a lot of fat to help give this cocktail the correct texture.
What You'll Need:
Collins glass
Cocktail shaker
Cocktail strainer
Pairing knife
Hand juicer
Jigger
Straw
Method:
Prechill the Collins glass in the freezer.
Add the gin, lemon, lime, simple, orange blossom water (you really only need a drop), vanilla, egg white, and cream to a shaker. Fix the lid and dry shake (while holding tightly) for at least one minute. Be careful as dry shakes are prone to popping since the cold of the ice isn't there to create a vacuum.
Remove the lid and add three or four pieces of deeply frozen ice. Reaffix the lid and shake until you can't hear the ice anymore (three to five minutes). It's fine to take short breaks and switch arms when doing this.
Get your glass out of the freezer. Strain the cocktail into the waiting glass, making sure to get all the frothy egg mixture out.
Place the glass in the fridge for three minutes to let the foam set.
Use the straw to poke a small hole through the foam on top of the drink. Gently pour a small stream of cold soda water through the hole in the foam so that the foam rises just above the rim of the glass.
Put the straw into the hole and serve.
Bottom Line: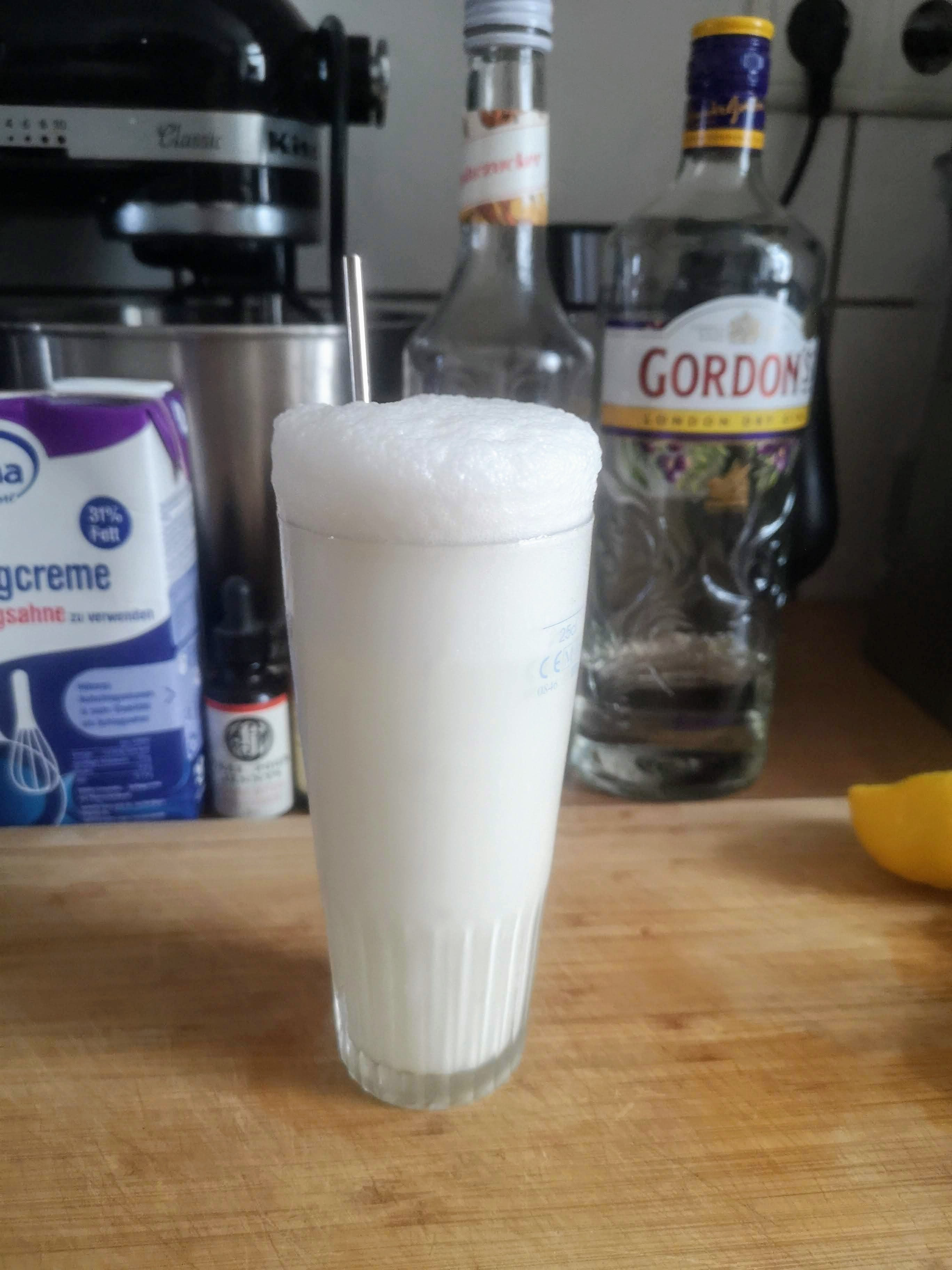 Yeah, my arms still hurt a little from that long shake. But, it's worth it. This drink is a lush masterpiece.
The combination of egg, citrus, and gin with those hints of subtly floral orange blossom and vanilla is delicious. It just works wonders as both a refresher and as a pick-me-up (this is a "breakfast" cocktail after all). Thanks to that small pour of soda water and aeration of the egg white, it's very light while still being, well, lush. It's creamy in the same sense a Yoo-Hoo is creamy when it comes to the texture (the taste is nothing like that of course).
I can tell you though that even when you're in the weeds behind a bar and you see that perfect stiff foam head rise, you feel a real sense of accomplishment. If you don't take the time to let this set up properly, that foam head will melt all over the glass when it rises over the rim. That's a deep disappointment. It's still very drinkable, don't get me wrong.
So, if you're ready to work out those triceps, give this one a shot!