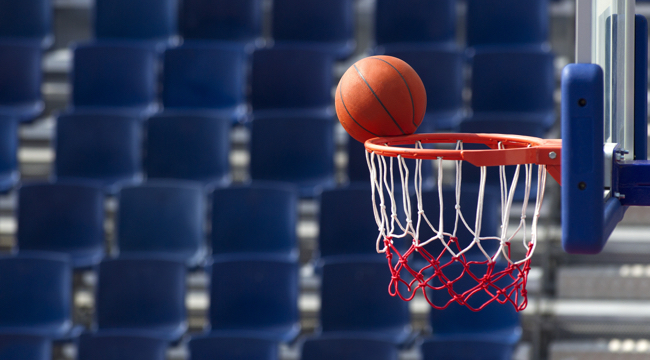 DIME interviewed a sports psychologist, former high school, college, and professional players, and the reigning WNBA Sixth Woman of the Year and asked them all the same question: What happens when the Last Shot goes wrong?
*****
1999
It was the most pressure I had ever felt on a basketball court. The noises in the gymnasium blended together into a sort of static dread. The sweat on my forehead suddenly felt cold. I could feel my heart slapping against the inside of my rib cage. I took a deep breath, stepped to the free throw line, and the ref handed me my chance to be a hero.
Hollywood teaches us that the Last Shot always goes in. Jimmy Chitwood beating the buzzer in Hoosiers; Wesley and Woody converting the alley-oop in White Men Can't Jump; Even Michael Jordan stretching his arm across the court to drop in a final bucket in Space Jam. Commercials celebrate clutch. Shoe companies market clutch.
Magic's baby hook.
Jordan over Ehlo.
Robert Horry's daggers.
We remember clutch.
Worse yet, I think, we expect clutch. And if the final shot happens to bounce out, how are we supposed to react? There is no template for failure.
D.J. Harrison, California
My junior year in high school, we won State. Senior year, we went to try and repeat. They played zone, which was my specialty. It was late in the fourth. We were down four and there was about one minute to play. I missed an open three from the left wing, and then I fouled the guy trying to get the rebound. They hit the one and one and we were down six, and of course they go back to man, so I sub out. Of all my missed shots, that was the one that stuck the most. As a pro, it was the opposite; I was a big part of the reason why we would be in position to win in the first place, so missing that last shot wasn't as emotionally tough. But the high school one, I remember to this day.
Garth Pleasant, Michigan
It's 1967. My senior year, we had a 36-game winning streak. We were playing on the road against Owosso (Michigan) and were down one. As the clock hit zero, I shot it from half court and it was right on, but rimmed out.
Guy named Gary Kibby played for Owosso. Years later, when my son was in high school, Kibby was his math teacher. We hadn't seen each other since baseball season in '67. At a teacher conference, he saw me, and first thing he said was, "I thought that shot from half court was in!"
1999
Two shots. I spun the ball in my hands and stared at the rim. We were down by one with 0.4 seconds left on the clock. We should have killed this team, should have run them out of the gym, but here we were. One of our guards had missed a potential game-winning shot, and I had snared the rebound. Tried to put it back in, but got hacked. Here we were.
Dr. Caroline Silby is a sports psychologist and the author of the book Games Girls Play. In her practice, she has worked with Olympic athletes and has studied the effects of stress on athletic performance:
"Sometimes the biggest moments in sports lead athletes to question their plan or give themselves options in terms of their mental approach. This is where you see errors occur before the ball leaves their fingertips. If you have trained muscle memory and how to manage the stress, but in that moment you fail to execute upon your plan, you have decreased your chances of making that shot."
The old adage is that a nervous jump shooter will "push" or "short arm" his shot because he doesn't trust his normal release. Is this an overcompensation to stress?
According to Silby, "People who are mentally tough discipline themselves to stick to their game plan regardless of how much noise is occurring in their own heads, bodies or environment."
Allie Quigley, Chicago Sky
I haven't had a lot of game-winner chances. One in particular, I remember from a few years ago. I had the final play drawn up for me in the playoffs. I drove to the basket and was hesitant, and tried to pass to a teammate and ended up turning it over. From that moment on, I vowed to never be hesitant again in a big moment. You'll never make a big shot being hesitant. So, the biggest shot I've missed is the one I didn't take that year. I felt regret, but, if anything, I learned, and it got me ready for big shots in the future.
Julius Austin, California
Growing up, my friends and I always thought that we would one day play for our high school team and change things by winning a state championship. Our school, Baldwin High School in Baldwin, Michigan, was known for dominating our conference in basketball. We usually were a lock to win the district championships every year. However, most of our teams would lose in the regionals. My guys and I thought that we'd change that.
By my senior year, I had become a leader on the team and was the leading scorer. We dominated the conference again and made it to regionals. The regional game was a back-and-forth battle. The end of regulation is coming, and I have the ball with a chance to win it. The game is tied with time running out. In my mind, there is no way that I'm not taking the shot, hitting it, and leading our team to a state championship. My confidence rises as the guy guarding me audibly says, "Oh shit," and has a panicked look on his face. The clock is winding down. I dribble from the right side of the court to the free throw line extended area, get the shot I want, pull up and…
I miss!
We go into overtime. Then we go to another overtime…and we end up losing in the third overtime. No state championship. No regional championship. I missed that game-winning shot and missed out on a chance to fulfill a dream and goal that we had set as kids. That shot was one that I can never forget. That shot was also one of the great motivating factors for me to take and make a lot of big shots (including game-winning shots) during my college basketball career. I never wanted to miss a big shot again after feeling the way I did when I missed that shot in high school.
1999
The first free throw left my fingers and clanked off the side of the rim. Now the best I could do was send the game to overtime. Overtime or be the goat.
The second free throw missed badly.
Buzzer.
For the next several days, I was in a haze. It was just one game, but I had a vague awareness that missing clutch free throws could ruin a player. Nick Anderson, Karl Malone, and now me.
There were no commercials, no Hollywood movies that seemed to speak to my situation. Then one day, I stumbled upon Nike's Michael Jordan "I've Failed" poster.
I immediately bought the poster and hung it on my wall between my Dan Marino and Audio Adrenaline posters.
At night, I would lie in my bed and stare across the room into Jordan's eyes — at the words, I've Failed. In those lonely moments, when the demons of failure crept around me in the darkness, I would read the poster again and again.
I didn't know Jordan, and he didn't know me, but he was just a man. And if he could keep moving forward, so could I.