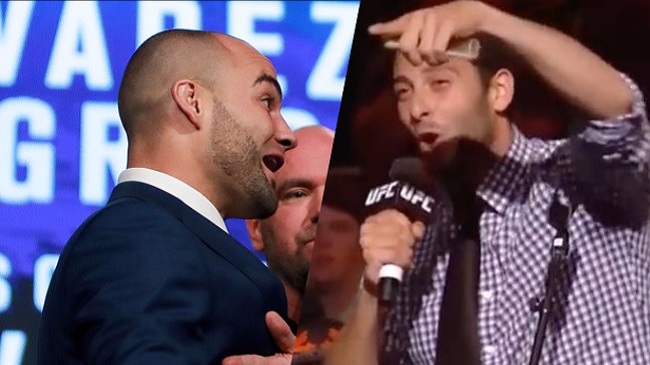 Based on everything we know about Conor McGregor up to this point, it was safe to assume that the lead-up to his lightweight title fight with Eddie Alvarez at UFC 205 would contain a fair bit of smack talk. Which laser guided insults the featherweight champ would have for Alvarez would be an interesting guessing game as always, as is how the former Bellator kingpin would respond to them.
So far, the answer to the latter question appears to be "in stride." The lightweight champ laughed his way through most of the UFC 205 press conference, claimed he'd "never felt less threatened" than he did when staring down McGregor, and even threw some shade at the Irishman's fashion sense and choice of "Build-a-Bear-suits." Clearly, a life spent handing out fisticuff-based life lessons to bullies across the country has hardened Alvarez to any verbal-based onslaught that McGregor might deliver.
And now, Alvarez is even firing back a little, calling out his challenger's ever-growing fanbase during an appearance on The MMA Hour yesterday. After admitting to being a bit taken aback at first by the reaction he received during the UFC 205 press conference, Alvarez went all in.
It just sort of reiterated to me what his fan base is. His fan base is him. They're people who, it's all perception. It seems like he has a lot of WWE fans, guys who don't know much about fighting at all, they are just like him. You can have them fans, they're not the fans I want anyway. You can boo all day long.

I don't want fans who don't know sh*t about MMA. I'd rather have a fan who knows the sport, enjoys the sport, and can see value.
Considering the lengths at which McGregor's fans are willing to go in order to troll his opponents (and their plain weird infatuation with referring to him as "Daddy" on Twitter), I wouldn't exactly call Alvarez's assertion "off base" here. That said, it would be hard to see McGregor sharing a lot of fans with the WWE when you realize just how much sh*t the "Notorious" one has been throwing at the promotion in recent months. Back in August, McGregor branded the WWE's roster as "messed-up p***ies" and even called out Brock Lesnar for being "juiced to the eyeballs" in his fight at UFC 200. When dealing with the subsequent backlash he received from fans and wrestlers alike, McGregor doubled down on his comments, taking to Twitter to declare that he would "slap the head off their entire roster." Hell, he even called John Cena a "fat 40-year-old failed Mr. Olympia," and from what I know of the WWE world, that's like calling Babe Ruth a gay (that's right, A GAY).
In any case, it's become apparent that an old pro like Alvarez isn't going to be letting McGregor inside his head anytime soon. Not while he's busy rooting around inside Jeremy Stephens', anyway.