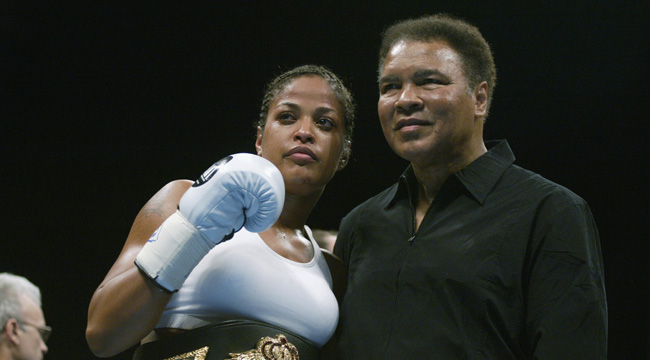 Back in the days when Ronda Rousey was throwing women around like rag dolls and snapping their arms in half, everyone got really into fantasy matchmaking her against all sorts of people outside her division, be it inter-sport or inter-sex. So of course boxing great Laila Ali's name came up, and the two had a brief back and forth in the press that was no Christy Martin rant but still had some heat to it.
Now that Ronda has lost badly twice, though, the gloves are off. While promoting her run on the new Celebrity Apprentice with Arnold Schwarzenegger, The International Business Times asked Laila what she thought of Rousey now and about the comparisons between Ronda and her father Muhammad Ali.
"She's pretty much been exposed. She can't take a punch. It doesn't take anything away from her, what she did as a Judo champion, what she did in the Olympics. But she was basically built up by her promoter to be the best ever to fight, period, in any form of fighting, and it just never was true."

"I've heard people say, 'Well, Muhammad Ali lost, he's still great.' First of all, Muhammad Ali never lost like that. He never got in there and was made to look like a rag doll," Laila said. "And when he did lose it was pretty much after he had been off for three years. He was in his prime, had to take time off, came back, fought the best, then he came back and had rematches against the best, so please don't ever compare her to my father."
Muhammad Ali's career also spanned over twenty years, while Ronda Rousey's clocks in at just over five if you include the year she took off after the Holm beating. If you ask us, that just means Rousey needs to get back in the cage and not let her last two fights define her relatively short career. Laila may be right that Rousey is no Muhammad Ali (there will never be another Muhammad Ali), but Rousey can still cement her legacy as the best female mixed martial artist ever by stepping back into the Octagon and proving to the haters that she wasn't a smoke and mirrors creation of the UFC.
Not that she should have to, but we'd love to see it anyways.