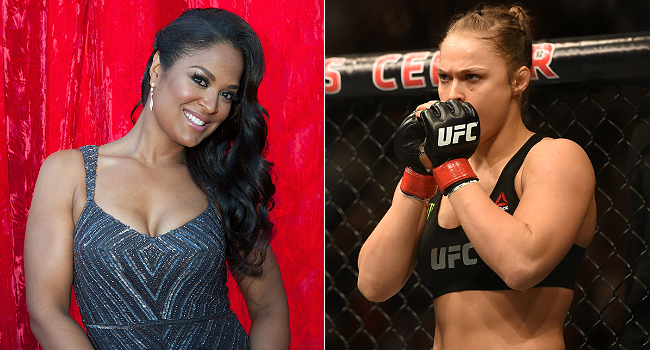 After Ronda Rousey armbarred the crap out of the bantamweight division's last great contender in 14 seconds, we all started to get a bit creative in looking for her next opponent. Male opponents have been discussed, first in a purely hypothetical manner and then more seriously until Ronda herself had to publicly say it wouldn't happen.
Now, we're onto cross-sport matchmaking, with TMZ Sports offering up Laila Ali:
At first, the 37-year-old champ was shy … saying it's hard to compare a boxer to an MMA fighter … but ultimately declared, "No woman can beat me, period."

The 5'10" Ali also pointed out her size advantage over the 5'7″ Rousey — "She's like the size of my daughter … my 3-year-old."

Sounds like fightin' words!!!!
Only when you desperately twist them into fightin' words, TMZ!
As far as comparing boxers to MMA fighters, it's really quite simple: A boxer beats an MMA fighter in a boxing match, and an MMA fighter beats a boxer in an MMA match. Size be damned, Ronda would throw Ali so hard that her father would wake up with a concussion. Take those throws away, and Ali would put an end to Ronda's Sports Illustrated swimsuit model career.
Meanwhile, in reality-land, Cris Cyborg is just sitting there drinking MusclePharm shakes and flexing. "Soon," she whispers to her fists. "Soon."