Welcome to our special comprehensive UFC 205 results page, which we updated throughout the night of the fights with all the action in the cage and reactions outside of it. It was a crazy night of fights in Madison Square Garden, worthy of the legendary sports venue's reputation. Over 20,000 people packed into the arena to see Conor McGregor make history, but it wasn't just about McGregor. Every fight on the card delivered.
In the end, the UFC handed out its $50,000 performance bonuses to Yoel Romero and Conor McGregor, while Tyron Woodley vs Stephen Thompson was awarded Fight of the Night. Now let's see what all the fuss was about.
Conor McGregor defeats Eddie Alvarez via KO (Round 2 at 3:04)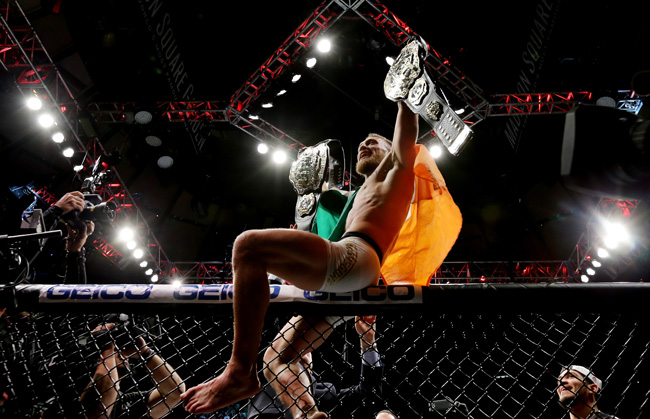 Conor McGregor just made UFC history, and he made it look easy. The now two division champion was just too fast for Eddie Alvarez, and used that speed to pick Eddie apart on the feet, knocking him down three times in the first before finishing him off in the second. Afterwards, he was coy about his future, but it certainly didn't sound like he was planning on slowing down any time soon. Which is a good thing, because the UFC (and the fans) need him.
Tyron Woodley and Stephen Thompson fight to a majority draw (48-47 Woodley, 48-48×2 Draw)
It was a back and forth battle between Woodley and Thompson that was a fight of the year candidate, but it's the ending that many people will be talking about for a long time to come. After Bruce Buffer read the results of the fight handing the victory to Tyron Woodley, the UFC realized a mistake had been made. As Joe Rogan interviewed Woodley, UFC president Dana White said a mistake had been made. It turns out the fight was a majority draw.
Did the internet tear Bruce Buffer a new one for screwing up the reading of the scorecards? Oh yes it did.
Joanna Jedrzejczyk defeats Karolina Kowalkiewicz via Decision (49-46×3)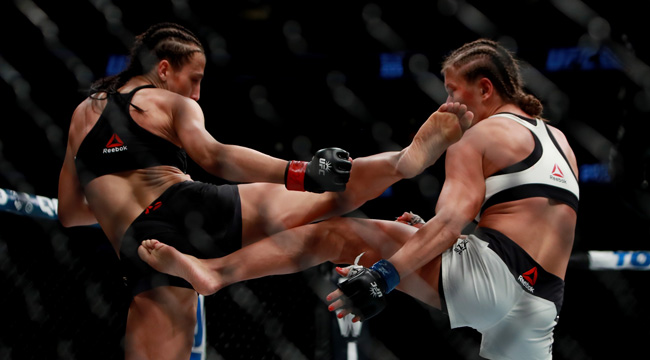 Karolina Kowalkiewicz was a game opponent but unable to top champion Joanna Jedrzejczyk over five rounds. Jedrzejczyk dominated the fight, peppering her fellow Polish opponent with kicks, elbows and knees to take every round of the fight except the fourth. In the fourth Kowalkiewicz had her best moment of the fight, catching Jedrzejczyk flush on the nose with a straight right that had the champion hurt. But she was unable to capitalize and in the end Jedrzejczyk recovered and went back to clearly edging Kowalkiewicz on the cards. It wasn't quite dominant, but it was another clear win for Jedrzejczyk.
Yoel Romero defeats Chris Weidman via Knockout (Flying Knee) (Round 3 at 0:24)
Chris Weidman had the hometown crowd behind him but it wasn't enough to earn him the win against Yoel Romero. Weidman edged Romero out in the first round off striking, but in the second Romero shifted gears and got to wrestling. Wiedman is no slouch in that department but Yoel Romero was on the Cuban Olympic team and used those skills to grind Weidman into the mat. Weidman came out tentative in the third and when Yoel shot in, Weidman went to defend the takedown and didn't even see the flying knee that knocked him to the mat bleeding everywhere. Take a look:
Celebrities in da house at UFC 205 included Gordon Ramsay, Wolverine and Madonna…
Raquel Pennington defeats Miesha Tate via Decision (29-28, 30-27, 30-27)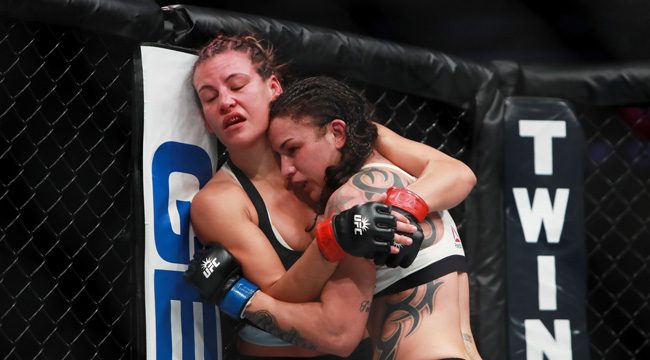 If you watched Raquel Pennington on The Ultimate Fighter, you'd never have thought she'd be a fighter that could defeat Miesha Tate. But Raquel has obviously been working hard in the gym, because she just beat the crap out of Miesha Tate for three full rounds. In the first Pennington caught Tate in a bulldog choke and literally lifted her off the ground multiple times before Tate managed to push off the cage and break out of the hold. In the third, Tate knew she was down two rounds and pulled guard, working multiple submissions but unable to lock any up.
After the fight, Miesha Tate announced her retirement, saying she couldn't draw as deep from herself as before to get the win. As someone who's followed Miesha's career for years, we thank you for years of beatdowns … most of them which Miesha came out on top of. Her epic fights and feud with Ronda Rousey will go down in history.
Conor McGregor is in the house!
Being an Octagon Girl is hard work…
Frankie Edgar defeats Jeremy Stephens via Decision (30-27, 30-27, 29-28)
What was supposed to be a softball of a fight for Frankie Edgar turned into an all out war when Jeremy Stephens managed to clip the former lightweight champion with an overhand right that had Edgar stunned for half of round two. But Stephens wasn't able to capitalize and land a follow up killing blow. Stephens spent round three winging bombs at Edgar but never came close to hurting the New York native again. In the end, two judges didn't even give Jeremy the second round that he came so close to finishing the fight in. Too bad for Jeremy Stephens, but a great fight for the fans. If you didn't catch this, check it out. The UFC couldn't have asked for a more exciting lead in to their UFC 205 event.
President Elect Donald Trump didn't end up making it to UFC 205 but his son is cageside:
Khabib Nurmagomedov defeats Michael Johnson via Submission (Round 3 at 3:31)
Michael Johnson looked good early in this fight, proving he's the faster striker of the two. He utilized his reach to step in and hit Khabib repeatedly, going upstairs and downstairs with ease. Khabib was too slow to counter, and Johnson knew it. But when Khabib got his hands on Johnson, it went downhill for the American fighter quickly. From there the skill difference was obvious.
Khabib cut through Johnson's guard like hot butter, ending up in mount repeatedly and raining down strikes mercilessly. The second round was a painful experience to watch, let alone experience. In the third, Khabib abandoned his ground and pound (effective and damaging as it was) to hit a kimura on Johnson that forced a verbal submission from Johnson. Once again, Khabib Nurmagomedov proves he's the one to beat. But maybe, just maybe, Michael Johnson set up a blueprint on how to beat him.
Tim Boetsch defeats Rafael Natal via KO (Round 1 at 3:22)
It was a classic striker vs grappler match up, and in this case the striker won big. Tim Boetsch isn't a conventional boxer by any means, and that helped him set up his knockout of Natal in this case. Natal was backing up and bounced off the cage as Boetch waded in swinging, and instead of resetting like most combo fighters would, Boetch just turned a little and threw a strange right hand that caught Natal upside the head and dropped him. From there Boetsch got down onto one knee and hammered Natal's head into the mat like a construction worker would a nail. With Boetsch it's never technically pretty but damn if it isn't effective.
Vincente Luque defeats Belal Muhammad via KO (1:19 of Round 1)
Vincente Luque proved he's one to watch with a lightning fast knockout of Belal Muhammad. It was a counter left that caught Belal on the way in that knocked the fighter onto his back unconscious, and there's not much more to say other than you gotta see this:
Jim Miller defeats Thiago Alves via Decision (30-27, 29-28, 30-27)
Jim Miller spoiled Thiago Alves' comeback fight, outworking the former welterweight contender over three rounds to earn a solid decision win. Alves missed weight and wasn't allowed to fully rehydrate before the match and seemed sluggish through the fight. While his strikes were too slow, his kicks were on point. But it wasn't enough to stop Jim Miller from doing what Jim Miller does: get the takedown and grind out the decision.
After his win, Joe Rogan announced that Jim Miller now has the most wins at lightweight in UFC history. Unfortunately, this was a mistake. Because Alves missed weight, the fight was not fought in the 155 pound division. So Miller will have to win again in order to claim that record. Bummer.
Liz Carmouche defeats Katlyn Chookagian via Split Decision (29-28 x 3)
It wasn't as close as the split decision may make it look. An absolutely ripped Liz 'Girl-Rilla' Carmouche controlled the fight through the first two rounds, using constant pressure to keep Chookagian against the cage and on her back on the mat. Chookagian's superior reach never came into play, but she did show a flash of brilliance in the third round with a brutal head kick that almost finished Carmouche off.
But Liz dug deep and clinched back up, surviving and even coming back by the end of the round. Katlyn Chookagian may be one to watch in the future, but after tonight she'll have to go back to the drawing board.
https://twitter.com/ufc/status/797595335262486528