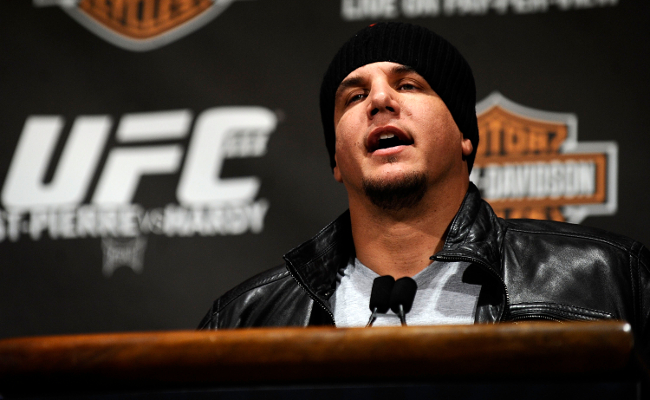 It's Wednesday night fights, gang! After a pretty insane weekend of UFC action, the juggernaut rolls on, making a mid-week pit stop in sunny Southern California. We're doing things a little different this time around because there's a ton of stuff running Friday through Saturday of this week. Here's a one-stop shop for both your live discussion for UFC Fight Night 71, starting at 7 p.m. EST on Fight Pass, but it's also home to the charming, intelligent, hilarious and accurate predictions you've come to love from the delightful Uproxx Sports crew!
Important Standings of Note:
Jessica: 435-294-4 (60%)
Burnsy: 444-272-5 (62%)
Vince: 213-139-2 (60%)
Ryan: 10-5-1 (66%)
Danny: 161-77-1 (67%)
Spilled: 81-60-2 (57%)
Sydnie: 16-12 (57%)
Chris: 44-15-2 (74%)
NY Ric: 36-26-1 (57%)
Ghost: 6-7 (46%)
Seth: 32-15 (68%)
Biss: 41-39-1 (51%)
Jared: 71-42-1 (63%)
Melanie: 22-10 (69%)
Welterweight: Andrew "Highlight" Craig vs. Lyman "Cyborg" Good
Jessica: Though I'm picking him to win, I fully reserve the right to call him Lyman Bad upon a loss. Good's struggled against wrestley guys, and Craig isn't, I think? I think I've seen Craig fight a few times, but I really don't know what kind of style he claims to have. Whatever, Good will punch-kick him in the face enough that it won't matter. Good wins by third round TKO.
Burnsy: "Hello, my name is Lyman. Lyman Zerga." That's about all I have for this fight. Although I wish Craig's nickname was Highlights and he had tats of Goofus and Gallant on both shoulders. Whatever, coin flip, I pick Highlight.
Melanie: Good by decision
Jared: I don't like that Good is making his UFC debut on such short notice, but I still like him to beat Craig because he's just better in every aspect of the fight game.
Middleweight: "King" Kevin Casey vs. Ildemar Alcantara
Jessica: Casey is going to get tired about three minutes into the first round, and Alcantara will blast him in the face with punches. Also, Casey has a TKO loss to MINOWAMAN on his record. That doesn't happen to many folks. Anyway, Alcantara wins by second round KO.
Burnsy: I'll take Alcantara over the guy who got a one-year ban for juicing. Unless Casey is juicing again, in which case I will take him.
Melanie: Casey by KO
Jared: do not side with convicted steroid cheats out of principle, so I'll go with Alcantara here. Look at me, handing down life lessons to all the sinners from my cloud of judgement. Like I'm some saint. I've been convicted of misdemeanor arson *twice* and am pretty sure I fathered a child while studying abroad in Guatemala. If anything, Kevin Casey should be judging me. Selfish, fire-loving, lifeless-behind-the-eyes me.
Welterweight: Igor Araujo vs. Sean "Tarzan" Strickland
Jessica: On one hand, Strickland choked out Bubba McDaniel, which is always appreciated, while on the other, Araujo beat Ildemar Alcantara, who is pretty good in his own right. I'll go ahead and say that Strickland's punching power will stymie Araujo, but won't actually result in a stoppage. Strickland wins a solid decision.
Burnsy: Both of these fighters won their first two fights in the UFC and then lost the third, but Igor's loss was a nifty KO by George Sullivan back in September. Strickland went the distance in his loss, and he's 10 years younger than Igor, so I'll give Tarzan the advantage.
Jared: I'm sorry, I need a minute to reset after that last fight pick. Strickland.
Bantamweight: Rani Yahya vs. Masanori Kanehara
Jessica: Yahya has a much better resume of victories, and even his losses are to top competition. I'm taking Yahya to win with a second round submission.
Burnsy: I'm picking Honey YaYa because Kanehara beat my boy Bruce Leeroy in his UFC debut, and while that seems to be an easy thing to do lately, I'm holding a grudge out of loyalty.
Melanie: Yahya by decision
Jared: I'm going to take Kanehara here, because I've never been all that impressed by Yahya's grappling, which is his only claim to fame, really. His offense is more smothering than dominating in terms of technique. Smothering, like what I told Lupe she was doing when she begged me to meet her family and announce the big news. Like what I've told every woman in my life whose only crime was loving me too much. "You're smothering me… "
Bantamweight: Jessica "Bate Estaca" Andrade vs. Sarah "Cheesecake" Moras
Jessica: Moras was impressive when she outworked Alexis Dufresne from the bottom, but Andrade's BJJ is way too good to get thwarted if the fight hits the ground. Andrade submits Moras in the first.
Burnsy: Andrade lost an embarrassing one last time out, when she was choked out in the first round by Marion Reneau in February. But I'll still take her experience over Cheesecake. However, I'll still take some cheesecake, please.
Melanie: Andrade by TKO
Jared: Lupe had a sister, Ella, who looked a lot like Jessica Andrade and once told me that if I ever broke her kid sister's heart, she'd burn me in my bed. I've been sleeping with one eye open ever since.
Featherweight: Sam Sicilia vs. Yaotzin Meza
Jessica: Sicilia won't need to show off his SIK JITSU because he's going to just punch Meza in the head a lot and get a KO in the second.
Burnsy: I don't know how to feel about this one. Sicilia is a classic win one/lose one fighter coming off a win in January, so obviously he should lose. Meza has shown some flashes of upside in his last few fights, so I'll take a shot on him winning this one.
Jared: I sometimes find myself staring in a mirror for extended periods of time, just repeating "Why am I like this?" and hoping to receive some divine intervention in the form of a blow to the back of the head that leaves me in a never-waking sleep. Of the two fighters competing here, only Sicilia possesses the kind of power in his hands that could free me from the eternal hellscape my own actions have wrought, which is why I'm picking him to win.
Welterweight: Alan "Brahma" Jouban vs. Matt Dwyer
Jessica: Dwyer did have a good win over Simon Phoenix, but even his famous cousin, Andy, won't be able to help him here. Jouban is too handsome, too good, and hits too hard. Jouban is going to get a very pretty knockout in the first.
Burnsy: I'm a big fan of Jouban's KO power, so I'd like to see him say, "Night night" to Dwyer fast and unfriendly in this one.
Melanie: Jouban by KO
Jared: Speaking of mirrors, Matt Dwyer has arguably had the most mirror opposite pair of initial performances in UFC history (streeeetch), suffering a head kick KO defeat to Albert Tumenov in his promotional debut before superman punch KO'ing William Macario in his sophomore outing. You might say his life has been flip-turned upside down, kind of like mine was when I was forced to flee La Casa de Lupe in the night and hitchhike to the neighboring Honduras. Jouban, on the other hand, is like the nameless man who smuggled me across the border: strong, silent, and always looking for an easy way to make 150 Quetzal. Jouban.
Lightweight: Kevin "The Motown Phenom" Lee vs. James "Moon Walker" Moontasri
Jessica: Moontasri's not bad, but Lee's a lot better, and he's faced better competition so far. Granted, he lost to RAGIN AL, but c'mon, lots of people lost to that angry dude. Lee should grab a decision win here.
Burnsy: Kevin Lee, all day.
Jared: Kevin. That's what I would have named the little one had I the intestinal fortitude to accept responsibility for my actions. Kevin.
Bantamweight: Scott "Young Guns" Jorgensen vs. Manny "The Anvil" Gamburyan
Jessica: Poor no longer Spotty Scotty. He's had a rough go of things in the UFC, but to be fair, he's faced a lot of top guys. I think a return to bantamweight will help, being that Jorgensen isn't quick enough for the 125-ers. Manvel's also had some troubles in the UFC, but it hasn't really been against super duper tough guys. I'm putting my hopes and dreams on Jorgensen, again, and say he wins with a third round submission.
Burnsy: I can't pick Jorgensen anymore. I like the dude, but he's just running on fumes. Manny will win this one, but it might actually be close until Scott screws up.
Jared: Ah, a classic battle of "Who has it less?" The answer, if the "it" being discussed here is a soul, is me of course. But if the "it" being discussed is gamesmanship, the answer is Jorgensen, who has looked like a shadow of his former self in many of his recent performances. Gamburyan, on the other hand, has posted bigger wins over better competition and should be able to outmuscle the smaller man en route to a decision win.
Bantamweight: Holly "The Preacher's Daughter" Holm vs. Marion "Belizean Bruiser" Reneau
Jessica: Reneau's looked very good in her last few fights. Holm looked kinda meh against Pennington in her UFC debut. I'm going to make the probably stupid leap of faith and say that Reneau submits Holm in the third.
Burnsy: I love the name The Preacher's Daughter for an MMA fighter, so I want Holm to win this so she can stick around and become a badass who comes to the octagon in a long overcoat, chewin' some wheat.
Melanie: Reneau by decision
Jared: Holly Holm's UFC debut was about as unimpressive as my track record when it comes to making responsible decisions, but I guess that sometimes happens when you're being hailed as the next challenger to Ronda Rousey before even signing with the organization she competes in. I still like her to win here, but I wouldn't be surprised if her hype train completely derails tonight.
Lightweight: Josh "The Punk" Thomson vs. Tony "El Cucuy" Ferguson
Jessica: The real El Cucuy is here! Thomson is a decent kickboxer when his body isn't falling apart due to the AKA training regimens being hot garbage. Ferguson keeps getting better, and I see him wrestling Josh a lot, landing big Ground n' Pound. Ferguson wins by second round TKO.
Burnsy: El Cucuy defeats the guy with the nickname from a bad '80s wrestling video game.
Melanie: Ferguson by decision
Jared: It's almost impossible to bet against "El Cucuy" these days, who has been putting away legitimate opponents like they were, I don't know, bags of Tortrix Lime Flavored Corn Chips that I discovered while stuffed into the trunk of a complete stranger's AMC Pacer on the 7 hour drive from Huehuetenango to Juticalpa. Thomson, on the other hand, has lost a bit of pep in his step over the years due to injury, so I'll take Ferguson.
Heavyweight: Frank Mir vs. Todd Duffee
Jessica: Frank usually has trouble against strong dudes what hit hard (yeah, everyone does), and while Duffee does hit super hard, he doesn't have the wrestling to bully Frank around like Carwin, Lesnar, or Cormier. Mir really needs a win to keep his wife off his back for another few months, and I think he gets it. Francisco Santos Mir III wins by second round submission.
Burnsy: I'm picking Duffee because I'd like to believe that he's a promising, up-and-coming heavyweight. Not that a win over Mir will prove that, but this fight's purpose is to either allow us to say, "Well, he beat Mir, so…" or "MIR'S STILL GOT IT!" But yeah, we're not yelling the latter. Duffee wins.
Melanie: Mir by submission
Jared: There is little that can be said to convince me that Duffee doesn't put a beating on the consistently inconsistent Mir tonight. Like, less than what could be said to justify my outright despicable actions over the years. Todd Duffee has everything short of fate on his side, and when he starts to put the pressure on Mir, the aging former champ will look for a way out. Which is why, as I write this fight-picking piece from my second floor Boston apartment — a million miles away from Lupe, Kevin, Ella, or the nameless man I turned over to Honduran police to save my own ass so many nights ago — I am confident that the Duffman will emerge victorious. Because I know a thing or two about life offering you a way out and it's about time that Mir learned a similar lesson.
Performance of the Night
Jessica: Jouban, Andrade
Burnsy: Duffee, El Cucuy
Fight of the Night
Jessica: Reneau vs. Holm
Burnsy: Sicilia vs. Meza