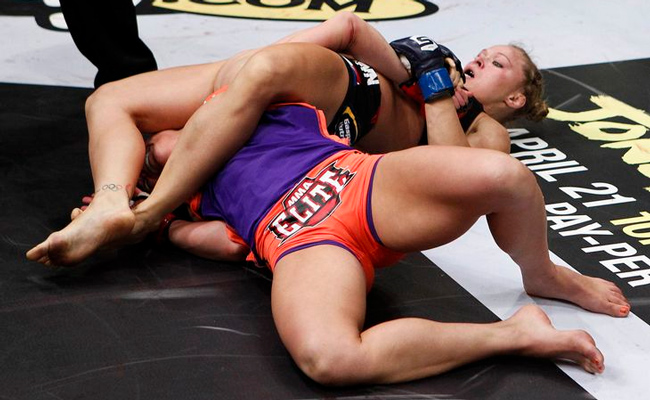 ESPN's MMA Rewind got some interview time with Ronda Rousey recently and instead of asking her the same boring questions about this and that, they decided to show her a bunch of her early MMA fights and get her thoughts on them. Her answers show just how much technique goes into drubbing her MMA and judo opponents in under 60 seconds / 30 seconds / 5 seconds.
Combat sports have been called human chess and in that regard Ronda is a grandmaster who has several devastating chains of moves leading to an inevitable checkmate. Don't ever think she just falls into these positions out of luck – she learned how to finish a fight seconds after it hits the ground because that's all the time you get in judo.
[protected-iframe width="650″ height="400″ id="c1bc92af514fb5cdddaea95a042db130-60970621-7495544″ info="http://player.ooyala.com/player.js?deepLinkEmbedCode=ptZXF3dDqbPfG2F-K0_zzhVjLuWrktZJ&width=650&height=400&pcode=1kNG061cgaoolOncv54OAO1ceO-I&externalId=espn%3A12831982&embedCode=ptZXF3dDqbPfG2F-K0_zzhVjLuWrktZJ&video_pcode=1kNG061cgaoolOncv54OAO1ceO-I" ]
A few quotes from the video:
"No one's ever thrown a kick at me that I haven't caught."

"I was kinda like 'Oh no!' There was a while where I checked on people after [winning]. But I really don't, any more."

"I won 750 dollars cash. I'd never won cash before after a fight and I bought like $80 dollars worth of chocolate and just sat in my room eating chocolate nonstop."
"I got an offer to fight Gina [Carano]. This chick [Charmaine Tweet] said if I pulled out to fight in Strikeforce she would sue me. … I never really say anything mean to my opponents afterwards, but she was one I ever did. I had to work several more months at three jobs because she wouldn't let me go fight."
On the plus side, Gina Carano's return to MMA never ended up happening and Ronda still made it into Strikeforce for her next fight three months later. But none of that was clear at the time of the fight so Charmaine Tweet is lucky Ronda didn't break her arm backwards a la Miesha Tate.