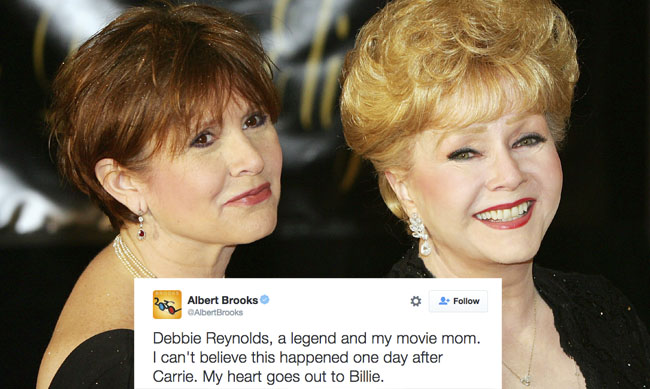 The death of Debbie Reynolds at 84, just one day after her daughter Carrie Fisher passed away, is a shock to many across the globe and in Hollywood. The legendary actress certainly lived up to the title over the years thanks to roles in films like Singin' In The Rain and The Unsinkable Molly Brown, her own variety show in the early 70s, and a slew of guest appearances along the way. Her personal life sometimes overshadowed it all, but there was no denying she was a star. If you take one thing away from the reactions to her death, it is that Debbie Reynolds was revered by fellow actors and fans alike.
Albert Brooks shared the screen with Reynolds in Mother, mostly thanks to his friendship with Carrie Fisher, and was quick to share his thoughts about both online:
There was also plenty of love from Reynolds former cast mates on Will & Grace, including her on-screen daughter Debra Messing:
Sadly, as pointed out by Vulture and Entertainment Weekly, the best tribute to Reynolds came from her late daughter Carrie Fisher at the 2015 SAG Awards. It was a speech that managed to poke fun, share praise, and reveal some personal touches that are hard to get from anywhere else.
It's a fantastic way to celebrate a life and career, only now with its own somber undertone after both have passed away so close to each other. It's a strange way to put a close to such a dreary year, but the best we can do is remember a pair of legends at their best.