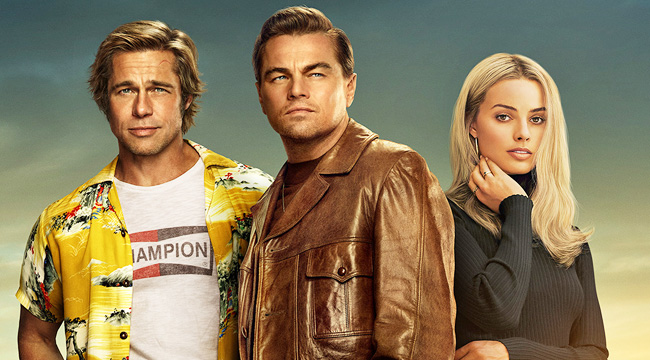 (Warning: Enormous spoilers from Tarantino's Once Upon A Time In Hollywood, including hints about the film's ending, will be found below.
Seriously, only proceed if you've watched this movie!)
Quentin Tarantino's Once Upon A Time In Hollywood generated Thursday preview numbers that could lead to the biggest opening weekend of the auteur's career. The movie is playing incredibly well with critics (our own Mike Ryan praised the film's careful treatment of Sharon Tate's legacy while Vince Mancini relished the ride of QT's ode to the 1960s), and audiences are loving it as well. Laughter is erupting throughout theaters as we speak, despite the history of Manson's Family descending for their inevitable violent attack.
Admittedly, it was slightly disappointing how, early on in the film, Dewey Crowe Damon Herriman's version of Charles Manson received only about a minute of total screen time. Yet his three most vicious goons — led menacingly enough by Austin Butler's Tex — played their roles well (oh boy) as written. Did you expect this movie to embrace Inglorious Basterds vibes? Probably not. And did I expect a very good dog to steal a great deal of attention away from the entire ensemble cast? Dear god no, but it was gloriously satisfying to witness. And very subtly, the film's Twitter account has recognized this performer's efforts.

If you've watched the movie (and again, I sure hope you have), you've already met Brandy, played by a pitbull named Sayuri. Her photo was tucked away in a thread under Al Pacino's character.
Sayuri hails from Delaware, where filmmakers discovered her and where she's being profiled by her local paper. Her level of obedience and self-control was evident earlier in the film while Brad Pitt's Cliff painstakingly prepared her food, and she was prepared to obey all his cues. Fittingly, Sayuri's being praised on social media as the real MVP of this movie. And as noted by SlashFilm's Chris Evangelista, this reaction was prefaced by Brandy/Sayuri receiving the coveted (and real) Palm Dog Award at Cannes.
Behold, the era of Brandy has commenced.
Between Brandy and the dogs from John Wick 3, it's been an excellent summer at the movies. Once Upon A Time In Hollywood is currently playing in theaters.