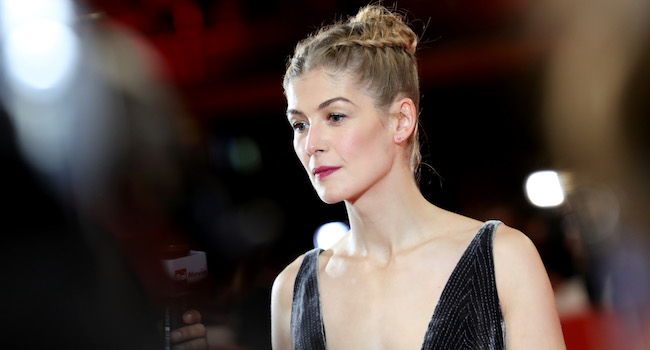 The latest actress with a Hollywood horror story to tell is Rosamund Pike. During an appearance on Audible Session — there to promote an audio book of Pride and Prejudice read by her — the Oscar-nominee delved into her breakthrough movie: the 2003 Bond entry Die Another Day. In the film, the last of the Pierce Brosnans, the future star of Gone Girl and Hostiles played henchwoman Miranda Frost. Though she got the role, it wasn't easy. During her audition, she was asked to strip down to her unmentionables. She refused.
"I remember them saying I was to drop my dress and appear in my underwear," Pike said during the interview. "On the day, I don't know how I got the resolve and strength of mind, but I just thought 'Actually sod that, if they're going to see me in my underwear, they better give me the job.' So, I thought, 'There's no way I'm going to take off a dress in the audition for this tape to be sent around Los Angeles and to be judged on that.'"
The audition also called for her to wear formal wear. Pike intended to don her grandmother's silk gown, but she said the costume designer told her, "'That's a very beautiful dress, but in Bond films we wear things a little more like this', and she held up three pieces of string." It shocked Pike. "I realized I was in a completely different world and way out of my depth. So, I put on this shimmering sheath, or whatever the order of the day was, but I didn't drop it."
Pike's story adds yet more grist to the #MeToo movement, which has revealed an industry drunk on sexism and power, especially over women. Pike was quick to point out that Brosnan, at least, was a perfect gentleman. But the casting process for movies continues to have shocking stories of casual sexism.