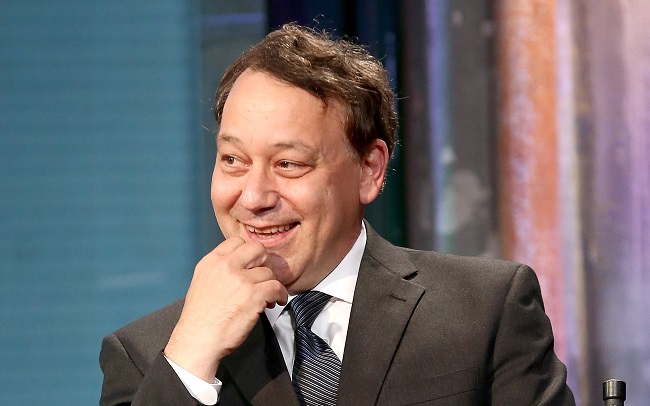 This Halloween is a special one fans of the Evil Dead movies. For the first time since 1992's Army of Darkness, the team of director Sam Raimi (who executive produces and directs the pilot), actor Bruce Campbell, producer Rob Tapert and writer Ivan Raimi have reunited for a new chapter in the story. Campbell again plays Ash Williams, our reluctant-but-available hero idiot hero who stands up to an evil, otherworldly force that possesses people, cabins, and the woods. Ash vs. Evil Dead premieres this Saturday on Starz, and we had the chance to speak with Sam Raimi about coming back to Evil Dead, something that he created 30 years ago.
Okay, the first thing I want to say is The Classic looks like it's handling great.
I think it does.
I was really happy to see it and I was really happy to see it burning so much awesome rubber.
Did you see Bruce do that slide in with the car into that bar?
Yes.
He does a T.J. Hooker, we call it. William Shatner used to love to drive his car on the set of T.J. Hooker, his golf cart, wheel in without cutting, get out of the car and storm into the scene. Bruce wanted to do a T.J. Hooker, and so that's what we call that shot.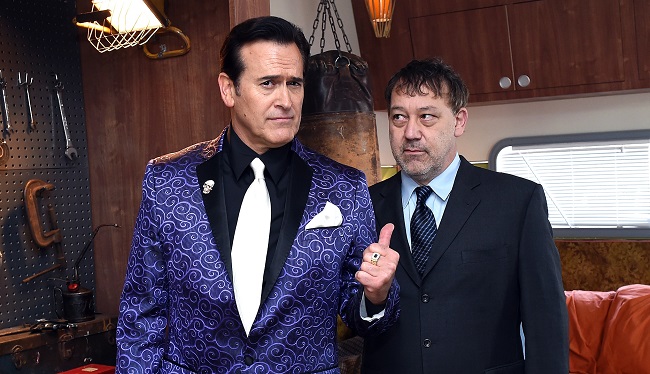 I feel like Ash, despite his constant and reliable screw ups, has just gotten cockier.
Is that possible?
How has he not learned that he can't read that book?
I don't know.
How has he remained so stupid after all this time?
He's the dumbest monster fighter in the world.
Yet so confident.
Yeah, he's so full of himself. He's like a blowhard and a coward and a braggart and just the worst hero that they ever made.
It's so great to see him again.
Good.
It may be a spoiler, but how many times do you think Ash has read the Necronomicon while stoned?
I think this is the first time. I think he wanted to impress this girl who wanted to hear poetry and she says, "That shit really turns me on," so Bruce is trying to score with this girl, and he's such a dope that he's impressed her with the one thing he shouldn't, and that is when he opens up the Pandora's Box again.