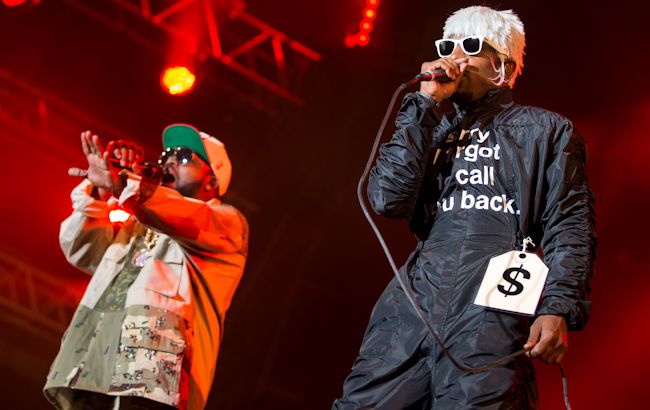 Whether it was André 3000 painting metaphors and tales of meeting gypsies or Big Boi spitting insights on more literal situations, Outkast has been dropping philosophical gems in their music for more than 20 years now. Since the duo debuted with Southernplayalisticadillacmuzik in 1992, they've made it their specialty to make music that stands out from all the rest, including their own past works.
While the novelty was refreshing and brought them what would grow into a fanbase of millions, the part of their music that gave it an everlasting replay value is the well of knowledge hidden within their lyrics. It's fair to say that you could play an Outkast track on multiple occasions and get a new message from it each time.
They may make it look really easy, but there's an art to passing down wisdom the way that Outkast does. If you want to learn how to do the same, listening to these Outkast songs would be a good way to start.
"Rosa Parks"
To this day, no one really knows why this song is called "Rosa Parks," besides the hook's vague mention of sitting on a bus. But while we spend years trying to figure that part out, Big Boi and André left us with some easier puzzles to put together in their verses. While Big Boi touches on how nonconformity isn't a bad thing ("take the back way" and "taking another route"), André tells us about how he met a gypsy that opened up his mind to the possibilities and helped him get out of his own way.

"SpottieOttieDopalicious"
"SpottieOttieDopalicious" is both fun to say out loud (just try it) and listen to. It comes off as more of a spoken word piece than a song and that may be why the messages throughout resonate. Big Boi takes a close look at the perpetual cycle many experience while trying to get on their feet and other real-life responsibilities that can seemingly come out of nowhere.
"Elevators (Me & You)"
"Elevators" is a lesson in misperception. While it's easy to assume that someone's more successful than you are, that often isn't the case. This is especially clear in André's final verse where he explains to a former classmate that he still goes through everyday struggles and reminds us that some rappers live check-to-check too. Even if those checks are a little bigger than ours, it's still not comfortable.

"Gasoline Dreams"
I don't know about you, but I've never met a philosopher that didn't also specialize in complaining about the things going wrong in the world. And that's exactly why "Gasoline Dreams" is for Outkast as they question how far people will go for a slice of the American pie.
"The Whole World"
Everyone experiences fear and days where they feel like they're walking around with a cloud hanging over their heads like the Zoloft bubble. "The Whole World" was Outkast letting us know they they sometimes feel the same and then encouraging their fans to keep their eyes forward and to not hold themselves back. Also, Killer Mike's verse on this song is epic.

"Aquemini"
First things first: "Aquemini" = Aquarius (Big Boi) + Gemini (André 3000). Now that that's handled, I can talk about the song.
Big Boi and André use the title song of their third album to offer different lessons. Big Boi reminds us that spending money on things like a wood-grain steering wheel and rims isn't worth the stress it puts on you if you're struggling just to pay rent as a result of it. Because, priorities. Andre goes on to give a similar lesson but I'm not even going to act like his last verse wasn't so insane that it makes you forget the rest of the song exists.
"Int'l Player's Anthem"
This song is a southern rapper All-Star cut. We've got four of the most influential rappers south of the Mason-Dixon in UGK and Outkast (or ever…), on a track together produced by DJ Paul and Juicy J of Three 6 Mafia, all well after they've already solidified their status as rap legends. And that's exactly how they approach the track, as seasoned veterans. While everyone's bound to have a different favorite verse in this track — which is perfectly okay given the choices — André's is important because it's a lesson that we all learn eventually. One day you've got to grow up and leave all of the things you used to do in the rearview mirror – unless you're riding in a spaceship.
Also, don't get married on impulse. The odds aren't in your favor if you do.

"Da Art of Storytellin' (Pt. 1)"
Any good philosopher, teacher or writer knows that sometimes the best way to get a message across is by disguising it in a story and letting people figure out the morale for themselves. Given that they're two of the best street philosophers to ever do it, Big Boi and André 3000 do just that in "Da Art of Stoyrtellin'" as they tell the tragic tales of Suzie Screw and her partner Sasha Thumper.
Note: Slick Rick came around to add a verse for a remix, which is only right given that he's considered the champion of storytelling raps.
"Ms. Jackson"
I'm not trying to tell people how to live their lives here, but Big Boi has a point. Babies aren't paychecks and shouldn't be treated as such. And André sounds like he needs a hug. It's okay, man, these kinds of things have always happened to the best of us and probably will forever. Yes, forever, ever.
Note: This song was about Erykah Badu and "Ms. Jackson" is her mother, Koleen Maria Wright. This song's 15 years old now and she recently did an interview where she talked about what she thought of the song at the time and André as a person. Definitely worth a read.

"B.O.B."
You may have never noticed the messages in "B.O.B." because it automatically triples your heart rate whenever it comes on, but they're there. Andre uses the fact idea that the weatherman is always wrong to remind us to follow our own instincts and not the warnings of others. By the end of the song, you're left with a shirt drenched in sweat and motivation to be your own boss.
"Humble Mumble"
Spending a weekend reading about dinosaurs doesn't qualify you to debate with a paleontologist about evolutionism. The same applies for other areas too. Even André 3000 knows that and says so in his verse in "Humble Mumble."
Big Boi's also on to something. Not everything goes the way you expect it to. When that happens, you've got to dig down deep, find some resolve and push through to make the best of it.

"Roses"
Entertaining song and a captivating video. By this point in their career, the two halves of Outkast had made it clear that they're two very different rappers that came together to make something better. One of the songs to help promote that image was "Roses," a lesson in hubris and karma.
"Hey Ya!"
The fanfare around "Hey Ya!" got so huge that it sometimes overshadows the rest of Outkast's work and success. André even turned his back to the crowd during the Outkast reunion tour last year for the entire song. But it's still a good song and a great video. But what all the kids singing the lyrics a decade ago may not have noticed – myself included – is that it's about a couple fighting an inevitable breakup because the guy has commitment issues. Learn from his mistakes and you should be fine.