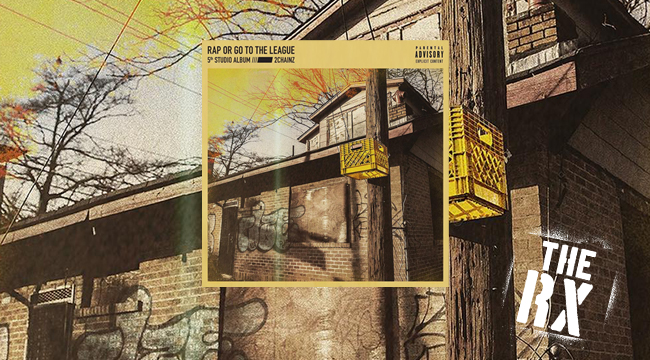 The RX is Uproxx Music's stamp of approval for the best albums, songs, and music stories throughout the year. Inclusion in this category is the highest distinction we can bestow, and signals the most important music being released throughout the year. The RX is the music you need, right now.
If this season with the Lakers doesn't work out, perhaps LeBron James might consider a permanent career as a rap A&R. His record there is so much better than his, shall we say, "fraught" first campaign with LA's most storied sports franchise. His first time out as a record producer is a complete — you'll really have to forgive the expression — slam dunk. 2 Chainz's Rap Or Go To The League is so, so, so good. It's pretty much everything you could ever hope for from the two personalities who are, despite appearances and fan complaints to the contrary, still at the top of their games.
It's been said that LeBron James' Instagram page is the most valuable promotional tool in rap — in fact, it was said by this very site. Songs and artists the NBA star posts about often become the talk of the rap internet — whether that's by virtue of a golden ear or James' massive platform is no longer in doubt. By turning his curatorial skills to 2 Chainz's already polished rap craftsmanship, he has proved that his success in picking the next big things has been a result of his exquisite taste. While it's likely impossible to say how much input he had over the course of the creation of Rap Or Go To The League, the effect of the pair's chemistry is simply the best album of 2 Chainz's lengthy, storied career, the culmination of 20 years of hard work, heart, and hustle — incidentally, exactly the same things it takes to achieve either of the title's options for escaping life in the hood.
Growing up, young Black men are often only presented a few pathways to financial security, very few of them legitimate. As The Notorious BIG put it on his 1994 debut, Ready To Die, "Either you're slinging crack rock or you got a wicked jump shot." Biggie, of course, represented the third option himself — learn to rhyme, get signed, and hope to heaven your label doesn't try to jerk you on the back end. 2 Chainz himself embodies all three of these limited choices. As Tauheed Epps, the 6'6 future rapper played high school basketball at a high enough level to earn a scholarship to hoop at Alabama State University — he also dealt weed and was arrested for felony cocaine possession when he was just 15 years old.
Those experiences have always informed his music, as well as his public persona as the Drench God, the seasoned, venerable trap veteran draped in opulent splendor and redolent of hard-won wisdom. While his 2017 effort Pretty Girls Love Trap Music felt like his moment to bask in the glory of his survival and his supremacy, Rap Or Go To The League is the old lion, passing on those jewels of precious knowledge to his upcoming successors. Think of the role of the 15-year veteran player on a team of young, developing players, brought in to act as a stabilizing force in the locker and a few solid minutes on the floor, showing the youngsters the intricacies of the offense, passing along defensive tidbits during play, and showing he can still score and lead the team if need be. That's this album.
It'd sell Rap Or Go To The League short to call it a "trap" album, or 2 Chainz, despite his bearing and origin, merely a trap rapper. After all, his provenance in the game precedes the terminology and the modern musical metamorphosis of the style by a good eight years, which is when he and rhyme partner Dolla Boy released their Disturbing The Peace debut, Supply & Demand as the group Playaz Circle (their single notable hit from this time was "Duffle Bag Boy" featuring Lil Wayne, you may remember). Back then, he was called Tity Boi; his own transformation into 2 Chainz parallels his musical evolution into one of rap's most versatile performers. The most "trap"-ish records of the 14-song set are all clumped together in a quick 1-2-3 combination of "High Top Versace," "Whip," and "NCAA," appropriately featuring guest verses from the genre's current luminaries Young Thug and Travis Scott on the first two. And while each of these songs sports many of the standard features of the style — booming 808s, rattling, militant snares, menacing synths, and boastful lyrics — they also dig deeper into the roots of the "gotta get it" mentality that drives the sub-genre's content. There's also a really nifty guitar solo on "NCAA" that sets it clearly a cut above the usual fare.
The next twist the album takes is in the DJ Mustard-influenced section that starts with the Ty Dolla Sign-assisted "Girl's Best Friend" and includes "2 Dollar Bill" with E-40 and Lil Wayne. These are the bops that will ensure Chainz will get plenty of burn in the summertime day parties and coastline cruises on the West Coast, while reminding listeners of his versatility and just how much fun he can be — remember "I'm Different," from Based On A TRU Story? Of course, that versatility extends to the final set of tracks, which highlight his abilities as a master wordsmith ("I just lost my count counting blessings") and storyteller ("I used to sell crack out the detention / Had a MAC-11 at Burger King") on "I Said Me," which subtly references the minor scandal that followed Ariana Grande's "7 Rings" homage to his pink trap house aesthetic with a clever flip of the same Julie Andrews sample along with the Lonnie Liston Smith sample that longtime rap fans will recognize as the base of Jay-Z's legendary "Dead Presidents." This is after actually putting Ariana herself on an Amerie sample for their collab, "Rule The World." 2 Chainz is clearly playing the game on a higher level here.
Then Chance The Rapper and Kodak Black make appearances on the melancholic and reflective "I'm Not Crazy, Life Is," highlighting Chainz and James' acceptance of the new generation of talents, while also again proving that Chainz still has the chops to keep up with the young neophytes. The album closes with Chainz in full-on "giving-you-youngbloods-some-game" mode on "Sam" as he addresses the number one downfall of any player, whichever game they play — taxes. It says a lot that he chooses to end his album warning his pupils about the IRS, which masks a deeper indictment of the government and policies that stack the deck so thoroughly against them and limits their options in the first place. He seems to be saying, "Even if you make it out, rapping, playing ball, whatever… they've got ways to knock you back." It's that lyrical deftness that shows 2 Chainz has earned his space atop the rap game. It's the almost uncaring ease with which he wields it that makes this album his best, and the one to top for every other rapper coming up behind him.
Rap Or Go To The League is out now via Gamebread, LLC and Def Jam Recordings. Get it here.