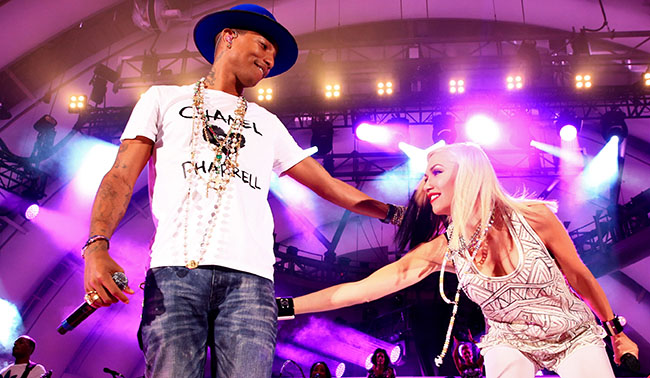 Pharrell Williams turns 42 years old today, and over the past two decades he's had an immeasurable effect on pop music. While everyone is familiar with his collaboration with Justin Timberlake on Justified, as well as his smash hit "Get Lucky," and the controversial "Blurred Lines," he's also written plenty of other enormous hits. Here are five popular songs you may not Pharrell had a hand in writing.
Wreckx-N-Effect – "Rump Shaker"
Pharrell's first hit came in 1992, when he was still in a teenager. This collaboration with producer Teddy Riley and El Debarge was the second-most popular early 90s rap song about big butts (you know what #1 is), and the only reason it didn't top the charts is that had to contend with the behemoth that was Whitney Houston's "I Will Always Love You." The song has certainly had impact on pop culture — who could forget the immortal Chappelle's Show line "you act like all I wanna do is zoom zoom zoom in your boom boom!"
Britney Spears – "I'm A Slave 4 U"
In the early 2000s, The Neptunes — the writing and production team consisting of Pharrell and Chad Hugo — were practically everywhere. One of the many pop hits they wrote during this era was this Britney Spears hit, which was the lead singer off her Britney album. This song only made it to #27 on the Billboard Hot 100, which, if you remember how ubiquitous it was back in 2001-2002, is a bit of a surprise. The most likely reason for this is that it was released as 12″ single in the United States, which meant it lacked the power to compete with CD singles, which were far more popular at the time.
No Doubt – "Hella Good"
This song saw No Doubt collaborate with the Neptunes, and the result was one of the most ridiculously catchy songs of the 2000s. After the song became a hit, Gwen Stefani and Pharrell realized they had quite a bit of chemistry together, and would go onto to collaborate several more times, including on Stefani's 2005 smash "Hollaback Girl."
Kelis – "Milkshake"
Yes, that's right, Pharrell was responsible for the single most overused catchphrase of the 2000s. But hey, it's a well-deserved classic that you and your friends have definitely sung along to multiple times. According to Kelis, a milkshake is "the thing that makes women special. It's what gives us our confidence and what makes us exciting." Not gonna lie, I thought it was something else.
Frank Ocean – "Sweet Life"
"The best song wasn't the single," says the opening line on this collaboration between Pharrell and Frank Ocean. A fitting line for a track that didn't do much damage on the charts, but was well-received by critics.  The song told of upper-class alienation while evoking Stevie Wonder. One of the more socially conscious songs Pharell has been involved, and one of many brilliant tracks on Channel Orange.