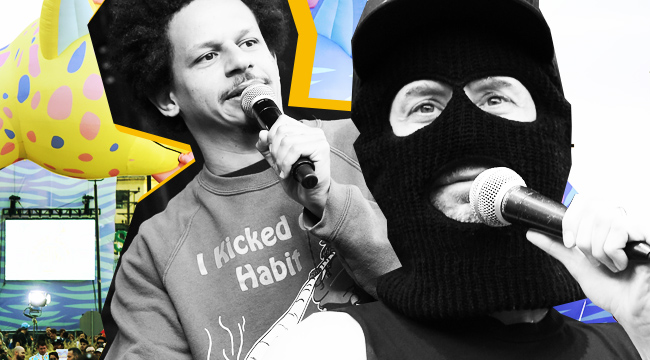 Adult Swim has embraced music as part of its late-night stoner demographic's passions since its inception. From the commercial bumpers with beats produced by Nujabes and J Dilla to the various collections of music the Cartoon Network-affiliated grown-up animation project has financed and released (shout-out to Witchdoctor), ultra avant-garde music has been one of Adult Swim's calling cards, even from its earliest days of hijacked and repurposed Hanna-Barbera mainstays like Space Ghost: Coast To Coast and Sealab 2021.
Still, when Adult Swim invited Uproxx to its inaugural music festival at the Row in Downtown LA (in the parking lot of what used to be the American Apparel factory), I'll admit I was somewhat apprehensive about the experience. Although they're is known for innovative activations it uses to promote its slate of off-the-wall, absurdist animation and live action shows, I wondered how the network would execute joining the already-packed music festival space, a much-larger undertaking, even for a small festival as the first Adult Swim Festival turned out to be.
As it turns out, Adult Swim was the perfect entity to bring new life and original, twisted thinking to the festival game, perfectly combining its shows' surreal humor and its innate appreciation for incorporating music into its nightly programming to create a festival experience totally unlike anything I'd ever seen before. If every new festival needs to have a gimmick, Adult Swim Festival may just have the best one baked right into its premise. By pulling from the already existing connections of 20 years of programming, Adult Swim has a wildly diverse range of rappers, bands, and stand-up comics to tap and a huge fan base willing to go with the flow, including T-Pain, Flying Lotus, Run The Jewels, Nick Rutherford, Jena Friedman, Hannibal Buress, and Jon Glaser.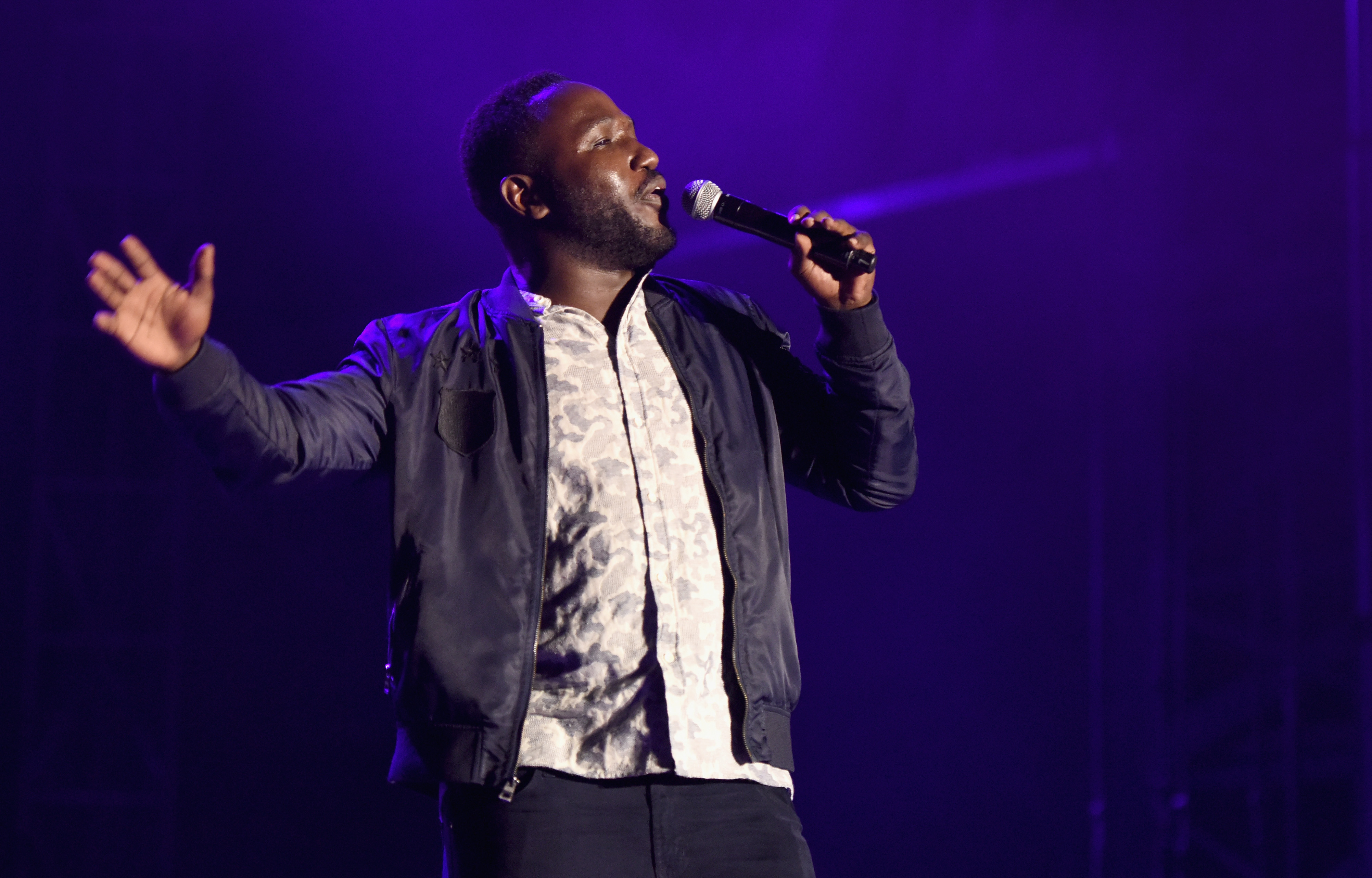 It also had some impressive tricks up its sleeve to set it apart from the competition while simultaneously flexing a little synergy muscle. Rather than filler DJs playing in between sets as acts broke down and set up their stages, the festival premiered new episodes of fan favorites like The Venture Bros and Dream Corp, LLC ahead of their fall air dates. Each of the non-musical attractions played in some way off the network's bizarre humor and surrealist aesthetic. A bull ride was reimagined as a hot dog, Rick Sanchez presided over a game of mini golf, and a wobbly, American Ninja-esque rope bridge challenged festival goers to smack the festival mascot cat's dangling uvula.
And as far as immersive experiences go, it's quite something to see fans lined up for nearly two hours to chance to encounter Dream Corp: The Ride in VR, which turned out to be every bit as trippy as the acid-washed visuals from the show. The Meatwad Dome likewise attracted extensive waits for a deeply weird cinematic roller coaster ride which rocked fans' seats, blasted them in the face with rushes of air, spritzed them with water, and interacted with the specially designed, CGI scenes of a hallucinogenic trip through the center of the Earth, complete with Easter egg references to Aqua Teen Hunger Force's colorful cast of characters. Elsewhere, giant Rick And Morty blowups provided perfect photo ops and at night the walls of the old factory were lit with projections of Adult Swim's iconic bumper animations and custom screens designed for the festival itself.
But of course, the primary draw of any music festival is its artist lineup, and that's where Adult Swim truly excelled. Rather than simply bringing out T-Pain, Adult Swim has the leeway and the existing relationship to have T-Pain appear as his Ghost Of Freaknik Past character from Freaknik: The Musical to perform songs from the hour-long special's excellent soundtrack, after re-airing the special in full on the screen between sets. What's wild about T-Pain is that he's got so many hits, it's easy to forget just how many of America's favorite songs he dominated by sheer force of personality. His Friday night performance was a casual, confident reminder that he once had many, many summers on lock, even for the show's younger-skewing demographic who missed "I'm Sprung" and "I'm In Luv With A Stripper" but was fully engaged as he ran through more recent hits like "Can't Believe It" and "Welcome To My Hood." He even threw in his masterfully melodramatic hook for "Maybach Music, Vol. 2" for the hardcore fans.
From avant-garde art rappers like Open Mike Eagle to jazzy innovators like Thundercat and Flying Lotus, Adult Swim understands the broad range of the musical tastes of its viewers and its' favorite artists weirder proclivities. By virtue of being compared to all of the random goofiness nearly always on display during Adult Swim's late-night runtime, artists are free to get as strange as they need to be, resulting in some pretty spectacular performances. On Sunday, I bounced from a forceful but brief IDK set to headbanging thrash metal delivered by Power Trip and Code Orange which paid homage to past Adult Swim shows like Metalocalypse. I was surprised to see a sizable crowd for Shigeto Live Ensemble — basically, a trip-hop-inspired jazz band — and the huge pop for composer Dan Deacon, proving the wide-ranging tastes of the Adult Swim demographic. One underrated aspect of a small festival: Both stages were more or less the same size, so there wasn't a sense of importance hanging over one side or the other. The economical design focused the attention on the artists rather than on elaborate stage design, allowing them to fill the space and interact with the crowd.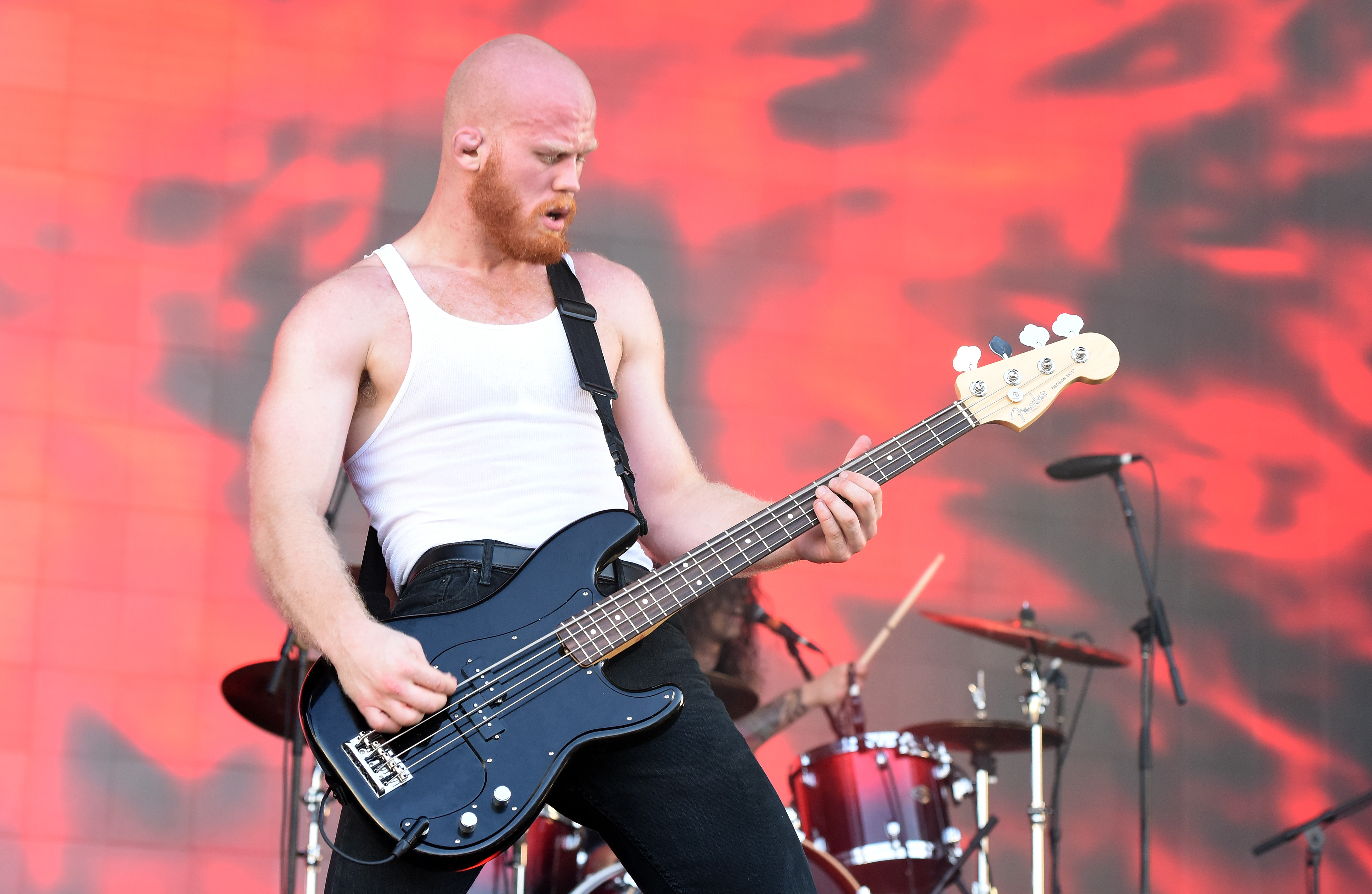 My two favorite acts from Sunday night were Kamaiyah and Big Freedia, the former of which sent Bruh Red Bull Radio show host Zack Fox scrambling for a better vantage point midconversation, the latter of which turned the stage into an impromptu twerking competition with crowd participation and some genuinely acrobatic displays of booty-popping, eliciting a delightedly raucous response from the audience. I ended my Sunday visit early with the Rick And Morty Musical Ricksperience, an experimental display of live symphony orchestra scoring "The Rickshank Rickdemption" episode of the show and backing elaborate live reproductions of its weirder musical moments with guests like Bob's Burger's John Roberts, who performed "Terryfold" alongside Chaos Chaos (in his Linda Belcher voice, no less) and Mike Eagle and Father to perform "Get Schwifty."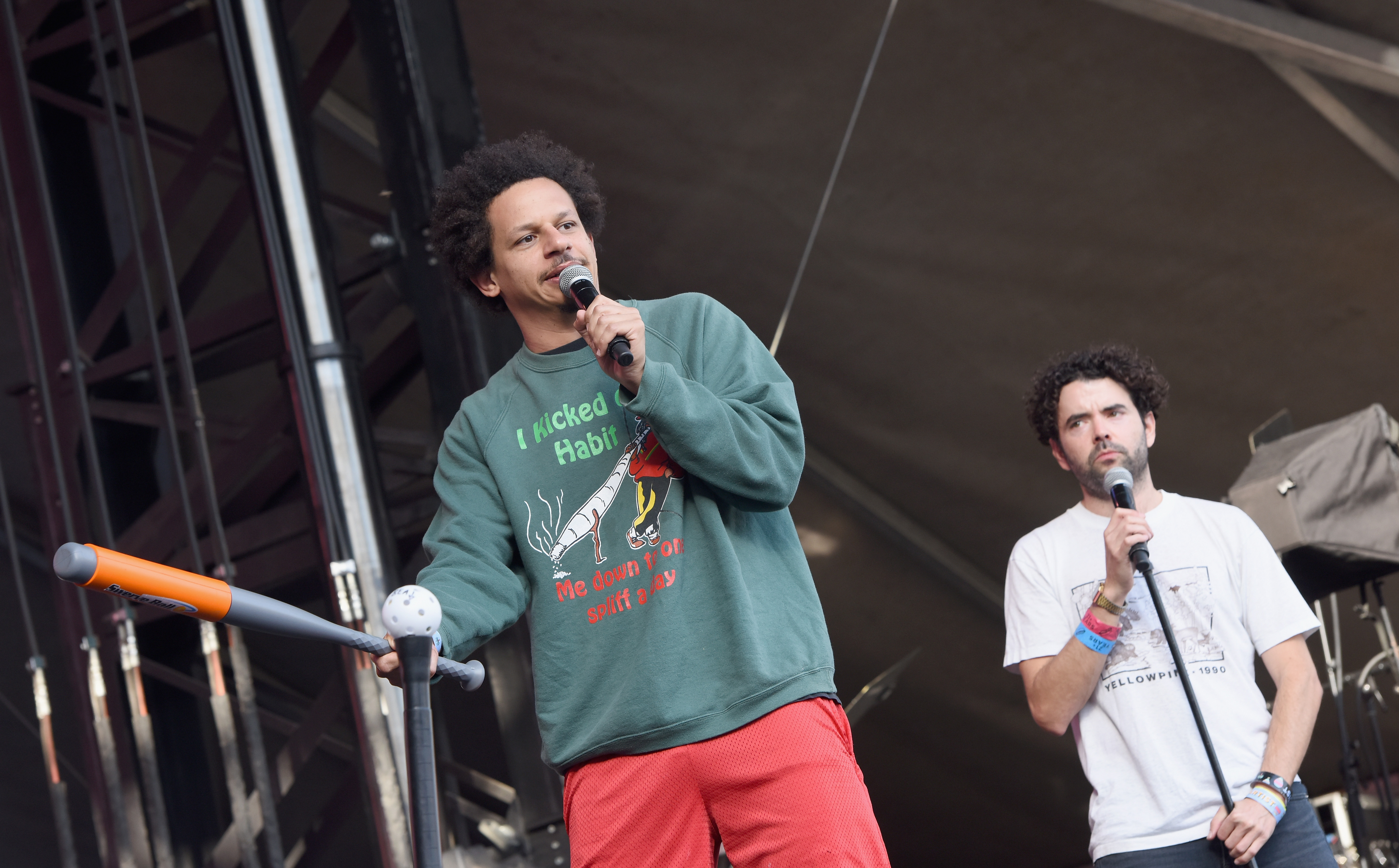 Jason DeMarco, Adult Swim's senior vice president and creative director of on-air, relayed the network's future plan of scaling the event up during the press preview, which will only work to the festival's benefit in its future iterations. While some clever scheduling was able to mitigate the competing stages across a relatively small venue, the outdoor space wasn't very kind to many of the stand-up comics who graced the stage and often found themselves competing with expressive saxophone solos. And while a bigger venue naturally necessitates more complex logistical wrangling to bring everything together, this weekend's inaugural fest convinced me that Adult Swim would be more than up to the task.