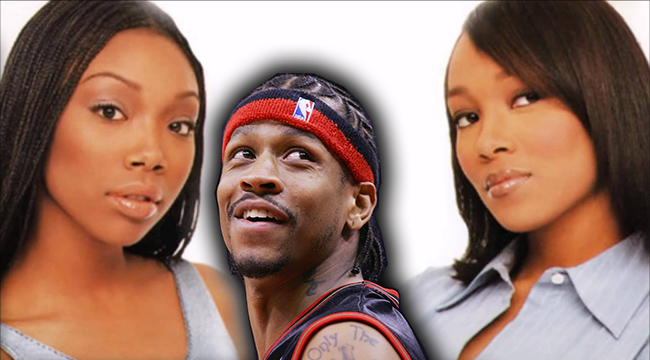 If you were alive in the '90s, there's 100% chance you've seen Brandy and Monica's video for "The Boy Is Mine" quite a few times. The song was a smash and basically never stopped playing for the entire summer of 1998.
While the clever collab was burning up the airwaves, the video put the song over the top, showing the two young pop divas fighting over actor Mekhi Phifer's love. The clip came amidst the heyday of TRL, so that massive platform gave their joint star power an opportunity to flourish, creating a buzz that seemingly couldn't have been any bigger at the time.
Unless, of course, they would've added Allen Iverson into the mix.
According to a recent interview on The Vertical Podcast between NBA guru Adrian Wojnarowski and writer/NBA shoe aficionado Nick DePaula, the seemingly reliable DePaula claims to have heard a story about how the recent Hall of Fame Inductee was actually given the opportunity to be featured in "The Boy Is Mine" video as the male lead Brandy and Monica fought over.
"I heard a great story where Allen was supposed to be in a music video with Brandy and Monica," DePaula told Woj. "It was the song called 'The Boy Is Mine,' which at the time was a huge song. And he passed up. He was like 'Ah, that's not the scene I'm in. That's not something I would do.' There's all sorts of scenarios like that."
Can you imagine A.I. playing the coy boy stuck between two bubbly singers? Considering the fresh-faced Bubba Chuck was still relatively innocent to the mainstream public, I can see why labels thought that made sense. But, in hindsight and from the perspective of a fan who watched him grow into an outspoken phenom and organic cultural trendsetter, of course he didn't take the role. And let's be thankful he didn't, because a soft lay-up like that could've led his brand down the wrong path, one where Jadakiss and Redman probably don't get shouted out during the greatest HOF speech ever.
Still, had he given in to the pressure of being stuck in a love triangle between peak Monica and Brandy, which couldn't have been easy to turn down, who knows how much bigger the video and song could've been.