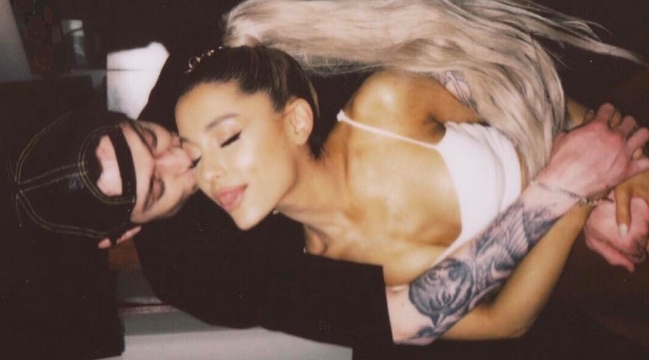 "No Tears Left to Cry" singer Ariana Grande and Saturday Night Live star Pete Davidson are engaged, according to People magazine.
The stars, both 24, have been dating for just a few weeks, but the couple has gotten very serious, very fast. Sources close to the couple reported to People that "It's a recent engagement," adding, "They're just two people who found love quickly and make each other happy all the time. They both started talking about it this past weekend. It's nothing they've been hiding."
Last weekend, Grande and Davidson reportedly attended a listening party in Los Angeles for Kid Cudi and Kanye West's album, KIDS SEE GHOSTS, where they cozied up around a bonfire and told select pals about their engagement.
Davidson recently got two tattoos in Grande's honor, the bunny mask from her Dangerous Woman album artwork on his neck and her initials on his hand. Davidson and Grande both recently ended long-term relationships, Davidson with comedian Cazzie David and Grande with rapper Mac Miller.
Neither Davidson nor Grande's reps have responded to comments from People or have made an official statement confirming the couple's engagement.
Grande is set to release a new single, "The Light is Coming," next week, and her fourth LP, Sweetener, is due out later this summer.