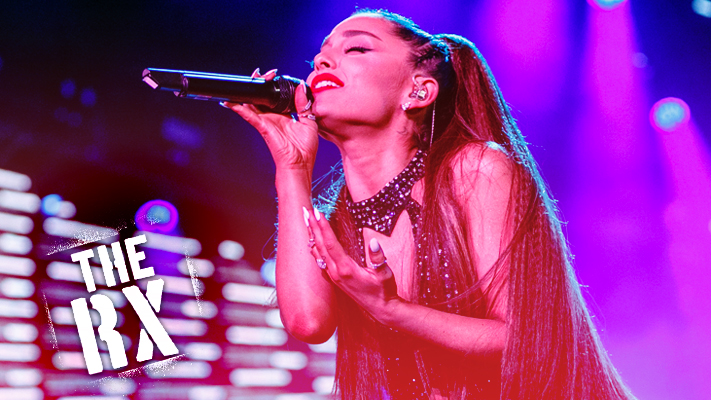 The RX is Uproxx Music's stamp of approval for the best albums, songs, and music stories throughout the year. Inclusion in this category is the highest distinction we can bestow, and signals the most important music being released throughout the year. The RX is the music you need, right now.
The first time I heard "No Tears Left To Cry" it broke a silence I didn't know I'd been keeping. Driving down Sunset past midnight, gunning it with no room in the passing lane, I saw him in the passenger seat, dancing next to me in the moonlight. Enveloped in this glittering, dark pop song, we were joyous, silly, recovering. I'd never felt so well. Demon on my back, whatever you may be, a chakra healer banished you. Or was it Ariana Grande? A sort of sob left me, coiled for years. There's more than just euphoria at rock bottom. If music is medicine, this shit was antibiotics. We vibin'.
After facing down one of the most public terrorist attacks on a pop star in the world, here was Ariana Grande singing about the power of hope with every ounce of her tiny frame. Hearing that bravery felt like walking down a hallway of light, her winged determination gently reeling back anyone on the brink of despair; every skyline a possibility for healing, for dancing. Selfless in her devotion to renewal and fearless in her commitment to face down the evil she and her fans had endured, "Tears" hit like a resolute pop hymn for the post-internet generation. I felt empty, salty. Ready for clean water.
Sometimes the diagnosis hurts as much as the cure. I've memorized the acronyms and accepted my history, weathered the panic attacks, grown accustomed to the chill and shake, shut myself off so completely I forgot about my own body. Numbed myself with substances, food, alcohol, drama, television. Cried so long and so easily, I stopped noticing if it was in public. I've devoted the last several years to learning the language of trauma. Some things get hurt so bad they never get better — you are one. Thought about leaving altogether. Stayed anyway. Made breathwork my brother. That night I went to bed ready to give something up.
"No Tears Left To Cry" is a pop song with room for all those demons — and for defeating them — which might make it more prayer than song. Some things are so evil only a prayer will keep them away, and this song kept the light on. It doesn't seek to erase the sadness that came before, instead, it insists on building happiness right there, on top of the pain. Insists. The song debuted at No. 3 on the Billboard chart, and is already double platinum at the time of writing this. There's no doubt in my mind it will only soar higher as the year draws to a close. We needed something worth the worship.
Ariana proclaims happiness as an act of courage, a stance of determination; happiness as a choice that revokes evil's power in our lives. Happiness, the last vestige of a patriotic act, a direct rebuttal of life dictated by impetuous, selfish men. The song is a strong reminder that happiness is our choice — an accessible state of mind, circumstances be damned — not a reward bestowed on us for good behavior. Constantly choosing fear can become a vice of its own. If we're here, let's be here. Breathe in.
***
Last spring I sat at my computer, horrified, and updated the death toll following a terrorist attack at an Ariana Grande concert in Manchester, England. Today, I sit in the same spot writing about an album I was worried she'd never be able to make. Yes, the Manchester bombing was an attack on girlhood and the overtly feminine, but along with all the things an act of terror comes to symbolize, it's important to remember it was also an attack on Ariana, the angel-voiced, ponytailed, openly emotional young singer whose resilience in face of the onslaught has been downright astonishing. Try not to erase the individual in the fold of the collective, try to see yourself capable of this kind of courage.
Most people prefer to think terrorism and pop music exist on different ends of the cultural spectrum. Even as female and queer-driven pop continues to shape the world at large, plenty still write off the music made by and for young women as apolitical or fluffy, devoid of the import that other forms — like rock or hip-hop — have assumed through their proximity to male culture and the historically masculine canon. Sweetener, on the other hand, is an album that necessarily evokes the conversation around pop music and politics, and centers it through the lens of a young woman. For that alone, it deserves to be lauded.
From the juxtaposition of what Ariana survived, to the prominent sample of a citizen standing up to a senator about healthcare, the powerful feminist imagery, and the overarching notion that the personal is the political, Grande's insistence on pursuing personal happiness and new love is just as much a political statement as any other act or stance she could communicate. While a little under 8% of people in America suffer from PTSD, women are twice as likely to experience it as men, and Grande is not only in the throes of it, but refusing to succumb in the darker moments, laying a blueprint of survival for others, and leading for her fans — who are mostly young teen girls — by example, toward sweetness.
"It's kind of about like bringing light to a situation, or to someone's life," she explained of the album's title and ethos, early on. "Or somebody else who brings light to your life, or sweetening the situation." All that didn't stop her from sobbing during the Manchester section of her interview with Beats 1's masterfully empathetic interviewer, Ebro Darden, during her press circuit the weekend of release. Trauma takes up space, it's dead air, an unreliable narrator. Same way I've been writing about my broken heart so long I've grown sick of the plot, tired of dooming failure before anything ever begins. It's an infinite loop, the future eaten by the past; bitterness prevails. Sweetener demands a different kind of future.
While the roll-out of her lead single, "No Tears Left To Cry" felt like the high water mark for pop music in 2018, the rest of Sweetener has been an utter delight, too, resonating as a hugely positive moment in the industry at large, smashing records and impressing critics. Though Grande's promotional single, "The Light Is Coming" was one of the few missteps in the lavish rollout (a signature Minaj collab that went a little too far left), her second single, "God Is A Woman," struck the same nerve "Tears" hit, building a massive wave of support for its subtle and overt feminist subversions. Grande is never better than when she's belting about a spiritual encounter — except when she's belting about being the spiritual encounter herself.
The album's title track is a sleeper on initial listens, but quickly comes through as a thesis statement for the entire project, eclipsed only by the centerpiece, "Breathin," a literal distillation of how Grande survived her own panic attacks, and a subtle homage to the cornerstone of almost any trauma recovery treatment. This song is perhaps the biggest pop moment on the record, a moment of significance that grows into a towering, essential mantra on repeat listens.
[protected-iframe id="59af219dfb89b4be89471e888da9e1b5-60970621-76566046″ info="https://open.spotify.com/embed/track/4OafepJy2teCjYJbvFE60J" width="650″ height="380″ frameborder="0″]
Ariana's already had her big pop moments, so here she was more inclined toward left field production, like the jazzy, jittery "Blazed" collab with Pharrell, or the old school angular R&B sultriness of "Borderline" with Missy Elliott. At just 25, Grande holds her own alongside these legends without breaking a sweat, and still easily slides into her tried and true relationship barn-burner mode on "Everytime" and "Better Off." (Mac Miller wasn't getting off so easily, even with a new love so firmly fixed in view.) At this point, she's shepherded her own sound with such precision that each of these songs showcase a different facet of her style. Though markedly different, they all bear her fingerprints.
Taken together, all these elements would've made Sweetener a great album, an excellent one even. But what pushes it into classic territory, as is often the case, is puppy love. While it's too early for those of us on the outside to tell whether Grande and her newest muse, Pete Davidson, will stand the test of time, the songs she's written about him absolutely will. Listening to the isolated sex breaths on "Successful" is almost as hot as hearing a woman unabashedly celebrate her career success, not separating it from her sexual power but unequivocally uniting the two.
[protected-iframe id="d9bbbec3631a66a538c4d34370f4422a-60970621-76566046″ info="https://open.spotify.com/embed/track/5YeHLHDdQ4nKHk81XFWhCU" width="650″ height="380″ frameborder="0″]
As a similarly career-minded woman, "Successful" is almost my favorite song on the record, topped only at the last minute by an enormous, electric Imogen Heap cover, "Goodnight n Go," which fades directly into the blushing, loved-up coda unceremoniously titled "Pete Davidson." Less than a minute and almost completely devoid of lyrics, the mood of this song is still strong enough to be solicited at weddings for years to come. And if Ariana is indeed as happy as this interlude suggests, there's not a person on earth who can continue shading their brushfire-quick romance.
Ending on "Get Well Soon," a pop synthesis of post-traumatic self-care so resonant it caught the ear and approval of Tyler, The Creator, Sweetener encapsulates a devotion to healing that few pop culture artifacts ever concern themselves with, and even fewer manage to handle with care. From the opening angel tears, to this final sugary benediction, Grande lords over it all, a tempest in a teacup, a love story told through the tears, even if her eyes are dry now. A certain kind of peace can only be earned, and Grande deserves to rest easy.
***
Some nights I get back up out of bed, head out onto the freeway and blast "Tears," trying to recapture my original redemption. It's not fainter every time, more like older, a worn record playing in grooves, the way a gnarled hand feels different than a soft one. Out in the silky California black, there's no one to dance with but myself. He'd come, if he could. I keep believing that. Even in the dark.
The only time I'm ever fearless anymore is those nights. Think of the feeling: windows down, cold like a blessing. And though it never feels like the first time, the ritual has become a form of worship. There's more than just euphoria at rock bottom. There's also fresh air. Breathe in. If we're here, let's be here.
Sweetener is out now via Republic Records. Get it here.