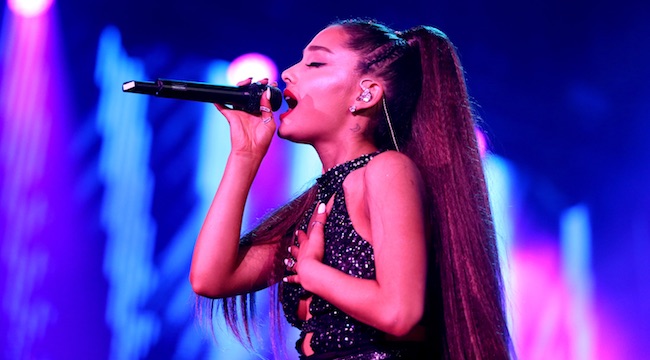 Ariana Grande's new album Sweetener will be out later this month — next week to be exact — and to celebrate the release she's announced a series of select shows to help introduce the new music to the world. Before embarking on an official tour, Grande will host the Sweetener sessions in, three performances in New York, Chicago and LA that will be in partnership with American Express.
AmEx frequently partners with musicians and other artists to offer select events to their card members, and for these shows tickets will be available exclusively to American Express Card Members starting today, August 9. The shows will be held at Irving Plaza in New York on 8/20, The Vic in Chicago on 8/22, and the Ace Theater in LA on 8/25.
So far, the singles off Sweetener have been extremely promising, and it's shaping up to be one of the best albums of Grande's career. The debut single, "No Tears Left To Cry" (and our top pick for pop song of the year so far) has already gone platinum, and her other new songs "The Light Is Coming" (Feat. Nicki Minaj) and "God Is A Woman" have also met with a strong reception. If you're an AmEx member, check out info on the shows here, and for everyone else, that full tour will be announced soon.
Sweetener is out 8/17 via Republic Records. Pre-order it here.