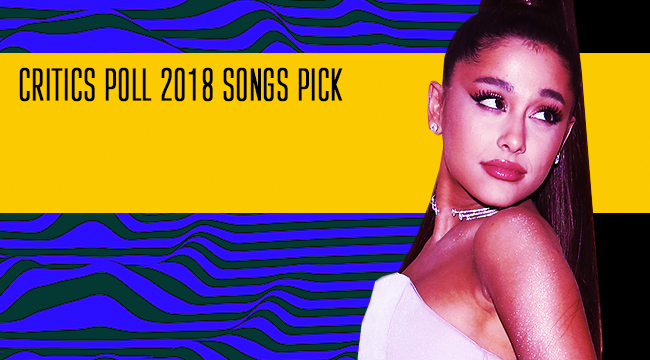 Ariana Grande's "Thank U, Next" topped our critics poll songs list at No. 1. Check out the poll here and read our thoughts on the song and her current impact on culture.
As we enter 2019, this is where Ariana Grande is at: The 25-year-old ended 2018 reportedly turning down a damehood in the Queen's annual New Year's Honors list (she thought it was too soon), and, a few days later, started the new year with the announcement that she will become Coachella's youngest headliner ever when the festival hits California in April.
Pop fans tend to be perpetually torn between assessing an artist's music and their impact. Quality of the former isn't always correlated to the latter, but the underlying reason is that one of the most fervently held tenets of poptimism is the faith that when they do collide, the result is the absolute pinnacle of what pop music can be. The Pet Shop Boys' Neil Tennant — always a pop analyst, as well as creator, par excellence — coined the term "imperial phase" to describe the stretch in which an artist, at the peak of their game, could do no wrong: So true to themselves that they were beyond chasing trends and instead creating them; so in harmony with the rest of the world that they transcended the mere music industry and became a cultural supernova.
In 2018, Ariana Grande entered her first imperial phase. Unlike other legendary imperial phases — Madonna in the late '80s, Lady Gaga in 2009 (and 2009 only), Beyonce from the moment of the 2013 digital drop and ongoing — Grande's ascent didn't seem preordained in any way. Sure, there was a sense that she had been leveling up with each album — an impeccable but niche pop debut (Yours Truly, 2013); an awkward trend-hopping follow-up that never sounded like her (My Everything, 2014); a semi-triumphant third album on which she sounded like every style at once (Dangerous Woman, 2016). But while this trajectory indicated that it was time for the biggest wave of Grande's career anyway, what took her year into imperial territory was how she crested it, riding unexpected twists and turns to pull off an artistically and politically satisfying coming of age.
The centerpiece of Grande's 2018 was her fourth album, Sweetener, a loved-up and heart-eyed paean to a relationship in its honeymoon phase. In this respect, it was a callback to Yours Truly, a record of maximum exuberance that burst with the all-encompassing giddiness of a teenage crush on every song — and, relatedly, it was also Grande's most sonically and vocally coherent work since then. Signifiers of growing up, apparently mandatory for every female pop star who debuted as a teenager, tend to be painful at best, creepy at worst; and while Grande never sunk to the level of actually calling a song "I'm Not A Girl, Not Yet A Woman," much about the aesthetic of Dangerous Woman (from its title down) was entirely too clumsy, and disconnected from reality, in its insistence that its singer was a femme fatale.
Sweetener, though, opted out of skeevy newly sexual cliches in favor of just making the kind of songs that actual adults would make. Collaborating with Pharrell Williams for seven of the fifteen cuts was a counter-intuitive move in terms of nailing a coherent sonic backdrop for Grande, whose voice has felt constrained by ill-fitting production in the past, but Williams came through with a light touch reminiscent, at times, of his own imperial Neptunes phase. Grande responded by discovering a light touch in her own singing, reigning her acrobatics in on "R.E.M." in favor of intoxicating layered rhymes and conversational spoken asides and drifting into a turn-of-the-century reverie on early Kelis homage "Borderline."
Williams' production defines Sweetener's sonic baseline — but for the album's highest points, Grande uses this as a launching pad. Not that she ever goes as full-throttle as on, say, eternal banger "Into You"; instead, "No Tears Left To Cry" and "God Is A Woman" scale the heights with subtlety and grace. The former pivots around a proto-UK garage rhythm, ironically, for an artist who's long outgrown the "baby Mariah" epithet that defined her early years, the exquisite balance of poise and abandonment with which Grande sung the line "We way to fly to partake in all this hate, we out here vibin'" surely counts as her most Mariah moment yet.
The latter, meanwhile, wears its ambition — to enter the "Like A Prayer" lineage of carnal, cosmic, blasphemous-but-also-divine pop epics as an equal — confidently, but still lightly. But if the God in question was Aphrodite on record, rendering men prostrate in devotion through force of seduction, in an event video spectacular replete with fine art and mythology references, Grande positioned herself as an entire pantheon: A Kali-style destroyer of men, the earth mother Gaia, the Capitoline Wolf who suckled Rome's founders Romulus and Remus.
The climax of "God Is A Woman" — video and song — is a sensory overload: Gospel choirs! Grande in Michelangelo's Creation of Adam! You knew both of these moves were coming for every second of the previous three minutes, which just makes it more satisfying when the experience culminates in them. The record is a masterpiece of the slow build — despite the chorus-verse-chorus format, the gradual addition of elements means that the trajectory of its intensity is not one that rises and falls but an unbroken arc upwards. If anything, its only flaw is that once there, it doesn't hold on to that peak for longer: Wherefore the extended Larry Levan style house mix that stretches the climax out for ten further minutes?
But despite Grande's triumphant cocoon of an album, Sweetener by itself still isn't what made her year imperial. Instead, that wasn't the bliss of the record but tragedy — or rather, Grande's responses to tragedy, unplanned moments that showed the pop star at her most reactively human. The Manchester bombing had cast an awful shadow over the Dangerous Woman era — and it had also hurled her into a far larger spotlight than she previously occupied. As ubiquitous as Grande had been to pop fans in 2017, the mainstream non-music media still needed to run potted guides to the singer alongside news reportage. With all eyes on her for the worst, most unwanted reasons, Grande rose to the occasion — not on a celebrity level, but on a human one, helping to heal a community's wounds with charity concerts, hospital visits and gestures that embodied generosity. This, it was reported, was the reason she had been offered that damehood.
Generosity was also the hallmark of Grande's response to more personal turbulence in 2018. Just two months after Sweetener was released, she broke off her engagement to the album's muse, Pete Davidson. Real-life events have a habit of intruding into how we listen to music, and for a moment it felt strange listening to an album so entirely devoted to something that had dissipated. But at the start of November, Grande quietly slipped "Thank U, Next" out: A song that struck a chord so immediate that it became a meme within hours of dropping. Perhaps this was because it told a break-up story that pop hitherto hasn't been interested in telling: Not the self-laceration of heartbreak nor the sturm und drang of anger, nor even — despite Grande naming names — the coy Swiftian feeding of the gossip mill. Instead, it was almost startling in its embodiment of the amicable break-up.
Culturally, we learn more behaviors than we realize from pop culture; and in the wake of a break-up, it's easy to slip into either sadness or fury, the socially prescribed options in that scenario. "Thank U, Next" said: What if there was another way? What if it was OK to feel OK? The sense that a kinder, more generous path was possible was quietly revolutionary. And it was this — as well as the swaying, understated sonics — that linked it back to Sweetener, an album that had been generous in the love it gave. "Thank U, Next" may be the start of a new era, but it also functioned perfectly as a postcript to Sweetener – although the less said about its cop-out of a Mean Girls pastiche video, the better. Nostalgia is not a good enough excuse for the continuing and widespread refusal to recognise that Regina George was the villain, not someone to emulate because she looked cute — and in the context of all this generosity, Grande positioning herself as George was genuinely jarring.
It's appropriate that in turbulent times, the defining pop star of 2018 was loved not because of her grand designs for world domination, but because of her instincts when those plans were struck by unforeseen and terrible circumstances. And in an era when it seems mandatory for every major pop star to vocally proclaim their woke opinions and cast their output as, however tenuously, protest music, Grande's 2018 was also a reminder that the politics of kindness begin at home.
Sweetener is out now via Republic Records. Get it here. Check out more results from the songs poll here and albums poll here.
Cardi B is a Warner Music artist. Uproxx is an independent subsidiary of Warner Music Group.