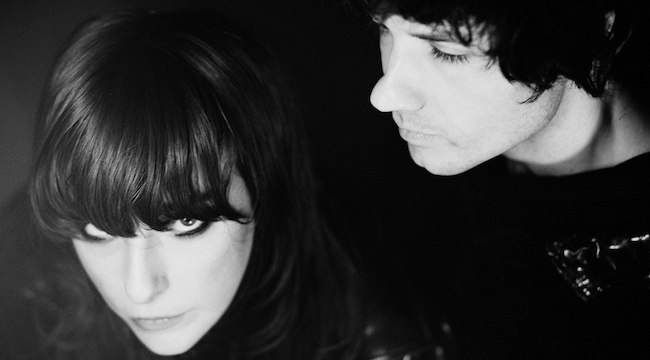 You'd be hard-pressed to find a more suitable venue for the music of Beach House duo Victoria Legrand and Alex Scally than the Hollywood Forever Cemetery, which hosted the band for two sold-out shows this past weekend. Hollywood Forever is, of course, the permanent home to the decomposing corpses of Johnny and Dee Dee Ramone, among many other infamous rock stars. However, since 2002, over the summer months, the venue has taken on new life as a home to the melting pot of cool/hip Angelenos, who come in picnicking hoards to drink craft wine and have elaborate picnics while taking in a concert or classic movie.
The calming presence of palm trees looming behind the stage at the cemetery gives you the feeling of being at Coachella or a similar music festival, with the added blessing of being able to go home after the set and not have to tend to dehydration and enormous crowds. Legrand and Scally were joined on stage by drummer James Barone, who played on their latest album on Sub Pop, 7, and used to tour with indie pop contemporaries Tennis. 7, is a bold reminder that Beach House has now given us seven records of essential dream pop (With no features, alert J. Cole's fans).
Beach House didn't seek out to reinvent the proverbial wheel with their newest effort, released this past May, but their after working with producer Chris Coady on their previous four studio albums they decided to go it alone on 7 with co-production from Barone and Peter Kember (a founding member of Spacemen 3 and former producer for other iconic indie rock fixtures from their era, like MGMT and Panda Bear). "I was relaxed in a way that maybe I wasn't in the past," Legrand told Fader about recording the new album. "It almost felt like we were finally alone, or older. I didn't have to be paranoid or stressed about certain things."
Detractors are quick to accuse Beach House of "always sounding the same." While there are worse weaknesses than remarkable consistency, a trained ear can pick up on what makes 7 different. It is easily their most psychedelic record yet, replete with French vocal samples, stoner rock riffs and Eno-esque compositions.
The record sounds especially good in a live setting, with the seasoned vets performing note-perfect renditions of the studio tracks. The music of Beach House can be many things to their fans — we process grief, deep clean our apartments and have profound life-altering epiphanies to their songs. I'm sure they have even soundtracked at least a few natural childbirths with their textured ambient sound baths.
The light show at the concert was a reflection of the monochrome album art and trippy geometric music videos the band released as companion pieces to the full 7 experience. The gravitational ebb of swelling instrumentation and vocals coupled with the Beach House take on the iTunes visualizer, making it easy to blissfully escape from a world of conference calls and parking tickets.
Hearing "Drunk in LA" in LA while drunk was an enjoyable self-fulfilling prophecy, like the sweet relief you feel when someone speaks the movie title in the movie ("This mission is gonna be impossible!!!"). Throwbacks like "Master Of None," "Lazuli" and "Myth" peppered a setlist of new material, reassuring seasoned fans that even as the band moves forward, they haven't forgotten their roots or any of their old fan-favorites.
https://www.instagram.com/p/BlyIVRmHw_U/?hl=en&taken-by=beaccchhoussse
The crowd was equally comprised of those relaxing on blankets and people performing what I can only describe as "Burning Man dancing" (literal cartwheels and even the "catch me" Dirty Dancing move went down around me). I had heard some people muttering "what are you even supposed to do at a Beach House concert."
Clearly, you're there to feel the vibes and experience the music of one of the most consistent and best-performing acts of our time, and let the music take you where it will. Beach House is a rare group that can turn a festival stage into a bedroom. They're just as home at either, or even in your Toyota, where you're stifling tears parked on the side of the road.
7 is out now via Sub Pop Records. Read our review of the album here and get it here.