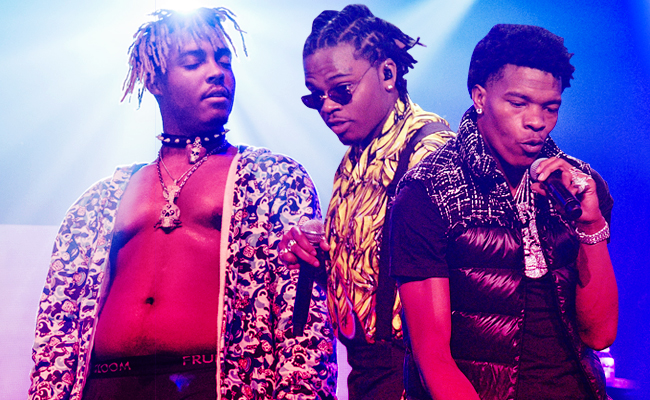 October was a month of duos. The two most hyped releases were Lil Baby and Gunna's Drip Harder and Juice WLRD and Future's WRLD On Drugs. Both projects properly placated the hunger for new trap music. But beyond that, gritty vets like Styles P, Ghostface Killah, and Roc Marciano all dropped off impressive projects with Dave East, producer Big Ghost Ltd, and DJ Muggs respectively.
In between the tandems were strong solo projects from Stro The MC, Mozzy, Belly, and Open Mike Eagle. Whether you're looking to turn up or get some of that "diddy bop, get ready for the winter music" like Cam'ron, we got you covered.
Lil Wayne, Tha Carter V
[protected-iframe id="3341068521c69801b93cd475f260819f-60970621-76566046″ info="https://open.spotify.com/embed/album/50yFYgKdwJANZ5O9MIbMkg" width="660″ height="360″ frameborder="0″]
Technically, this album came out at the end of September, but when you've done as much as Wayne, you get a pass into the next month. Furthermore, the shelf life of this long-awaited album is way beyond one week. Tha Carter V is Wayne's most personal project, with heartfelt tracks like "All Work Out" and "Open Letter" where he delves not just into the stresses he's had trying to get this album out, but his inner demons and a deeply traumatic childhood that included a suicide attempt as a child. It's fitting that he explores the incident, which occurred because his mother wouldn't let him rap, on an album that was held up through litigation with Birdman and Universal.
He also showed himself to be in good a shape as ever lyrically, rhyming toe-to-toe with Kendrick Lamar on "Mona Lisa," keeping up with one of his chief progenitors on "Let It Fly" with Travis Scott, and setting the world alit with his "Uproar" track. The album has its misses, as the XXXTentacion feature on "Don't Cry" is more troubling than it was worth and there's not much overall sonic cohesion, but we're just glad to have some new Wayne to listen to.
Lil Baby & Gunna, Drip Harder
[protected-iframe id="cc6e8df9461a497523005e37a1cbd600-60970621-76566046″ info="https://open.spotify.com/embed/album/2yXnY2NiaZk9QiJJittS81″ width="650″ height="360″ frameborder="0″]
Lil Baby and Gunna are two Atlanta upstarts who are, quiet as kept, among of the few artist still doing autotune justice. They've shown why all year on Lil Baby's and Gunna's solo release, and their joint album Drip Harder is another prime expose. The 13-track pairing between Quality Control and YSL's rookies of the year show why they're soon to be MVPs, as they stick to their script of melodic, flashy rhymes over gloomy production and excel.
On album standout "Drip Too Hard," the pair show off the distinct contrast that saves the project from monotony. Lil Baby's delivery is weathered and askew, whereas Gunna delivers a smoother, refined, style of crooning over the murky production. They utilize that formula over a range of downcast trap production like "Off White VLONE" with Lil Durk and Nav, and the filtered guitar-dominated "Belly." But they're not just crooning, as "Never Recover" shows them matching bars with Drake with impressive finesse. This month's list includes an originator of autotuned harmonizing over 808s in Lil Wayne, and the artist who took it to the highest plateau in Future. Drip Harder displays the two artists who will continue the sonic wave into the future.
Future & Juice WRLD, WRLD On Drugs
[protected-iframe id="ddf40f651dea5681f74095fe0569e1a4-60970621-76566046″ info="https://open.spotify.com/embed/album/6P9PZjWXoCRF5b66BafPKY" width="650″ height="360″ frameborder="0″]
WRLD On Drugs exemplifies the moral struggle some of us deal with all the time in rap. On the surface, this is a bit of a torch-passing moment between a primary progenitor and young upstart in a genre-bending, nihilistic-yet-irresistible brand of rap that's taken the world by storm. But listening to these two artists, one just 19 and another a 34-year-old father of three, reflect on self-medicating throughout WLRD On Drugs harkens to the drug overdoses that have taken some of rap's brightest lights in the past years. If you can suspend the discontent, WRLD On Drugs is a fun, party-starting listen that highlights Juice WLRD's staying power and a reinvigorated Future. Tracks like "Astronaut" and "Different" especially are standouts.
Open Mike Eagle, What Happens When I Try To Relax
[protected-iframe id="57b7be5409fc1ca817517a0c6af9a457-60970621-76566046″ info="https://open.spotify.com/embed/album/7qTEGu0Gvikwk1n8SwjmEL" width="650″ height="360″ frameborder="0″]
Chicago's Open Mike Eagle notched off a probable bucket-list feat this month with his first wrestling match, then he dropped off another harrowing, thoughtful project that shows him wrestling with his qualms at his incisive best. No matter who you are, you're probably reckoning with anxieties about your career and the contentious world around you, and Open Mike Eagle is no different. On What Happens When I Try To Relax, he explores balancing his indie rap notoriety with the reality that so many of his supporters and advocates can't truly identify with his struggle as a Black man in America.
The beginning of "Southside Eagle" exemplifies his gift of compelling introspection and brevity, as he first shouts out feats like being on "every podcast that I listen to," but then admits he saw Kendrick Lamar and Vince Staples out in LA but "didn't say sh*t / cause this independent hustle is adjacent." Throughout the EP, Mike underscores his tenuous balance of being an indie rap darling — but also a Black person struggling through America like so many of the rest of us.
Styles P & Dave East, Beloved
[protected-iframe id="32ff6a8c11d168d6384e4cd33f7c74f7-60970621-76566046″ info="https://open.spotify.com/embed/album/0LfSJWTgSBu2HyVVq5Mw4x" width="650″ height="360″ frameborder="0″]
Styles P and Dave East came through with another cross-generational rap union on Beloved, an album named after the definition of their shared first name of David — and the feeling most of their core fanbase will have about the album going forward. The two MCs are in different spaces in their career but meet beautifully in the middle over dense, energetic production that came right in time for the chill of the 4th quarter. The two go in with freestyle rhymes on "It's Lit." They get introspective on "Cut From A Different Cloth." And perhaps most impressively, they pull off one of the more creative back and forths in recent memory on "Do You Know What Time It Is." It's clear both Styles and East knew what time it was on Beloved: It was time to go in.
Ghostface Killah, The Lost Tapes
[protected-iframe id="f920c7a6db95b24a30b47d8dc266554d-60970621-76566046″ info="https://open.spotify.com/embed/album/6WkwHbcr6RAIqa72NsDFea" width="650″ height="360″ frameborder="0″]
What started as a weird internet joke actually turned into work on The Lost Tapes, a collaboration album between Ghostface Killah and Big Ghost Ltd, the producer, and writer who gained fame writing barbs like calling Drake "the vagina nectar-garglin n—a who makes lambs look dangerous" in Ghostdeini's one-of-a-kind vernacular. But for The Lost Tapes the real Ghostface is here to speak for himself, and the efforts are impressive. Even if he didn't quite deliver the high-pitched, 80-mile-an-hour wizardry of his past highlights, Ghost sounds on point and energized throughout the album. It probably also helps that The Lost Tapes is laden with features, from Wu brethren like Raekwon, Masta Killa and Cappadonna to relatively unlikely appearances from E-40 and Snoop Dogg on the flagrantly funky "Saigon Velour." We're grateful Big Ghost and real Ghost linked up here.
Roc Marciano & DJ Muggs, KAOS
[protected-iframe id="4dd5a62d219e19bb3dae2e5494291197-60970621-76566046″ info="https://open.spotify.com/embed/album/1lUsXpmVDKkbf1seV2LfMD" width="650″ height="360″ frameborder="0″]
How influential is Roc Marciano? One Twitter user recently tweeted that, "biting Roc Marciano is really a genre now." While Roc is undoubtedly influenced by predecessors like Raekwon and Ghostface Killah, he's become an underground king in his own right with a slew of well-regarded project that showcase his referential, avant-garde lyrical stylings over sinister, jazzy production. KAOS, his latest album with hip-hop legend DJ Muggs of Cypress Hill, is no different. The 10-track album shows Muggs lacing Roc with a bevy of artfully understated beats.
They may sound like minimalist soundscapes, but tracks like the jazzy, melancholy "E Train," and the searing "Rolls Royce Rugs" show that Muggs knows how to add technical wrinkles to the soundscapes that give them a cinematic feel around Roc's musings. And Roc matches Muggs' effort, at his free-associative best throughout the project. He's at his best dashing through assonant nonsequiturs before hitting you with a gem like "they gentrified the game, that's when the God came in Cartier frames" on "Aunt Bonnie."
Mozzy, Gangland Landlord
[protected-iframe id="a677a4ba8937adf8e813eb8c1b3690d6-60970621-76566046″ info="https://open.spotify.com/embed/album/3RbAlscRbQCjo39vk36uex" width="650″ height="360″ frameborder="0″]
Mozzy's latest project is yet another quality entry in his catalog, which showcases his knack for gritty narratives and grizzled-wisdom for the youngins like, "where all them n—-s you call your brother now? / Ain't none of them n—-s gon' hold your mother down" on "Walk Up." The 18-song album shows the breadth of Mozzy's sonic universe, but his work is at its most compelling when he's just exploring his struggle like on "Keep Me Hustlin," "Blackheart," and "Tear Me Down," where he explores his pain — and the crude soothing it gets from violence.
Stro The MC, Nice 2 Meet You Again
[protected-iframe id="f0da3e10101ffc4c00e679b1ac29f82e-60970621-76566046″ info="https://open.spotify.com/embed/album/4p1uemBIJh6QQshZjrQBAK" width="650″ height="360″ frameborder="0″]
Stro The MC has said that "every project I released up until this point was made from the perspective of a kid trying to be the best rapper," but his latest project was "made from the perspective of a young man trying to be the best example." With those intentions in mind, the new Mass Appeal signee delivered perhaps his best work yet. From the intro, where he reflects on how he "weathered the storm," he sets a tone of evolution that's sustained throughout the eight-track project.
The Brooklyn MC rhymes with a pleasant cool on tracks like "Waters" and "Mindblown," where he gets into a lyrical exercise over a smooth, eclectic soundscape. "Holy Vibes" is another standout, as he tells a sophisticated story of romance over a lush bassline. He's got the new school flows and sensibilities in tow, but he's also delivering strong technical lyricism and witty wordplay like "it's like I'm brushing my teeth / Why? I spit what I meant, ho" throughout the project. It's nice to see that Stro's met his next level.
Belly, Immigrant
[protected-iframe id="18bac9894e5b88483fd1ab08ac00584a-60970621-76566046″ info="https://open.spotify.com/embed/album/01OhPa84ZZEYBZl2Lvo4iZ" width="650″ height="360″ frameborder="0″]
While a slew of rappers like YG, Nipsey Hussle and Eminem have railed at President Trump for his policy abuses and overall dickishness, few have been able to speak for the perspective of the millions of people affected by his ridiculous travel ban. The Palestinian-Jordanian Belly is one of those few artists with personal insight, and he does so on the harrowing title track of Immigrant, his latest album. Though the album title and artwork would suggest that immigration issues are a predominant theme of the album, that's not quite the case. For the rest of the album, he shows off his rare ability to both flout his impressive lyrical ability and deliver melodic tracks like "What You Want" and "Maintain" that nestle comfortably in the Billboard Top 40 purview.