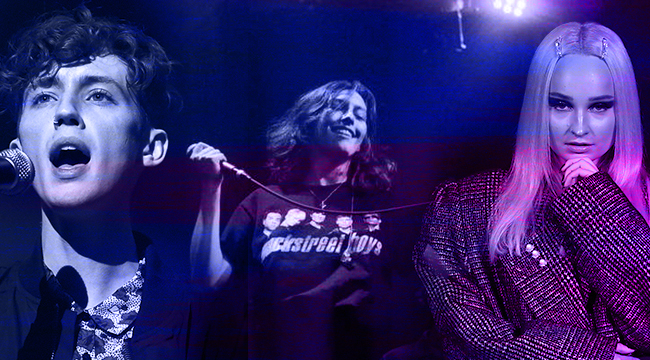 I swear, I didn't mean to make this playlist almost completely absent of straight white guys. It just happened like that. But I think it's representative of the genre. Indie pop is so exciting right now because of all the diverse voices contributing to the landscape. Some of the biggest pop up-and-comers right now — Aussie YouTube icon Troye Sivan, Mark Ronson protégé King Princess, bubblegum queen Kim Petras — are LBGTQ+, and artists of color have released some of the best albums of the year so far.
I love radio pop, but the most exciting stuff is happening a little bit outside of the mainstream. We give recommendations through word of mouth and Spotify playlists, and discover new artists opening for legends we already love (hi, The Aces!). Some of these artists play evening sets at music festivals and only loosely classify as indie, and we haven't even covered others on this website before. But this is some exciting, fresh stuff, and a taste of the reason why I love and am so excited about pop music.
Christine And The Queens, Feat. Dâm-Funk, "Girlfriend"
Héloïse Letissier suggests a new name on this song. "Chris" the persona is bold and sexy, confident and uninhibited. The song is all of that, too, and funky as hell.
SOPHIE, "Immaterial"
"I could be anything I want / Immaterial boys, immaterial girls / Anyhow, anywhere, anyplace, anyone that I want / Im-ma-ma-material, immaterial" The fallible, imperfect, not-right human body? Found dead, killed by this bop.
Rina Sawayama
Most of "Cherry" is addressed to a genderless "you," which in pop music usually refers to an opposite-gendered "baby" or muse, but Sawayama makes it clear in the pre-chorus that this isn't your typical bubblegum pop song in the pre-chorus — "Down the subway, you looked my way / With your girl gaze, with your girl gaze / That was the day everything changed." "Cherry" sparkles with promise. Sawayama hasn't released an LP yet, but you'll be hearing her name everywhere soon enough.
Mitski, "Nobody"
Be The Cowboy is a rock triumph, but amid the intensely felt, beautifully rendered guitar jams, Mitski gave us an unexpected, perfect disco-pop banger.
Hatchie, "Sleep"
I hadn't heard of Hatchie until I bought tickets to see her open for Snail Mail and Alvvays. The Aussie singer-songwriter has got Snail Mail's lyrical clarity, Alvvays' glittery dream-pop melodies, and a dash of Carly Rae's sweet-voiced infatuation. Obviously, it's brilliant.
Kim Petras, Feat. Baby E, "Hills"
The Genius summary of the song just says "a f*cking bop," and who am I to argue with a genius?
Louisa, Feat. 2 Chainz, "YES"
"YES" is pure high-energy, dancefloor-commanding pop, and it sounds a little like Dirrty-era Xtina meets Salute-era Little Mix. (Like LM, Louisa is an X Factor alum.)
teddy<3, "Body And Soul"
When she's not writing hits for Shawn Mendes or singing the Bowie part in "Under Pressure," Teddy Geiger records electric, riff-y pop. "Body And Soul" has an addictive bassline, and Teddy's got a great rock voice.
The Aces, "Fake Nice"
The Aces' spunky, guitar-driven pop has drawn comparisons to HAIM (there's a pair of sisters in this band, too), but "Fake Nice" has some singularly great hooks.
Charli XCX, "No Angel"
Last year's Pop 2 was Charli's bizarre, incredible pet project, and what endeared her to a lot of music critics. The singles she has released this year are a little more radio friendly, but Charli excels at both. Pop 2 is an incredible album, but pop music doesn't have to be experimental to be great. There's something magic about a sugary beat and irresistible hook.
Sigrid, "Schedules"
"Schedules" might be my favorite pop song released this year. Sigrid compares finding the perfect hook writing a pop song to making a relationship work. There's beauty in imperfection and the unexpected. "Schedules" is pure joy — it's no wonder Sigrid is one of Europe's biggest rising stars.
Lizzo, "Boys"
Lizzo's bold, irresistibly fun hip-hop pop makes for one of the most fun live acts out there. The studio recordings of her songs capture that boundless energy. As the title suggests, "Boys" is an ode to the great diversity of cute boys out there in the world — "From the playboys to the gay boys / Go and slay, boys, you my fave boys."
Maggie Rogers, "Light On"
"Light On" is a love letter from Maggie Rogers to her fans. Rogers became famous dizzyingly fast (YouTube stardom always seems to happen at lightning speed), but there's a comfort in knowing that you're loved and appreciated by so many people out there. Your own light seems to be shining brighter than ever, but there's nothing to be afraid of when we're all out there, beacons across the lake.
St. Vincent, "Fast Slow Disco"
"I always felt this song could wear many different outfits and live many different lives. Here she is in disco pants, sweating on a New York dance floor," St. Vincent said of "Fast Slow Disco." It's a testament to the brilliance of these songs that no matter how many times St. Vincent reworks them, they never lose their magic. The original "Slow Disco" is great, but I love the relentless, Robyn-esque pop beat of the fast version.
Lykke Li, Feat. Aminé, "two nights"
Lykke Li has been putting out incredible indie pop for a decade. Her new album so sad so sexy is a career high, and "two nights" is sad, contemplative, and gorgeous.
[protected-iframe id="5ef29fd990934e5c004067b0078ddf24-60970621-76566046″ info="https://open.spotify.com/embed/user/uproxxmusic/playlist/6zbz6WwSIwe8GP9HHuVcLv" width="650″ height="650″ frameborder="0″]