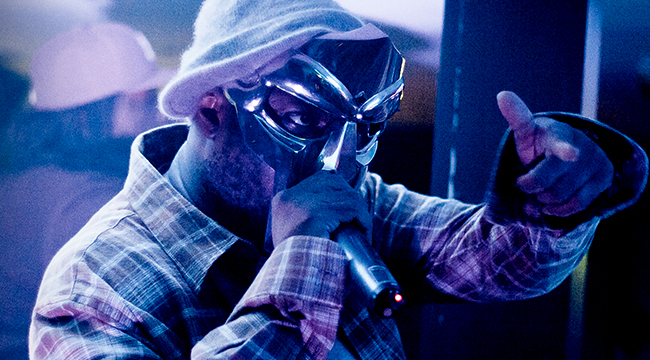 In the late nineties, at the height of the divide between mainstream and underground rap, MF Doom (re-)emerged to wave the flag for the backpacker set, and in doing so, helped to change the landscape of hip-hop forever.
The genre hadn't quite seen anything like before; in a culture that valued image over everything, he eschewed the typical New York facade. Instead, he crafted for himself a persona based on that of a comic book supervillain, complete with a prop mask to round out his over-the-top presentation. Against all odds, this one-of-one hip-hop misfit became an icon, whose style has influenced multiple generations of rappers, even if only indirectly. Just look at Leikeli47, who has borrowed his gimmick of anonymity, forcing listeners to judge her as an artist purely by her musical output.
Doom rhymed about the typical rap pursuits of the day, but with an off-kilter, sardine-can-packaging dense flow, rattling off stream-of-consciousness observations and brownstone brick hard punchlines. His style can be heard through the filter of rappers whom he's directly influenced, such as Jay Electronica, Blu, Earl Sweatshirt, Joey Badass, and Bishop Nehru, and through MC's who he's worked with over the years, like Talib Kweli, Ghostface Killah, and Nas.
He's been active ever he first donned the mask in '97, so to narrow down his contributions to the rap game to only his ten best is a monumental task; ask ten hip-hop heads to name their best songs, and you might receive ten answers. Some of the songs listed here will be more obscure, and some will be more popular, but they each represent Doom at his absolute best, even if he's only a track's guest rapper. That's the power of the metal-masked villain; give him 16 bars, and he just might steal your song right out from under you.
For the purposes of this list, we considered MF Doom separate from Victor Vaughn, King Geedrah, or Madvillain, as they all show up under different names on most streaming services.
10. Gas Drawls — Operation Doomsday (1999)
Sorry, this might be one of Doom's most conventional rap songs, which seems counterintuitive for a "ten best Doom songs" list, but the truth is, Doom is probably at his best when he strips aways the bells and whistles, and just goes for broke over a traditional, dusty-record, '90s breakbeat drum sample a simple loop. It allows the listener to focus on his intricate flows and clever punchlines, like "still quick to slice squares like Sicilians."
9. Ka-Bang! — Every Hero Needs A Villain (2015)
With all due respect, you can basically cut this song off after the first minute. That's saying a lot. When 7L and Esoteric linked up with Wu-Tang's Inspectah Deck to form Czarface, hard-body, menacing rhymes were guaranteed on every track of the 17-song album, Every Hero Needs A Villain, so to say that Doom ended the track that he guests on as handily as he started it is no light statement. Half onomatopoeia, half '70s pop culture callout, Doom's verse tramples the echoing, spacious beat provided by 7L to the point that the rewind button is needed to catch each reference and parse them out from Doom's imitations of gunshots and flash bang grenade explosions.
8. Da Supafriendz — Look Ma… No Hands (2004)
Vast Aire might be the only rapper in the game with as quirky a flow as MF Doom, and he floats as well as Doom (who also produced — or rather, recycled this beat from his own "Poo-Putt Platter" on MM…Food. This is the better version) on this three-minute Vaudevillian-sounding rhyme smorgasbord. Doom sprints to an early lead with "Villain have your fake man, quakin' in his Vans / When he do a jam, fans break dancin' in the stands," but Vast Aire anchors the back half of the track: "Now I want to smoke a blunt, you know, blow off some steam? / Open my mouth like Godzilla, and all you see is light beams."
7. Trap Door — White Van Music (2008)
Jake One is hands down one of the coldest producers in the game right now. He's produced for G-Unit, is currently one-half of the funk duo Tuxedo along with Mayer Hawthorne, and even created a collaborative LP with Freeway of "What We Do" fame, but his origins are underground, and his White Van Music was nothing short of a masterful demonstration in incorporating live instrumentation to hard-hitting, backpack rap. The result of his collaboration with MF Doom, "Trap Door," is one of the nastiest grooves Doom has ever laid his elaborate, broken glass bars on. Fittingly, Doom brings the big guns: "A jerk well renowned for his work skill / He's out, the proof is the computer's down Urkel / MC a show via wi-fi / And paid way before we wrap it up like tie-dye."
6. Biochemical Equation — Wu-Tang Meets The Indie Culture (2005)
An obscurity from Wu-Tang affiliate Dreddy Krueger's experiment in mashing up indie rappers with the legendary Clan's best beats, "Biochemical" is worth a listen for no other reason than to hear MF Doom over RZA production. It's even worth sitting through a pair of RZA verses, as the erstwhile Wu-Tang frontman brings, if not his "A" game, then a good B-minus before Doom rampages all over the soulful composition with bars of fury: "You're soft, they say he rhyme like he starving / And sold odds and bodkins to old gods and goblins / Golly, I'm just a pest and your worst best friend / Who mend and rip space-time fabric like polyester blend."
5. The Mask — The Mouse And The Mask (2005)
In the early aughts, Doom went on a run of fantastic collaborations, courtesy of nascent television network Adult Swim, who paired him up with Danger Doom for The Mouse And The Mask in promotion of shows like Aqua Teen Hunger Force. And so, the original masked man of rap, Ghostface Killah, collided with his immediate successor, making magic and setting off a clean decade of anticipation for a full collaborative album that has yet to materialize. With Ghost sparking some of Doom's sharpest rhymes, like, "The only question he had for y'all was how many lumps / Three or four, either or /Mon cheri amore, so why you need your heater for?" — and vice versa. Should that GhostDoom album ever truly hit the streets, just based on this one song, it seems likely it will have been well worth the wait.
4. Rock Co.Kane Flow — The Grind Date (2004)
One of the few times Doom was unable to snatch the track away and stand head and shoulders over his cohorts, "Rock Co.Kane" positions the masked MC opposite De La Soul on their criminally overlooked 2004 LP, The Grind Date. The dominating, militant beat crunches and crackles behind the three rappers as they jostle and threaten for superiority, and despite Doom's typically outstanding showing, with bars like, "There goes that news van again, act like you knew, like Toucan Sam and 'em / We eat rappers like part of a complete breakfast / Their rhymes ain't worth the weight of their cheap necklace," Posdnuos might have one of the dopest lines of 2004 with "They say the good die young / So I added some badass to my flavor to prolong my life over the drum / Everyone cools off from bein' hot / It's about if you can handle bein' cold or not."
3. Deep Fried Frenz — MM…Food (2004)
Doom tackles both betrayal and friends with benefits over a sample of Ronnie Laws' "Friends And Strangers," cleverly interpolating both the beat and his lyrics with Whodini's "Friends." "Ten bucks say they tell for a lower sentence," he says of fake friends in the streets while his observation of romantic relationships are even more straightforward, "We can do the damn thing / But hoe, it's no strings." The beat is as close to pop as Doom's ever gotten in his 20 year career, making this one of the very, very few Doom songs that works as well at the party as in the headphones.
2. Potholderz feat. Count Bass D — MM…Food (2004)
"These metal fingers be holding hot sh*t," Doom sneers over a deconstructed guitar loop, alongside fellow old school rap legend Count Bass D. The pair trade smart bars full of references like, "These old things? I'm 'bout to throw 'em away / With the gold rings that make 'em don't fit like OJ," and "MC's are crabs in a barrel, pass the Old Bay." This is MF Doom at his most lucid and locked-in, as he runs away with Bass D's beat and leaves his competition — real and imagined — choking on his dust.
1. Rhymes Like Dimes — Operation: Doomsday (1999)
Sometimes an artist's first work is his best. "Rhymes Like Dimes" was the white label record that first took the underground and college dorm rooms by storm, with its clever, razor-sharp sample of Quincy Jones' "One Hundred Ways," and rap radio personality Bobbito Garcia — as "DJ Cucumber Slice" — playing freewheeling hype man over the back half of the track. It's fun to call songs "groundbreaking," but in certain, rare instances, it's also 100% accurate. Rappers have adopted Doom's independent ethos, his unorthodox flow, his free association rhyme schemes, and his willingness to be weird, opening up new avenues of expression and generating a whole new way to get paid. Hip-hop will forever owe a debt of gratitude to MF Doom; for the first time, it was a villain who saved the day.