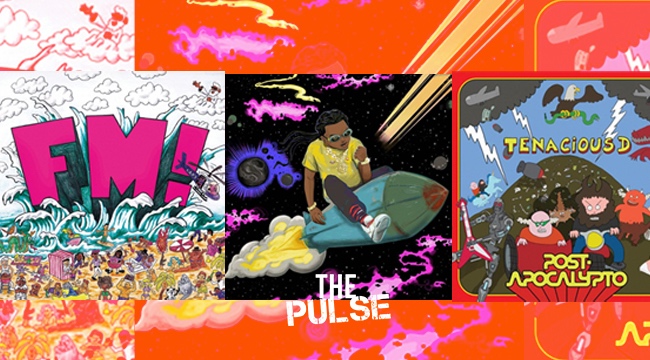 The Pulse is the Uproxx Music guide to the best new albums, mixtapes, and other music releases that matter this week. Find our complete list of the records coming out in October here.
There's been some mystery as of late surrounding what Vince Staples is going to get up to next, but yesterday brought some concrete information: Staples' new album is called FM!, and now it's out. There are also some bigger-picture questions pertaining to Migos member Takeoff: Is he ready to branch out on his own with his debut solo album? Will he shine all by his lonesome, or is the comfort of his trio a better fit for him?
Meanwhile, Jack Black's comedy rock group Tenacious D has returned, Action Bronson rides in on his white horse with a new record, and country supergroup Pistol Annies are back with their first album in a while.
Vince Staples — FM!
Staples' post-"Get The F*ck Off My D*ck" project is here, and it helps establish the rapper as one of the most interesting dudes in the game. He brought a lot of friends along for the ride too, as the album features guest spots from Jay Rock, Kamaiyah, Tyga, and others.
Takeoff — The Last Rocket
Takeoff is a critical part of Migos, and now it's time for the rapper to see if he can produce similar magic without the rest of the group. Quavo just dropped his solo album too, but Takeoff opted for a shorter tracklist on his record, meaning he has both less room for error and the potential for a more focused album experience.
Tenacious D — Post-Apocalypto
There are a ton of comedy music groups out there, but what sets Tenacious D apart is both professional-level comedy from Jack Black and Kyle Gass, and legitimately excellent musicianship from the two as well. They get pretty silly, yes, but through it all, the two never cease to genuinely rock.
Read our interview with Black and Gass here.
Action Bronson — White Bronco
Bronson decided to self-release his first solo album since 2015's Mr. Wonderful, and while it may not be one to earn him drones of new fans, it will please the folks who are already in his camp. This is definitely an album for Action Bronson fans, since it includes features from frequent collaborator Big Body Bes, as well as production from folks he's worked with plenty in the past, like Party Supplies, Harry Fraud, and Knxwledge.
Pistol Annies — Interstate Gospel
The country supergroup — consisting of Miranda Lambert, Ashley Monroe, and Angaleena Presley — seemed like a one-off project when it formed for a TV special in 2011, and yet, today they've dropped their third album. The record features tracks like the bluesy honky-tonk of "Sugar Daddy," the upbeat country rock "Got My Name Changed Back," and the ballad "Best Years Of My Life."
Swizz Beatz — Poison
It's been a long time coming, but Swizz Beats is finally here with his second studio album (his debut, One Man Band Man, dropped all the way back in 2007). If you need a co-sign, check the album credits: Lil Wayne, Young Thug, Kendrick Lamar, Nas all find their way onto the record, along with J. Cole, who's the executive producer of the album.
Rapper Big Pooh And Focus… — RPM
Undergroup hip-hop heads know Rapper Big Pooh, who initially made noise as part of the group Little Brother. Here, he teams up with Focus…, who has been around the block production-wise, with credits including songs from Eminem, Dr. Dre, Kendrick Lamar, Beyonce, Snoop Dogg, 50 Cent, and more on a list that reads like a modern hip-hop hall of fame.
Hiss Golden Messenger — Devotion: Songs About Rivers And Spirits And Children
This four-disc box set features three remastered versions of classic Hiss Golden Messenger albums Bad Debt, Poor Moon, and Haw, which by itself makes this a neat release for followers or prospective fans of the group. What's most interesting, though, is the fourth disc, Virgo Fool, which consists of rare Hiss Golden Messenger tracks that are only available physically in this set.