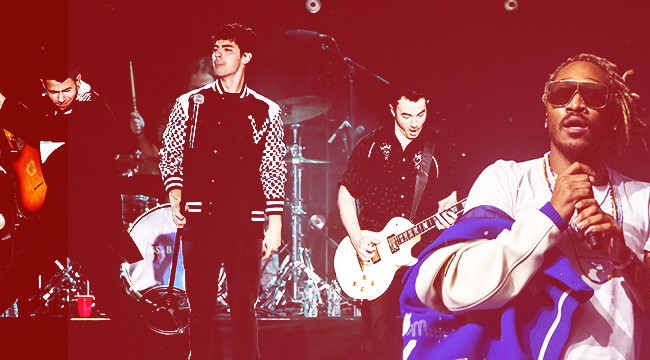 Keeping up with new music can be exhausting, even impossible. From the weekly album releases to standalone singles dropping on a daily basis, the amount of music is so vast it's easy for something to slip through the cracks. Even following along with the Uproxx recommendations on a daily basis can be a lot to ask, so every Monday we're offering up this rundown of the best music released in the last week.
This week saw the full-blown return of the Jonas Brothers, as well as a surprise Future EP and the first new songs from Bon Iver in a while. Yeah, it was a great week for new music. Check out the highlights below.
Jonas Brothers — Happiness Begins
The Jonas Brothers' comeback has been a resounding success, and it continues now with the release of their first album in ten years. Of course, it features the fraternal trio's two hot new singles: The breezy and smooth "Cool," as well as "Sucker," the undeniably catchy pop juggernaut that quickly became one of the year's biggest songs.
Future — Save Me
It hasn't been very long since the latest new Future release: The Wizrd just came out back in January. Still, Future apparently had some songs burning a hole in his pocket, so with little warning, he just dropped a new seven-song EP. Most notably, it features "Shotgun," which a lot of people believe sounds like a song by former flame Ciara.
Bon Iver — "Hey, Ma" and "U (Man Like)"
Justin Vernon hasn't been away for that long: He and Aaron Dessner teamed up for a self-titled Big Red Machine album last year. Bon Iver has spent more time away, though, as 22, A Million was released back in 2016. Now it seems a full-on comeback is impending, as he shared a pair of soulful new songs that are hopefully teasing something more substantial to come.
Tyga — Legendary
It's been barely over a year since Kyoto, but Tyga just popped up with another new record. On it, he showcases his ability to bust out catchy hip-hop bangers, like "Vibrate" and "On Me." Speaking of "legendary," he secured a strong roster of guest stars on the album, as there are features from Lil Wayne, Blueface, J Balvin, Swae Lee, Gunna, Offset, A Boogie Wit Da Hoodie, and others.
Kim Petras — "Clarity"
So far in 2019, Kim Petras has released approximately a thousand singles. That might be an exaggeration, but as long as she keeps on delivering the goods, she should definitely keep this productive stretch going as long as possible, even if her songs are not. "Clarity" is barely two minutes long, but even in that time, Petras manages to embed the catchy track into your subconscious.
Whitney — "FTA" and "Giving Up"
It's been a (music world version of) an eternity since Whitney's 2016 debut album Light Upon The Lake came out. This week, though, they teased their follow-up album with a pair of new songs. First there was the languid and mostly instrumental alt-country gem "FTA," and following that was "Giving Up," an indie soul tune cut from the same cloth as their past beloved material.
(Sandy) Alex G — "Gretel"
(Sandy) Alex G has been a defining name in alternative indie rock for years now, and he continues to prove that there's no boundary he won't push. "Gretel" has the bones of a standard indie tune, but there are ominous moments followed by ones so airy and light that there's literal pan flute on the song. (Sandy) Alex G continues to innovate with every new release, and is proving to be a master of it.
Bedouine — "One More Time"
Bedouine's self-titled 2017 album established her as a rising indie folk star to watch, and here we are: It's 2019, and she has an anticipated sophomore effort on the way. She's teased it with a handful of advance tracks, and the latest is "One More Time," an appealingly tender cut led by piano and acoustic guitar that is carried by Bedouine's gentle voice and a lovely string section in the song's second half.
Valee — Runnin' Rich
Valee found himself in a spot of trouble recently after dyeing his dog red, although he insisted the edible vegan food dye he used was animal-safe. That dog popped up again recently, this time on the cover of a new surprise EP. The seven-track project clocks in at just about 15 minutes, but he made time to feature folks like G Herbo and Vic Mensa.
Jay Som — "Superbike"
Jay Som has quickly become a low-key indie great and last week, a couple of years after her debut label album Everybody Works, she proved she's still in top form by sharing a new song, "Superbike." The single fully embraces a combination of Cure-esque guitars and contemporary dream pop, and it's a step in a strong new direction for the rising songwriter.
Some artists covered here are Warner Music artists. Uproxx is an independent subsidiary of Warner Music Group.