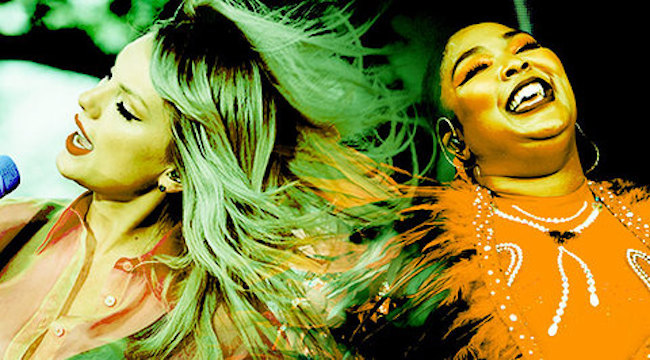 Keeping up with new music can be exhausting, even impossible. From the weekly album releases to standalone singles dropping on a daily basis, the amount of music is so vast it's easy for something to slip through the cracks. Even following along with the Uproxx recommendations on a daily basis can be a lot to ask, so every Monday we're offering up this rundown of the best music released in the last week.
This week saw a huge Taylor Swift release (because anything she does is huge), as well as a truly rocking single from The 1975. Yeah, it was a great week for new music. Check out the highlights below.
Taylor Swift — Lover
During the Reputation era (which was just two years ago, by the way), Taylor Swift seemed scorned, vengeful, and just not that positive. She's turned that frown upside down with Lover, though, in case the title wasn't enough. Her new pastel-colored album is generally cheery, in case singles like "Me!" and "You Need To Calm Down" didn't give that away. It's a new era for Swift, one that she's surely glad to be smiling through.
The 1975 — "People"
A message for those who doubt whether The 1975 is a true rock band: Doubt no more. Matty Healy and company have dispelled all skepticism about their rocker status with their new single, "People." It's high-energy, it's guitar-driven, it features a particularly vicious vocal performance from Healy. It's rock.
Jay Som — Anak Ko
Jay Som (aka Melina Duterte) is only 25 years old, but despite that, she's a bit of an indie veteran. Anak Ko is already her third album, and it sounds like the product of somebody who's been around the block a few times. She hits the nail on the head with a variety of moods and aesthetics, like the dreamy lo-fi of "Superbike" and the chill indie of "Nighttime Drive."
Read our interview with Jay Som here.
Lizzo — "Truth Hurts" (Remix) Feat. DaBaby
Lizzo's "Truth Hurts" is in the midst of a fascinating run: It was released as a single in 2017 and didn't make much noise then, but now, post-Cuz I Love You, the track is blowing up. It has become her highest-charting single yet, and a new remix of the track featuring DaBaby will only help the cause.
Brockhampton — Ginger
The members of Brockhampton don't leave themselves much time for sleeping. Prior to last week, they had released four albums since 2017 (not counting a Kevin Abstract solo effort), and now they have a fifth. As always, the group is as boundary-pushing and creative as ever, proving that they're constantly learning and growing.
Vince Staples — "So What?"
When Vince Staples started talking about The Vince Staples Show, he wasn't exactly sure what to call it. Based on the first episode, it looks like it's going to be some sort of hybrid sketch-show-meets-music-video series, as that's what the first episode served as. What starts as Staples getting a haircut ends up with him getting into an intense fistfight, all set to a new song, "So What?."
Missy Elliott — Iconology
Missy Elliott stock is as valuable as it's been in years right now: She's set to receive a big honor at the VMAs tonight, and with little advance warning, she's back with her first collection of new music in 14 years. She heralded her Iconology EP with "Throw It Back," a banging single that was accompanied by a clever, aesthetic, and Teyana Taylor-featuring video.
Rapsody — Eve
The five-year wait between Rapsody's first and second albums paid off, as Laila's Wisdom earned itself a Best Rap Album nod at the Grammys. It didn't take that long for her third album, Eve, to arrive, but yet again, Rapsody is on top of her game. The record features J. Cole, JID, and some other guests, as well as tributes to influential Black women from throughout history, like "Sojourner" Truth, "Phylicia" Rashad, and "Ibtihaj" Muhammad.
Lana Del Rey — "F*ck It I Love You" and "The Greatest"
Lana Del Rey recently said that "trying to get in the mix of the zeitgeist" is not her "MO," and that's never really been a secret. Del Rey has always done things her way, and she has yet again with her new video, which is actually for two songs instead of one, "F*ck It I Love You" and "The Greatest." As is typical, the tracks have an air of nostalgia to them, even though they sound fresh and exciting.
Charli XCX — "Miss U"
Charli XCX is promoting her upcoming self-titled album Charli at the moment, but she's taken a short respite from that to push "Miss U," which isn't from that record at all, but instead comes via the new 13 Reasons Why soundtrack. XCX proves herself to be one of pop's finest, so much so that now she's just turning in catchy tunes like this that aren't even on hew new album.
Some artists covered here are Warner Music artists. Uproxx is an independent subsidiary of Warner Music Group.