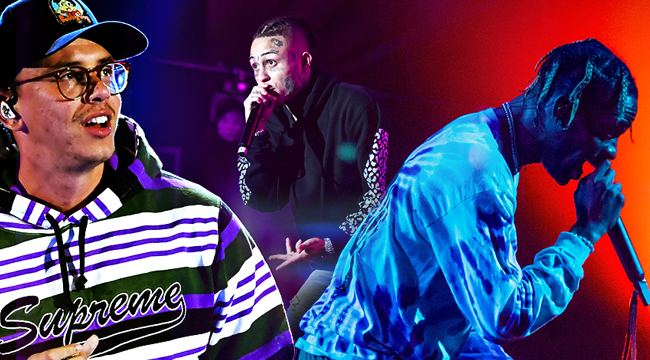 Hip-hop is moving as quickly as ever. Luckily, we're doing the work to compile the best singles of the past week and highlight them in one space for you. This week, we got our first 2019 dose of Migos on DJ Mustard's "Pure Water," as well as a "Mile High" single from James Blake's Assume Form album, which he released a week early for his fans. Elsewhere were offerings from Lil Skies, Ella Mai, and a pair of freestyles from two of New York's hottest MCs:
DJ Mustard Feat. Migos, "Pure Water"
The thought of "Pure Water" probably makes most of the country thinks of icicles at this point, but luckily DJ Mustard and Migos came through with a summer-channeling vibe to blast this weekend. The hypnotic soundscape was the perfect canvas for Migos to trade bars as they gear up for Culture III.
Logic, "Keanu Reeves"
What's with young rap stars saluting actors? There's JID's Dicaprio themes, now there's Logic's "Keanu Reeves," named after the accomplished actor. But Logic isn't tributing, moreso biggin' up himself with lines noting that soccer moms say "oh my God, children, it's the 1-800 guy / but my door's suicide, yeah, I'm too alive."
James Blake Feat. Travis Scott And Metro Boomin, "Mile High"
James Blake's Assume Form album is here a week early. Yesterday he previewed one of the sure to be standout singles from the project, going a "Mile High" with Travis Scott and Diplo. The song is aptly titled, as the smooth synths and pacing sounds like it's perfect for cruising the highway while the moon offers guidance miles above.
DJ Kay Slay Feat. Busta Rhymes & Lil Wayne, "They Want My Blood"
Esteemed New York DJ Kay Slay is representing the Hip-Hop Front Line on his new compilation project, and got with a pair of generals to help his cause of gruff rhymes over tough beats. "They Want My Blood" is a paranoid banger in which Wayne and Busta take turns over a mysterious synth-driven beat.
Lil Skies, "Real Ties"
Lil Skies dropped his first track of 2019 with "Real Ties," a triumphant track where he shows love to his day ones over evocative keys. "Real Ties" dropped with a video that alternately shows him with hoards of fans in his native Waynesboro and tossing money in a green-tinted room.
Ella Mai, "Shot Clock"
Ella Mai is back with a video for "Shot Clock," a single from her self-titled album. The video plays on the basketball theme of the track, as she croons on a basketball court and in the bleachers.
Young M.A., "Bake Freestyle"
Everyone and their mother has seemingly freestyled over the Clipse's classic "Grindin" beat — and now M.A. has too. The Brooklyn MC dropped a video showcasing her bars on the classic lunch table beat, getting characteristically raunchy but also setting an edict for 2019: "Only goin' platinum, gold ain't a goal."
Quando Rondo Feat. Boosie Badazz, "3 Options"
Upcoming Savannah, Georgia artist Quando Rondo got up with a trap legend on "3 Options," a collaboration with Boosie Badazz from Rondo's Life After Fame album. The song's soulful keys are the perfect canvas for both MCs to get introspective and reflect on the trials and tribulations of the streets.
Don Q, "Every Season Freestyle"
You may have heard the news about A Boogie's number one album this week — now get acquainted with his right-hand man, Bronx spitter Don Q. It seems like 2019 could be Q's year to break out and achieve universal acclaim as one of the game's best young gangster rappers. He plies his double-time flow over the beat for Roddy Rich's "Every Season" track, affirming how long he plans to dominate the rap game.
Lanksy Jones Feat. CJ Fly & Mr. MFN eXquire, "Know The Type"
New York's MTA is a classic, unpredictable music video motif for New York rappers. Lansky Jones of the World's Fair collective jumps on the train in the video for his "Know The Type" track featuring Pro Era's CJ Fly and Mr. MFN eXquire. The song is from his upcoming Dangerfield album, coming next month.
Ras Nebyu, "My Soul To Keep"
Get in tune with the Washington Slizzards, a movement helmed by DC rhymer Ras Nebyu. This week, Nebyu dropped off the video for "My Soul To Keep," a spiritually-tinged intro from his Uptown Lion Walkin project where he laments that "the devil tryna creep," but resolves that "it's time to let these devils know b*ch I ain't never been no h*e."