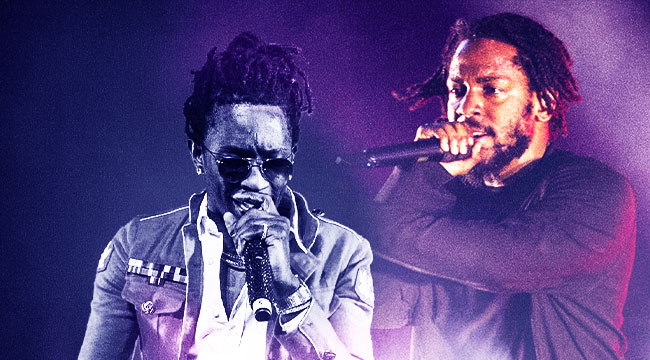 Hip-hop is moving as fast as ever. Luckily, we're doing the work to put the best music in one place for you. This week was relatively slow as far as releases, but there were new videos from Young Thug, Vince Staples, and YFN Lucci along with Trey Songz. Logic also dropped a "No Pressure" freestyle where he let the world know that he and his girl were expecting. Here's the best of the rest:
Raphael Saadiq — "Rearview" Feat. Kendrick Lamar
Kendrick Lamar makes an appearance on Raphael Saadiq's Jimmy Lee project with the introspective "Rearview," where he ponders the existential question, "how can I change the world but can't change myself?" and a slew of other qualms over energetic live drums.
Lizzo — "Truth Hurts" Feat. DaBaby
Lizzo tabbed Charlotte's DaBaby for the remix of her empowering "Truth Hurts" track. DaBaby opens his verse matching Lizzo's affirmations with the very specific realization that, "I'm the realest pretty chocolate n—a out here with some good dick."
G-Eazy — "Got A Check," "All Facts"
G-Eazy dropped off a pair of tracks on Thursday. "Got A Check" is another collaboration with T-Pain (as well as ALLBLACK and Offset Jim) over an otherworldy trap-driven production. "All Facts" is a more subdued track featuring Ty Dolla Sign and G-Eazy pleading for romance over a dreamy soundscape.
Skippa Da Flippa — "Move" Feat. Young Thug
The prolific Young Thug connected with another busy ATLien for more Fun on "Move," a Murda Beatz and Jaque Beatz-produced track where the two trade verses over spooky keys.
Bankroll Fresh — "Believe It"
It's been a long five years since Atlanta rapper Bankroll Fresh was murdered in his home city. His family has kept his legacy alive by releasing occasional singles. This week they dropped off the Sonny Digital-produced "Believe It," a triumphant example of why Fresh is still a revered figure in the Atlanta rap scene.
Stefflon Don — "Hit Me Up"
UK rhymer Stefflon Don released "Hit Me Up," a sunny West Indian-flavored single in which she vies for the affection of the man in her life.
LilGotIt & Lil Keed — "Pop My Sh*t"
Brothers LilGotIt and Lil Keed are on a 15-city tour which started two nights ago in Brooklyn. Earlier this week they gave fans a fun appetizer in "Pop My Sh*t." LilGotIt matched the bouncy J.Gramm-produced track with a creative video that aspirationally depicts them as larger than life figures looming over Atlanta.
Bishop Nehru — "wait…"
Bishop Nehru's latest "wait…" single could be the calm before the much-desired storm for so-called Nehruvians. Nehru dropped the track on his BlogSpot page earlier this week, asking his fans to "make their own interpretation" of the song and letting them know a "big wave of music" is impending.
Xanman — "Gucci Down" Feat. Rico Nasty & YungManny
PG County's Xanman collaborated with Rico Nasty, one of his biggest — and most popular — fans on the remix to his buzzing "Gucci Down" single. The always energetic Rico takes her foot off the figurative peddle on her verse, imbuing the hypnotic track with a laidback flow in which she bigs up her bank account and lets us know she's "been on the road."
Kemba — "The Feels" Feat. Portugal. The Man
Bronx's Kemba rhymes on his "The Feels" track that, "I know I strained some relations when I wrote this song." The deeply reflective single is a compelling exhibition of Kemba's considerable lyrical ability — as well as his humility and vulnerability.
Duke Deuce — "Grab A…"
This week, Quality Control's Duke Deuce dropped the video for his "Grab A…" single from the label's Quality Control: Control The Streets Volume 2 compilation. Deuce grabbed a private jet for him and his people to flex with in the flashy video for the thumping Tay Keith banger.
Some artists covered here are Warner Music artists. Uproxx is an independent subsidiary of Warner Music Group.