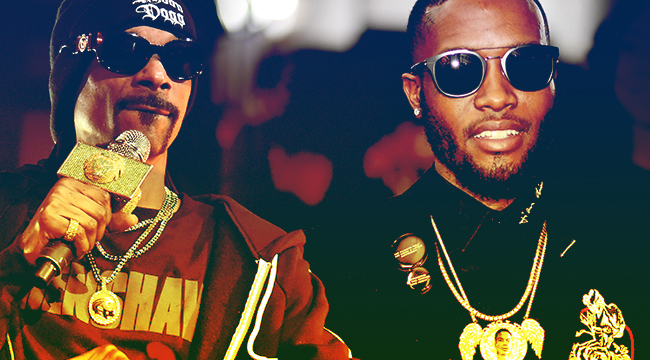 This week featured tracks from rap legends Kanye West, Snoop Dogg and Rick Ross, as well as videos from A Boogie, Lil Uzi Vert, and Saweetie. Jaden Smith dropped a preview of his Erys album with "Again," while 03 Greedo and Travis Barker offered a single from their upcoming collaboration album with "Cellout." Here's the best of the rest:
Snoop Dogg, "I Wanna Thank Me"
Even if one is living under a rock, Snoop Dogg's hip-hop omnipresence has slipped under there too at some point in the past 20 years. He celebrated his rare air rap career in the feel-good video for "I Wanna Thank Me," the first single from his album of the same title. The video shows his recent Hollywood Walk Of Fame moment, as well as scenes of him greeting fans and hopping on private jets.
Blueface Feat. Offset, "Bussdown"
Blueface got with acclaimed video director Cole Bennett for the school-themed video "Bussdown," a collaboration with Offset. The minimalist track is with the simple ashy-to-classy boast that he "used to ride the bus down, now I wear bussdowns."
Jeezy, "1 Time"
Jeezy decided to breathe new life into a classic sample on "1 Time." The swaggering single from his upcoming final album reinterpreted a part of Nick Ingram's "Under Pressure" most famously sampled on Jay-Z and Beanie Sigel's "Stick 2 The Script."
Lupe Fiasco, "Air China"
Available On His Personal Website Only, Watch Here
Lupe Fiasco's Beat N Path docuseries has chronicled the Chicago rhymer's time in China exploring his passion for martial arts. He decided to offer an ode to the far east with "Air China," an easy going single where he laments that, "everybody's on their phones, it's a room full of people but everybody's alone," yet also celebrates that "I even got the monks getting down to the sound."
Shy Glizzy, "How I'm Coming"
This DC's Shy Glizzy dropped a video for "How I'm Coming" from his Covered N Blood project. The melancholy track shows him juxtaposing the trappings of fame with the downside of the trap, autotune crooning that, "you can not imagine how much pain I really felt."
Akinyemi, "Breathe"
[protected-iframe id="c32c155680976668bdc46a4ce1748049-60970621-76566046″ info="https://open.spotify.com/embed/track/2QlxTOqctnxa6KHv6dd2i3″ width="300″ height="80″ frameborder="0″]
Over the past year, rising Queens MC Akinyemi toured the Balkans, performed with YBN Cordae, and did voiceover work with several major brands. That kind of success can produce pressure to sustain that can be overwhelming. But Akinyemi has a simple resolution: just breathe. His latest track is a reminder that sometimes meditation and sitting with yourself can turn a mountain of stress back into a molehill that you can step past in your journey of life.
Hoodrich Pablo Juan, "No Safety"
Hoodrich Pablo Juan's "No Safety" is exactly what it sounds like. The 1017 Eskimo talks his talk over a quaking 808, rattling off menacing and flashy rhymes like "Fendi and Gucci, I mix it like smoothies" in a catchy cadence.
Jay Critch, "6 Rings," "Messy"
Brooklyn's Jay Critch uploaded a pair of tracks to his Soundcloud this week. On "Messy" he reels off a double-time flow over some evocative piano play, while the Laron-produced "6 Rings" shows him saluting the in-demand Kawhi Leonard — even though the Klaw doesn't quite have 6 NBA championship rings yet.
Yung Baby Tate Feat. Queen Key, Asian Doll, "Mean Girl"
Yung Baby Tate recently collaborated Queen Key and Asian Doll on the feisty "Mean Girl," a strutting GIRLS Deluxe single that gives all three artists the license to put their foot on necks with lines like Tate's, "get a bitch choked out, low blood flow."
Devin The Dude, Still Rollin' Up: Something To Ride With
[protected-iframe id="951c568ab0a56c949089903505536934-60970621-76566046″ info="https://open.spotify.com/embed/album/1D8ehmTGvkmyR8lqaUZeHa" width="300″ height="380″ frameborder="0″]
This week, Houston hero Devin The Dude delivered his 10th project, which is aptly titled. The smooth, 12-track project is the perfect soundtrack for a cruise through the balmy summer air, and a reminder that three decades deep into the game, Devin still delivers that high-grade sound.
Max B, "Black And I'm Proud"
Max B is a cult hero for his off-kilter harmonies and debaucherous sound, but he decided to jump on a "woke" wave on "Black And I'm Proud," a track where he affirms his Blackness and rhymes, "mama tellin' me baby what you preachin' is wrong / they in love with your music you should be teachin' them songs." The song is from his upcoming Negro Spirituals album.
Da$h, "No Shorts"
Today, New Jersey MC Da$h released "No Shorts," his latest loosie. He strides along an arresting V DON and Kill production, reflecting on his "wild and reckless" youth before his foray into the rap game.
Some artists covered here are Warner Music artists. Uproxx is an independent subsidiary of Warner Music Group.