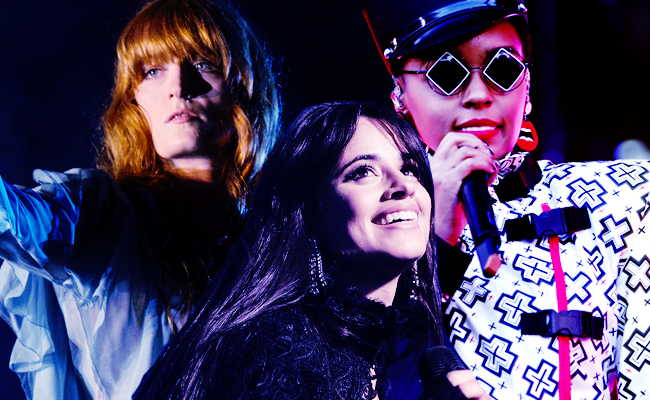 Pop music is finally getting its due. Though plenty of people the world over (read: mostly teen girls) have long known that pop is just if not more deserving of praise and critical attention as, say, indie rock is, over the last couple years the rise of poptimism has changed the critical landscape tremendously. To help celebrate that fact, we've rounded up some of the best pop songs to come out so far in 2018, giving them the thorough praise and critical eye that the genre has long deserved, and so rarely received. Welcome to the future, baby.
20. "One Kiss," Calvin Harris Feat. Dua Lipa
"One Kiss" is a hypnotic summer club jam from the king of hypnotic summer club jams. The song is more house-y than a lot of Harris' other work, but Dua's playful vocals and the summery synths keep "One Kiss" fresh and radio-friendly.–C.G.
19. "Nostalgia," MØ
"Nostalgia" is the Danish electro-pop singer's first release of 2018, and it's a dynamic kickoff. The song's lyrics are aching, but the bright chorus leads into some cathartic final lines "the sun shines when the clouds break." MØ told Idolator that the song would "part of a bigger rollout" for a release this year, and whatever else she has in store for us can't come soon enough.–C.G.
18. "Sky Full Of Song," Florence + The Machine
Long beloved for her ability to create a tempest in a teacup, and gently place the pair in a warm, technicolor pop song, Florence Welch has pulled off that delicious trick once again on the thunderous "Sky Full Of Song." In the song's most poignant line she sings "I want you so badly / but you could be anyone," summing up a million dizzied, desiring hearts in a short, thundering couplet. One of the first tastes of her new album, High As Hope the song threatens to erupt into cloudbreak, but never does. For Florence + The Machine, that tension holds as much power as most songwriters' hooks–C.W.
17. "Graffiti," Chvrches
Though their latest album, Love is Dead, was more uneven than Chvrches' previous work, "Graffiti" is a highlight. It's a nostalgic, sunny power ballad, with singer Lauren Mayberry's vocals climbing higher and higher on every chorus.–C.G.
16. "Into It," Camila Cabello
While I still fawn over Camila's overlooked shoulda-been-breakout-hit "OMG" (featuring Quavo!), that song firmly came out in 2017 and it isn't even on Camila (a crime!), so it's not eligible. No matter, literally any gem off Cabello's debut self-titled record Camila could slot onto this list, but I love the sex-pop coyly doe-eyed "Into It" that name checks a king sized bed without ever getting explicit. When a couch is the best place in the world because you're sitting on it with your crush, this is the song to hit play on.–C.W.
15. "What I Need," Hayley Kiyoko Feat. Kehlani
Kehlani has been on a seriously hot streak of features this year, right? "What I Need" is one of the best tracks from Kiyoko's ambitious debut, Expectations. The song, with lyrics expressing frustration with a lover who is dishonest about herself and her sexuality, becomes more layered with Kehlani's feature. Anyone who has listened to music before knows there is no shortage of songs about relationship problems, but "What I Need" might be the only one sung like a conversation between friends, and by two openly queer pop stars. Also, the chorus is just catchy as hell.–C.G.
14. "Familiar," Liam Payne Feat. J. Balvin
Liam Payne has also had a really great run of collabs and features. Since One Direction's breakup, Payne has brought his genial, team-player attitude to working with some of pop's most exciting names — last year's criminally underappreciated "Get Low" (with Zedd) and this winter's "For You" (with Rita Ora). Payne's song with J Balvin is the best of the bunch. The chorus is undeniably catchy, and Payne and Balvin's overlapping verses makes "Familiar" sound impossibly off-the-cuff and casual, like they're just two friends shooting the breeze, effortlessly creating one of the best songs of the summer.–C.G.
13. "Sanctify," Years & Years
"Sanctify"' is synth-pop band Years & Years' first single since 2015, and it's a bold and sexy re-introduction. Singer Olly Alexander marries imagery of stoic Catholicism and fearless sexual encounter in evocative lyrics backed by a glam, dark, synthy instrumental. The song works just as well in its acoustic iteration and various remixes (including one by Joy Division/New Order's Bernard Sumner).–C.G.
12. "Dancing," Kylie Minogue
Kylie Minogue released her fourteenth album this year, but Golden is the Australian-British singer's first country album. Yes, Kylie Minogue recorded a country album. Golden is shaggy and mostly uneven, but its highs are seriously high — and "Dancing" soars. The song could mean one of two things, depending upon how much existential angst you're listening to Kylie Minogue with.
The refrain of "When I go out, I wanna go out dancing!," paired with a glittery bubblegum-country instrumental, could mean hitting the town with friends. But Minogue told Billboard that the song is actually about death and living unafraid. "Dancing" sounds like Dolly Parton covering Carly Rae Jepsen, bold and yearning and just a little bit sad, which might be the highest compliment I am capable of giving.–C.G.
11. "Fitness," Lizzo
If your running playlist isn't just "Fitness" on repeat 20 times, you need a new running playlist. "Fitness," Lizzo's third single from an upcoming new project, is more than just a workout jam, though. The song's lyrics are about embracing what your body can do and the value it has for you. Bodies are fallible, imperfect, and often not capable of everything we wish they were. But "Fitness" is a celebration of the hard work we all have to do living in bodies every day, and the song reframes accomplishments in terms of what they mean to you: "Booty vicious, mind yo business." "Fitness" does all this and throws in a couple dings of pop's most underused musical instrument, the triangle.–C.G.
10. "Done For Me," Charlie Puth, Kehlani
The unlikely ascent of Charlie Puth might be my favorite story in music this year. His sophomore album Voicenotes is full of slinky, bittersweet grooves that remind us just how fucking hard loving anybody can be. On "Done For Me," he gets an essential assist from Kehlani — the unofficial queen of killer features in 2018 — to reframe all that love, pulling back from a jealous, ungrateful lover who hasn't held up their hand of the bargain. Mild disappointment, self-aggrandizing, plus an unstoppable funk melody? This guy gets it, by the end of the song I'm kinda mad at this girl, too.–C.W.
9. "The Middle," Zedd, Maren Morris, Grey
Zedd has a golden touch. The electro-pop musician's collabs with Ariana Grande ("Break Free") and Hailee Steinfeld ("Starving") were key singles for the pop starlets, getting more radio play than their previous singles and helping them break out (or, uh, free). Maren Morris is a country star in her own right, but "The Middle" proves she's good for great pop hooks, too.–C.G.
8. "Lost In Japan," Shawn Mendes
There's a couple other bangers on Shawn Mendes excellent new self-titled record, but "Lost In Japan" has my heart for all the moony piano melodies, the dumb-love idea of flying to someone else's city just to spend a night with them, the unbearable ache of physical distance when your heart is beating someone's name through your blood. Like his contemporary Charlie Puth, Mendes knows exactly how to blend old-world funk with his new world pop charm. This is pure puppy love bliss — book a ticket, babe.–C.W.
7. "Comeback," Ssion
"Comeback" was technically released as a single in 2017, so including it on this list might be cheating. But Ssion's O is one of the boldest, most unexpected pop releases of the year, featuring everything from extended spoken word intros to Patty Schemel guest vocals. "Comeback" is a highlight on an album full of back-to-back highlights, euphoric and a little chaotic.–C.G.
6. "Talia," King Princess
"Talia" is a song about a ghost. Maybe not a literal ghost, although singer Mikaela Straus is purposely vague on that point. In the verses, Straus buries the girl she loved ("I think I dug a thousand graves"), but the body is back to haunt the chorus ("If I drink enough, I can taste your lipstick"). Straus has only released two singles so far this year, but "Talia" is seriously impressive — and with an EP out on Friday, we're about to be hearing a lot more from her.–C.G.
5. "Be Careful," Cardi B
Including Cardi, who would probably balk at being called a pop star, on this list might also be cheating. But with the genre-defiant Invasion Of Privacy, Cardi proved that she'll nimbly break out of any box you try and put her in. Cardi spends half of "Be Careful" singing, the other half giving Drake a run for his money with loose and introspective verses about jealousy and cheating. Every song on Invasion Of Privacy is great enough to be as big a smash as "Bodak Yellow," but I'm pulling for "Be Careful."–C.G.
4. "My My My!," Troye Sivan
Troye Sivan might be the most current famous young singer to come out of the Youtube circuit, so it's only fitting that he dropped his first single from his upcoming album with a killer music video. "My My My!" is shimmering dance-pop, equal parts euphoric and sexy. Sivan's lyrics, always sharply written, are better than ever — "Spark up, buzz cut / I've got my tongue between your teeth." The music video, featuring Sivan's easy dancing and colorful visuals, is a perfect visual representation of the song — fun, confident and super, super queer.–C.G.
3. "Heart To Break," Kim Petras
Kim Petras should be one of the biggest pop stars in the world. The German pop singer has a great voice, joyful and reaching. Her songs are expertly crafted bubblegum, the kind that would be just as at home playing at a club as an impromptu kitchen dance party with your best friend. "Heart To Break" was produced by Dr. Luke, and while I do not want to contribute to a culture that rewards the work of allegedly terrible men who make "great art," I think it's worth separating Petras from her collaborator here. Petras is a pop star on the rise, and "Heart To Break" is one of the most exciting pop releases of the year, no matter what man's name is unfortunately attached to her work.–C.G.
2. "I Like That," Janelle Monae
For every freak who couldn't decipher the code to cool, "I Like That" is a reclamation, a self-assured and gracious testament to owning individuality, not fleeing from it. For anyone who has been humiliated, that's a huge step — for a queer, black woman like Janelle, it's a political statement of towering force. Simultaneously, "I Like That" is utter pop bliss, a jittery trap beat laced with Monae's honeyed, unadulterated verses of self-love that glory in her singular taste, her fierce independence, and her undeniable sensuality.
Redemptive and tender, just like the rest of Dirty Computer, this song seems to possess the power to heal wounds. "But even back then with the tears in my eyes / I always knew I was the shit," she sings, as if to say: wipe your tears little one, your future is limitless. And if it is, then Monae is one of the ones helping make it that way.–C.W.
1. "No Tears Left to Cry," Ariana Grande
Even if you separate "No Tears Left To Cry" from the tragedy that inspired it, this is still easily one of the best pop songs of the decade. Grande's voice is unparalleled. She climbs octaves like it's a game, charmingly mumbles through hooks like she knows we'll love her even if we can't understand what she's saying (we will).
"No Tears Left to Cry" is an exultant pop song about overcoming hardship and choosing to chase joy no matter what. Sometimes, you just want to listen to music that's as dark as your mood, a note-for-note echo of whatever you're feeling. But sometimes you just have to dance it out. Fuck the tears, fuck the sadness, let's be happy and enjoy the fact that we're here right now. It's raining outside, but we're listening to music, alive and moving and shining, loving and living. We're turning it up.–C.G.