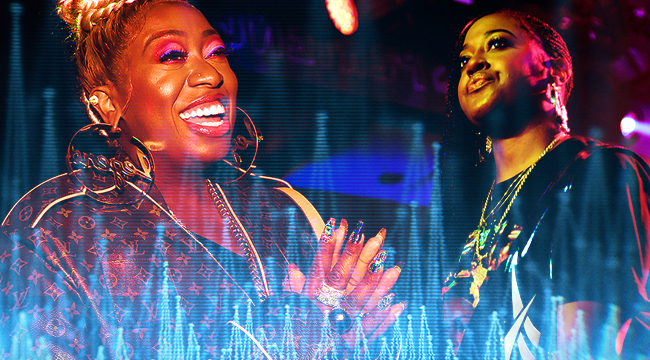 This August was full of high-quality releases. There were several really good albums that didn't make this month's list, a testament to how well hip-hop collectively closed out an already amazing summer of music. There were high-profile offerings from Missy, Rick Ross, and Young Thug, as well as albums from Rapsody and Little Brother which are some of the best we'll get all year. Up and comers BROCKHAMPTON and Cousin Stizz also released strong projects. Here's the list, in no order:
Little Brother — May the Lord Watch

Little Brother has had fans waiting for a followup to Getback for over 13 years — and their return was well worth the wait. The NC act (sans producer 9th Wonder) sounded as good as ever throughout the 15-track album, reexploring their formula of relatable, introspective music over soulful, hypnotic production from the likes of Justus League peer Khrysis and Black Milk, who shone on "Picture This." The album unmistakably delivered their classic sound in an updated fashion. Phonte and Pooh embrace their position as rap veterans on the project, delivering timely songs like "Work Through Me" and "Sittin Alone" where they explore being past the age of DM-sliding and clubbing, where sometimes "you would rather be at home watchin' Flip or Flop," as Phonte hilariously noted.
Rapsody — Eve

With all the fuss being made about women who rap, it's fitting that Rapsody delivers an instantly beloved ode to femininity. The North Carolina rapper's latest effort is a soulful, artfully-balanced depiction of womanhood. She celebrates poets like "Maya," models like "Tyra," and athletes like "Serena." She drops an ode to the paper chase on "Oprah" with Leikeli47, and affirms being a "runaway sis' with a boss attitude and a black name" on "Michelle," where the former First Lady gets saluted right along with "Felicia, and Ayesha, and Keisha, and Shaniqua." The 16-track album shifts tones, soundscapes, and energy, properly fulfilling her desire to create an album showing women "are not a monolith."
Murs & 9th Wonder — The Iliad is Dead and the Odyssey is Over

9th Wonder wasn't on Little Brother's May the Lord Watch — but he still handled the soundscape of an amazing album this August. The legendary North Carolinian linked with fellow producers The Soul Council and longtime collaborator Murs for The Iliad Is Dead And The Odyssey Is Over, their seventh and reportedly final collaboration album. The men picked up with they left off with another 12-track offering of dense, thought-provoking lyricism over soulful production. He goes back and forth with Rapsody on "High Noon," and weaves an incredible story of infidelity on "Sin," which ends with a twist that shows why Murs is so highly respected.
Brockhampton — GINGER

Almost a year after BROCKHAMPTON's Iridescence album comes another sonic smorgasbord in the form of GINGER. The 12-song album veers in a variety of musical directions, as could be expected from a 13-man ensemble. But the crew stays on the same accord thematically, culling through reflections on spirituality on the experimental "IF YOU PRAY RIGHT," young romance on the lovelorn "SUGAR," and the ramifications of troubling home life on "VICTOR ROBERTS," named after the rapper who vented over melancholy piano play. The Brockhampton album is up for a tough task on every album with so many ideas and influences to pull from — but they bring everything together to enjoyable effect on GINGER.
Rick Ross — Port Of Miami 2

Rick Ross took it back to the essence by titling his latest album Port Of Miami 2. Ross was a, but didn't quite have the charisma and ear for beats that would make him a rap legend. He brought along both for Port Of Miami 2, a lush album where he dishes the opulent underworld raps he's loved for while getting vulnerable on songs like "I Still Pray" and "Fascinated," where he reflects on how his various health scares have changed his worldview.
Missy Elliott — Iconology

Missy is the truest affirmation that greatness can't be constrained by time. After a prolonged hiatus, the legendary artist and MTV Vanguard honoree came back to the game with Iconology, a 4-track EP that shows she's still on the pulse of the rap game — if not still a step ahead of it. The upbeat project follows the tone of her most memorable work. "Why I Still Love You" is a smooth, genre-bending plea for love while "Throw It Back" and "Cool Off" are frenetic electrohop burners for the dancefloor. Iconology is perfectly titled, as it's a fresh reminder of her status as a pioneering rap futurist.
Young Thug — So Much Fun

There was a bit of head-scratching when news arose that J. Cole would be executive producing a Young Thug project. Despite Cole's trap forays of the past several years, the two artists weren't regarded as a seamless pairing. But whatever input Cole offered to Thug's So Much Fun worked out, as the 19-track album is one of Thug's best efforts. The album is a full display of his talents, whether he's outright rapping like on album opener "Just How It Is" or wailing in between Travis Scott and J. Cole on "London," he's locked in and displaying the entirety of his vocal skills throughout the project. The lyrical fare doesn't veer too far from celebrating the women in his life and laying idle threats, but Thug let us know what was good with the title. This project is indeed So Much Fun to blast during the waning days of summer.
Cousin Stizz — Trying To Find My Next Thrill

Cousin Stizz' sophomore project is a compelling foray into the Dorchester, MA rapper's world of nihilism over a collection of thumping beats that range from pensive ("Soso") to enchanting ("Anonymous" with Smino). Stizz is exploring the trappings of the fast life throughout the project, getting raunchy on "Perfect" with City Girls and celebrating weed as his crutch on "Medicine," but it's not all good, as lines like "RR's" "my memories is stuck in a cup" hint at. He's most gripping during those honest, introspective moments, as well as on nearly every chorus. So many modern rappers are trying to sing or grab a vocalist sing their hook, but Stizz shows off his knack for catchy, easy to recite hooks on tracks like "Soso," "Traumatized," and "Off Wit Ya Head."
Jidenna — 85 To Africa

Representation and identity have been relegated to mere marketing ploys these days, but Jidenna was discerning enough to make 85 To Africa feel like an authentic expression of Nigerian art without slipping into gimmickry. He worked with a slew of talented African musicians who imbued the 11-track project with percussive and melodic elements from throughout the Diaspora on songs like "Zodi," "Jungle Fever," and "Vaporiza." Jidenna's sophomore effort is the rare album that makes a listener long for more of his lush, feel-good fusions of modern hip-hop sonics with African sounds.
A$AP Ferg — Floor Seats

A$AP Ferg's Floor Seats is the long-anticipated follow-up to his Always Strive And Prosper album. With the number of bangers on his latest effort, Ferg should be turning out enough soldout shows to afford whatever seats he wants. Ferg fused elements of trap with electronic music throughout the project to an exhilarating degree, from "Butt Naked" with Rico Nasty to "WAM" with MadeinTYO. But he and A$AP Rocky also kept it gritty on "Pups," a high-powered reimagining of DMX's classic "Get At Me Dog" for 2019. Ferg is a quintessential example of an artist that knows their lane and executes to a high degree. Floor Seats is the latest example.
Some artists covered here are Warner Music artists. Uproxx is an independent subsidiary of Warner Music Group.