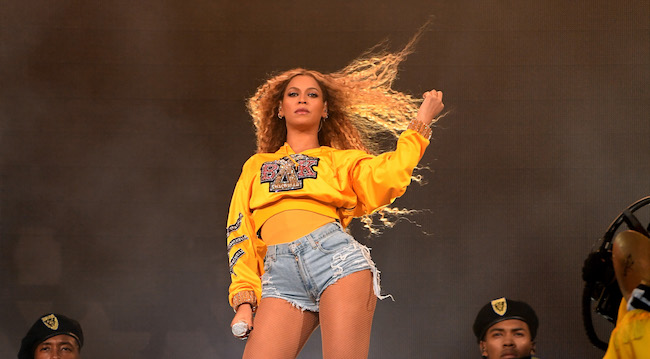 Beyonce is a scary good Halloweener, with her annual costumes becoming more and more elaborate — and accurate — every year. This year's costume, however may take the candy corn cake. If you scrolled past her first Instagram post of the spooky season thinking she'd just posted Toni Braxton's self-titled album cover, you may want to take a second look.
Yep, that's Beyonce as "Phoni Braxton," looking so much like the original they could easily be twins. However, not only is Beyonce's costume a picture-perfect match for Toni's, she even got the fonts on the title to match, right down to the color variation between the orange and black script — which doubles up on the All Hallow's fun to boot.
Last year, Beyonce caused even more double-and-triple takes with her color-coordinated Lil Kim "Crush On You" video looks, paying tribute to the onetime queen of hip-hop alongside husband Jay-Z, who dressed up as his old friend, The Notorious B.I.G. Before that, Bey and her mom pulled off a stunning tribute to Salt-n-Pepa, while her 2015 costume drew the ire of nerds everywhere thanks to her take on Storm from the X-Men superhero books.
Given there are still two more days until Halloween proper, there's plenty of time to up your own costume game, but just know: Yours will never be good as whatever Beyonce debuts this 31st.