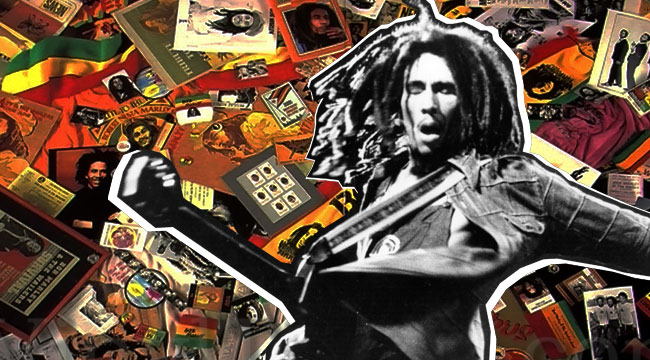 The eternal face of reggae, Bob Marley, would be 72 years old today and probably still jamming had he not succumbed to cancer in 1981. But while you may know him as a face emblazoned on a poster or a T-shirt, or for hit songs like "Three Little Birds," "Redemption Song" and "No Woman, No Cry," some of Marley's most affecting work lives on far away from classic radio. And with that in mind, we wanted to look back at some of Marley's deep cuts.
"War"
A fundamental belief in the Rastafari faith, which Marley was a very public practitioner of, is that Ethiopian Emperor Haile Selassie I is viewed as the messiah. With "War," Marley adds his own spin to a speech credited to Selassie about racial inequality and how it leads to war on all fronts. In this song, Marley gets straight to the point and avoids the usual mystery of his poetic lyrics but retains his spellbinding delivery that'll leave you humming the lyrics for hours.

"Am A Do"
"Am A Do" is an early example of Marley's ability to express passion through song. It's one of those Marley songs that put his background singers to the forefront to place importance on how important each member of the Wailers was. Without them and the lighter touch they add, this song isn't nearly as delightful.
"So Much Trouble In The World"
Bob Marley often made songs that could melt your troubles away. But that's mostly because he was fully aware of the problems that existed. That's perfectly clear in songs like "So Much Trouble In The World" where he points out the difficulties everyone has to deal with because of the ego trips and unwise decisions of others.
This song is a bit of a misdirection, though. It starts by suggesting it'll be another lighthearted tune with references to rising suns and infinite possibilities before turning into an exposé of corruption. While the hook is repeated plenty to remind everyone that there are indeed troubles everywhere in the world to conquer, Marley makes us feel a little bit better about that stark reality.
"Long, Long Winter"
Although you may not hear it as clearly in Marley's later, more popular music, his early style was influenced by American soul music. On multiple occasions, he and The Wailers would do covers of soul songs by groups like The Impressions. "Long, Long Winter" is an example of him adding ska/reggae to an old soul gem. The harmonies of the background singers is slightly reminiscent of doo-wop and only makes me want to hear reggae covers of Temptations classics for an entire weekend.
Note: Even Jamaican winters spent alone feel a little colder than usual.

"Roots, Rock, Reggae"
We've gotten to a point in music classifications where there are even sub-genres to sub-genres. At the end of the day, though, it's all just music. In "Roots, Rock, Reggae," Marley touches on how the end goal of all music is to get a reaction from the people and that's what really counts. Which is pretty appropriate given that this is the kind of song that'll have you gently swaying from side to side for five minutes without knowing it.
"Iron Lion Zion"
"Iron Lion Zion" is another Marley song rooted in Rastafarian beliefs. To be honest, outside of that it's not entirely clear what the song is about; a lot of Marley's songs are abstract like that. But that doesn't take away from the incredibly catchy and upbeat hook that's mellowed out by the slower verses it's sandwiched in between.

"I Know A Place"
Many people believe in the concept of paradise – a place that's difficult to find but well worth it in the end. Marley, who always carried himself as if he didn't have a care in the world, is telling us that he already knows how to find paradise in "I Know A Place." This song is closer to Marley's low-energy section of the scale with a slower pace and a different tone in his voice than what he often uses. This is actually a lot closer to his normal, everyday speaking voice which makes one think he's more rhythmically talking than singing.
"Simmer Down"
Bob Marley and the Wailers were making quality music from the very beginning. As proof of that, "Simmer Down" was their very first hit and was released back in 1963, more than a decade before he'd reach mainstream success. You can look at the cover art and tell Bob was a completely different artist when he first started out.
If "Long, Long Winter" is basically a reggae cover of soul music, "Simmer Down" is more of an attempt at blatantly making a reggae/soul mix. The high-pitched Marley sounds more like Frankie Lymon than he does what he eventually became.
"Burnin' and Lootin'"
Marley had an active role in Jamaican politics for years. He was so involved that he was even shot before he could perform at a concert meant to promote peace between two political parties that were at each other's throats. As a man of the people, Marley was fully aware of the struggles they went through and knew that they wanted answers. "Burnin' and Lootin'" isn't so much a song made in support of rioting as it is an explanation for what leads to it.
"Burnin' and Lootin'" is one of those Marley songs that was likely meant to be heard live instead of on record – like "No Woman, No Cry," for example. The use of the live instruments and sounds of the crowd's applause in the background is fitting with a song about looting, which can be a very natural and impromptu reaction.
And here's all of the Bob Marley Deep Cuts in a tidy playlist just for you.
This is an updated version of an article that originally ran on February 6, 2016.