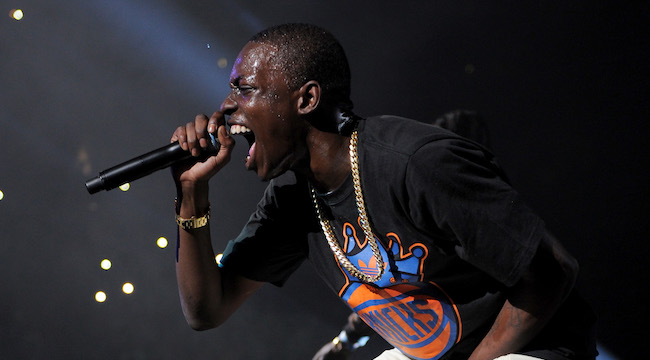 If there's anything we've learned from crime procedural shows and films like The Wire, Oz, Power, and Orange Is The New Black, it's that being locked-up sucks. For one thing, there's little to do behind bars — unless you like to work out. That's why many recently incarcerated felons often come out dramatically transformed from when they went in, which is exactly what's happened to former viral star Bobby Shmurda.
New photos of the "Hot N—-" rapper that were apparently taken on his visitation day have emerged, and gone is the skinny, 18-year-old rapper who tossed a New York Knicks cap to the heavens never to return. He's been replaced by a grown man version of Bobby, complete with facial hair and a brand-new, extra-swole physique. Given his sentence was extended by about a year from the original seven years he was sentenced to in the early part of this year for promoting contraband, he'll have a lot of time to continue getting bigger. By the time he comes out, he might be unrecognizable to fans of his 2014 hits, "Hot N—-" and "Bobby B*tch."
He's still been working on music in the meantime, phoning in a freestyle that hit the 'net earlier in 2017, so it's not beyond the realm of possibility that he'll be able to pick up where he left off on his release. After all, if Gucci Mane can go from felon to published author to a married man in the span of a year, anything can happen for the much younger Bobby. He's already got the physical transformation part down cold.