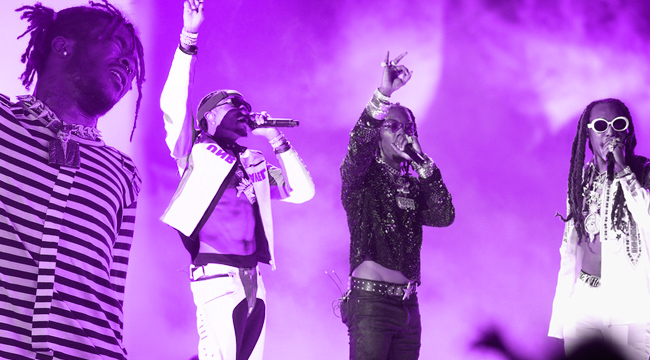 Poor Bomani. He just wants to crack jokes and converse about what people wore at award shows on Twitter like all of us. The difference is, he's a national renowned public figure, who's spent time on ESPN's Highly Questionable, a show he just recently left to pursue other opportunities. It's never going to be as easy as him as it is for the average Twitter user.
Exhibit A: Bomani, no fan of new jack rap, has been forced to come to the defense of Migos, after a comment he made regarding their earlier tiff with rap provocateur Joe Budden was taken out of context. He's been on Twitter arguing with old school rap heads for the better part of an hour after he responded to a tweet that told him he was showing his age by calling Migos "new dudes."
After he clarified his opinion, which is that the Migos actually make good music, he was swarmed by the old head army, who are apparently demanding that he rescind any forms of praise for any rappers born after 1991 who don't overtly use primarily boom bap beats in their music and rap about how "real" they are — as the old head army is wont to do.
Here's the thing: Bomani is absolutely right in many of the points he makes during the tweetstorm, specifically the nugget about finding "old heads who hate young groups similar to teenagers who loudly hated barney to show they weren't kids." It seems as though rap taste has become a social shorthand for "cultured," "intelligent," "cool," or something similar — which it always has, it's just that nowadays, the internet has made the conversation so much more prevalent and heated.
For instance, Joe Budden actually called Yachty stupid, slow, gay, and phony for various aspects of his presentation, conversation, album cover photo, and his carelessness on the lyrical end (to be fair, Yachty might not strictly be a rapper, but that's a whole other feature). There's a hit of elitism, but behind that seems to be an irrational fear of being thought of as juvenile, or dumb, or uncool, just for liking the "wrong" rapper.
What Bomani points out here is that, while listeners can certainly diverge in taste, them going out of their way to disparage what they dislike, or anyone whose taste differs from their own, only shows immaturity and insecurity on the part of the vocal party. The way he phrases it, that, "They're the dudes freshman year whose clothes you laugh at before you look up and see them with the girl you like," can easily be applied across the spectrum of rappers who take disproportionate amounts of internet slander, such as Big Sean (who is dating Jhene Aiko), Wale (who makes heartthrob R&B-tinged rap singles that are inescapable for at least three months a go on the radio due to strong reception from their demographic), and especially Drake.
It also applies with "weirdos" like Yachty, Lil Uzi Vert, Young Thug, and Migos, who take a near constant stream of abuse from fans of '90s era rap for not being "lyrical" enough, or being hard to understand. Those same fans then turn around and quote Wu-Tang Clan lyrics at Bomani as proof, as if a whole entire site hasn't cropped up online for the sole purpose of looking up and interpreting rap bars for fans who spent 20 years mystified as to those bars' meaning.
The truth is, there are a lot more ways to rap than just spouting off multi-syllable, lyrical miracles. Let's face it: If every rapper really rapped like that in the '90s, rap would be a ridiculously boring genre. Rock and roll didn't stop at the Beatles; you also got The Rolling Stones, Led Zeppelin, Whitesnake, The Ramones, Kings of Leon, Joan Jett, and The White Stripes, to name a few out of thousands. The expectation for all rap to sound alike, and all rap fans to share the same opinions on all rap, isn't just silly, immature, and unreasonable, it's laughably unrealistic. There are thousands of rap acts, who all have different approaches to the craft.
Some don't rap in complex rhyme patterns, like Too Short, Uzi Vert, or latter day Dom Kennedy. That's okay. Some like to sing while they rap, like Nelly, Flo-Rida, Ja Rule, Drake, or Thugger. That's okay too. Some have heavy southern accents, like Big K.R.I.T., T.I., Juicy J, Quavo, Takeoff, and Offset. That's fine. Some rappers try to fit too many words into one line, like early Talib Kweli, or 90% of the rappers from LA. Some rappers don't really rap to the beat. Sorry Yachty, that's not okay — it's actually kind of in the handbook, but good effort.
Rap fans need to start accepting that they aren't going to like every single rapper that gets a little shine. That's okay, but maybe chill out a little bit. For every rapper who doesn't meet your specific criteria for what makes a good song, it's a guarantee that there is at least one who does. New rappers are cropping up all the time thanks to the internet. There's something for everyone; maybe instead of spending so much time resenting the stuff you don't like, find some time to look for and appreciate stuff you will.
Bomani's initial Twitter flurry that sparked the debate is below: