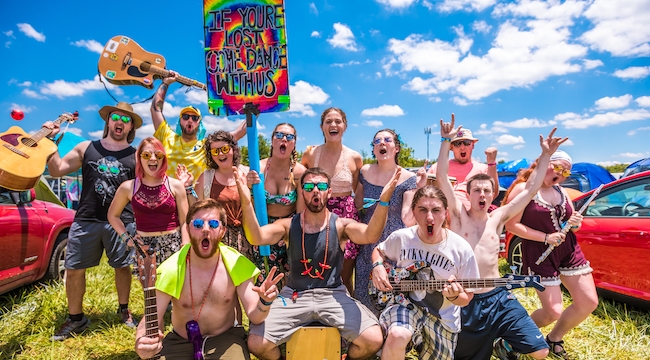 Since its inception in 2002, Bonnaroo has become a beacon in the festival world. Across almost two decades, the eighteen-year-old festival has created a benchmark other events look to, allowing festival-goers to return again and again. The fest has always nodded to historic predecessors like the late-'90s Phish fests — and Phish is even headlining this year for two sets — the 1967 Monterey Pop Festival, and of course, Woodstock. Efforts to revive that epic first-festival event this year, along with the recent debacle that is Fyre Fest, revealed that producing a successful event of this scale is perhaps much harder than it seems.
Yet, Bonnaroo continues to execute the feat with the kind of loyalty-inducing excellence that most production companies crave, and one of their secrets lies in emphasizing the many different subgroups the festival attracts. For those unfamiliar with the set up on The Farm — or the sprawling, 650-acre grounds dubbed Great Stage Park in Manchester, Tennessee — all that wide open space makes the venue an ideal setting for camping during the fest. But, if you've ever camped or attended a large scale event, you're probably aware that different people want very different things out of an experience like this. Sophie Lobl, part of the booking team at C3 who helps throw the festival every year, thinks a huge part of the environment at Bonnaroo is due to a returning audience, and one that is focused on positivity.
"Bonnaroo is an extremely tight festival in terms of the audience we get, probably due to the location, and a little bit due to the history," Lobl told Uproxx. "It's just a super, super tight audience. And we pride ourselves on being an inclusive place. Everyone feels like they have somewhere they can feel safe, or else have a really great time. The festival's message is to radiate positivity, obviously. It's what we strive to achieve."
As one of the earliest festivals to help set the trend in America, 'Roo — as it's affectionately come to be called — set itself apart in a couple of different ways. Firstly, it established a festival site early on that attendees would return to each year, and relics from this venue, like the beloved arch that was destroyed in a controlled fire this week — helped create traditions and establish the mood and vibe of the campgrounds, which end up influencing the tone of the event just as much as the programming does.
"I think we've really honed in on how to tailor the campground experiences," Lobl said. "Historically, Bonnaroo was a jam band festival, so it was come one, come all. But in today's climate, and with the amount of festivals, we started to realize that we needed to make sure we were creating safe spaces for everyone. Not that Bonnaroo's an unsafe space, just people have different needs, and would rather camp with people who have similar needs or types."
Lobl helps curate and program the different sub-communities at Bonnaroo, which the event hopes contribute to a peaceful, satisfying weekend for everyone. Lobl is also involved with helping build out initiatives like the women and non-binary camping and programming area dubbed SheRoo, the sober-focused camping area SoberRoo, and an area for solo attendees to congregate and find community, SoloRoo.
"We wanted to create a safe space for women to camp together and feel more secure," Lobl said of SheRoo. "Also, we have a great bunch of female-leaning programming in that space that we allow everyone to come and enjoy, even if they're men, or not camping in the area."
Beyond just focusing on the needs of female/non-binary campers and attendees — which can differ drastically from what men need or want — the fest also made sure to provide support for a couple of other historically overlooked groups, the sober and the single.
"SoberRoo is creating a space for those that want to experience the festival in a different way, though we actually do have people who just want to be sober for the weekend join," she said. "And then SoloRoo, just because we learned over the years from all of our polls that we get a lot of people who come on their own and don't necessarily come with friends, and they just want to meet other people. So, that is a hub for if you are there without a group of friends, and you want to meet someone or camp in an environment where you know other people, then that's the space."
While SoberRoo and SoloRoo are great resources for campers with those needs, the community around SheRoo is the one that has totally grown exponentially since its inception. "SheRoo really developed more," Lobl said.
"The others are a little bit small, and we probably get a group of people that's growing every year," Lobl explained. "But SheRoo is by far our biggest. We've partnered with Laura Wise from Mothership, who has a festival out in California — she is awesome and it's really great. It's a beautiful area and we have really awesome programming from wellness staff to talks every year. We get a bunch of the female performers and industry people, artists and managers to come out and do some programming there as well. So, it's a really fun vibe."
This year, the festival includes a couple other newer events in the same realm. Hayley Williams of Paramore is curating the Sanctuary Of Self Love, where an emphasis on mental health and caring for yourself throughout the fest come first, and Brooklyn's House Of Yes is hosting a Pride Parade led by their Drag Queens and performers on Saturday that Lobl promises will feature "a few special appearances from bands" as well.
As a first-timer preparing to attend the fest, learning more about all the inclusive programming involved with such a huge, historic event only makes it more appealing. Other festivals are slowly but surely learning to incorporate this kind of programming into their set-up, but Bonnaroo listened to fans and built it in to stay ahead of the curve, and continues making a weekend on The Farm feel like a monumental experience for all involved.
Uproxx will be hosted by Bonnaroo for coverage this year. Bonnaroo did not review or approve this story. You can learn more about the Uproxx Press Trip policy here.