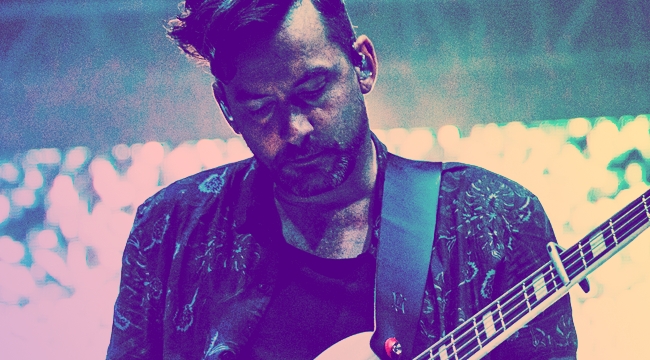 Though he was born in England, Simon Green's home is in Los Angeles. The prolific and influential DJ/producer has lived here for the last three years or so, and he even shouted out the studio where he recorded Migration, his sixth masterful album as Bonobo, last night from the Greek Theater stage.
"I made this record literally three miles away, I could see this park when I did," he said, adding: "This is a homecoming show for me." Green has been on a massive North American tour behind his new album since the end of the summer, and it won't wrap up until mid-October, but last night, at least, he got to experience the familiarity of coming back to the city where he made the album.
Bonobo is a legend in the electronic music world, and the news that he was releasing a new album in 2016 was met with from his fans and newcomers alike. When that album eventually came in 2017, it was clear that by pairing with current artists like Rhye and Nick Murphy (formerly Chet Faker), Green continues to push his own sound ahead, even fifteen years after the first Bonobo project was released.
That's a rare feat for any artist, and a particularly impressive one considering the massive scope of Bonobo's sound, and the way electronic music has moved into the pop mainstream in America over the last decade. His work dwells in the downtempo synth world, more aura than electronica, though both feed in.
As the title suggests, Green's latest record is concerned with patterns of movement and space and rhythm, and his live show brilliantly reflects and emulates those concepts in a way that many electronic musicians fail to, even with a whole host of technology at their fingertips. Instead, a Bonobo show is all cold light and shimmering sound, visuals shifting along with the dancing bodies gathered around, Green anchored in the middle, with his synthesizers, and surrounded on all sides by orchestra players and various vocal guests, who filter in and out as the night goes on.
https://www.instagram.com/p/BZkl6_uDmIw/?taken-by=uproxxmusic
Living in LA has given Green another perk — there's been a recent migration (sorry) of ex-pat musicians from various locales for him to brush shoulders with, and occasionally, get into the studio with. He casually mentioned to The Independent that it's Jon Hopkins playing piano on the album's magnificent title track, which kicks the album off but somehow also serves as a centerpiece for the record. Green's own recent relocation, to LA, is assuredly part of the impetus behind the record's sound — it is settled, slightly sad, and a bit slower, without sacrificing any brightness.
Last night, joined many times by the British singer Szjerdene, with whom he frequently collaborates, Green's live band made the outdoor setting feel even more expansive, and more than a few times I was struck by the freedom and flexibility of the crowd, most of whom danced openly, and moved rows or closed gaps to be together or make room for their own physical experiences of the music.
I haven't seen concertgoers so casually and easily use the space of a more formal seated venue like the Greek for their own purpose, and it gave the show a sense of increased freedom that only added to the force of the music being played. It's hard to say whether or not that environment is a byproduct of any Bonobo show, or if it was the result of a particular kind of LA laissez-faire, but either way, it was divine.
Migration came out in early January, preceded by a string of compelling singles, like the jittery, strings-heavy "Kerala," an absolutely gorgeous Rhye-featuring track called "Break Apart," that was followed closely with a surreal "video, along with the trippy M.C Escher-esque "No Reason" video and a behind-the-scenes breakdown of it. Yet, it feels just as important in September as it did nearly seven months ago, a testament to the staying power and versatility of Green's music.
But, that staying power stretches far beyond a few-month span; plenty of new songs from Migration found their onto the setlist last night, along with a mix of old favorites from his extensive catalog, and it was fascinating to hear how he took tracks from every era and mixed them seamlessly into the set.
Because of the way people had mingled and moved, dancing with one another all night, there's a sense of crowd camaraderie I rarely feel at venues this big. At the end of the night, when the confetti sprayed up and out over the crowd, there was not a sense of sadness that the show was over, but a sense of comfort. Now, it was time to go home. And ever since I've been living here, that never feels like a bad thing. Something tells me Green feels the same way.
Migration is out now via Ninja Tune. Get it here.